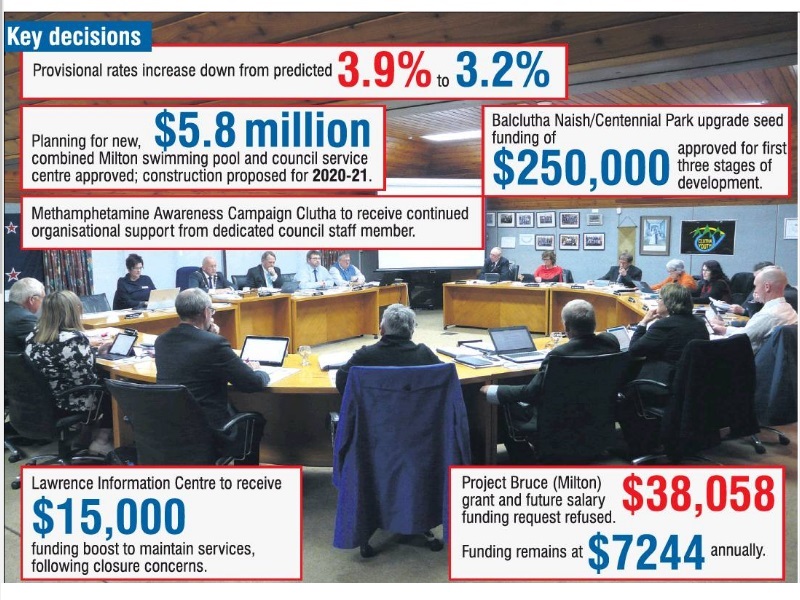 A $5.8million proposal for a new swimming pool and service centre in Milton remains afloat - but only just.
Yesterday, the Clutha District Council approved $290,000 funding for initial planning for the new complex, to be located on the site of the current council service centre between Union and Ajax Sts in central Milton.
Construction could begin next year.
The proposal - one of three options presented to ratepayers and councillors during recent annual plan consultation - was hotly debated before being passed by nine votes to five.
An earlier move by Bruce Ward councillor Bruce Vollweiler, to approve an option which would have had alternative sites in Milton explored for the pool alone, was voted down eight to seven.
Cr Vollweiler said he wanted further research as he was "ambivalent" about relocating the pool from its current Park Rd site to Union St, despite 66% of public submissions having voiced support.
"A centre-of-town facility would certainly look good, but I'm not convinced the community has understood the fine print around funding and driving the project forward. I'd like to see more work done on the other options before we make a final decision on what may be a 50-year facility."
Council documentation indicates the Union St option chosen yesterday would be 50% council-funded, the remainder coming from "external" sources.
The new facility would be overseen by "a community trust structure".
Mayor Bryan Cadogan denied there was any confusion about the options among ratepayers.
"I'm flabbergasted we're even having this conversation today, given the amount of positivity that's come through from Milton around [this option].
"We've got a chance today to move the district ahead and make a statement of intent."
He said objections raised in some submissions about possible parking issues in central Milton, and the safety of
children using a facility that would adjoin State Highway 1, had no foundation.
"The proposal is for a main entrance on Ajax St. And the only problem with the car parks in Milton at present is they're empty. This is a once in a generation chance to change the face of Milton for the better."
During submission hearings on May 2, a delegation from Tokomairiro High School proposed moving the pool on to its land, where it would also adjoin Milton Primary School.
Lawrence-Tuapeka Ward councillor Geoff Blackmore said relocating the pool between its "two biggest users" was logical.
"Why would you move it away from [the schools]. It makes sense to keep all your sports facilities in one area."
However, Crs Alison Ludemann, Rachel Jenkinson, Selwyn Wilkinson, Bruce Graham and Stewart Cowie all expressed support for the Union St option, citing "public consensus" demonstrated during the submissions process.
Following the successful vote, Mr Cadogan said it was a "defining day" for the district.