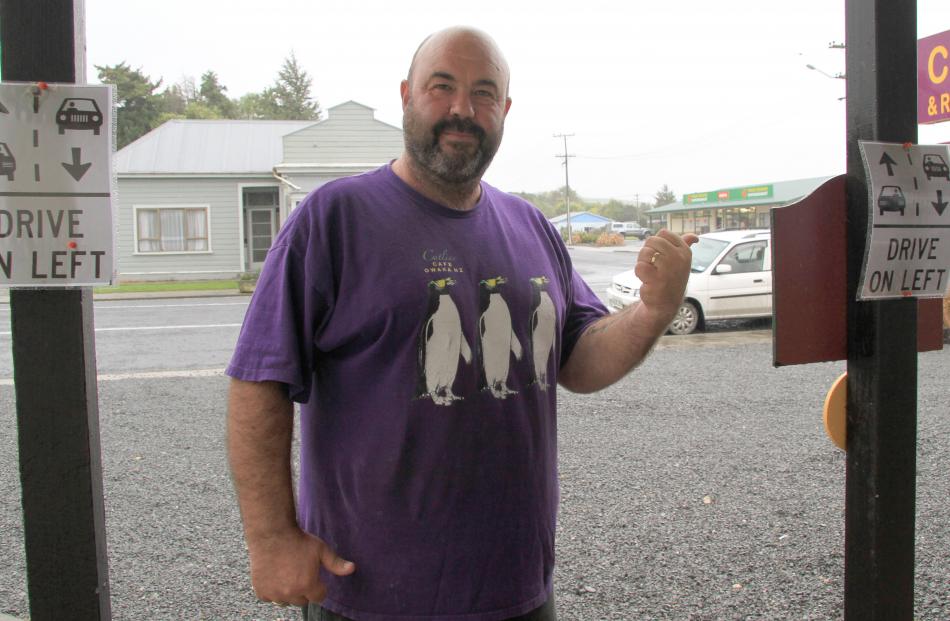 Two new South Otago initiatives aim to help visiting international drivers negotiate New Zealand roads safely - and neither involves key-snatching.
The two very different southern approaches focus instead on educating drivers.
Filmmaker William Bisset and his his Chinese friend took a break from making a documentary in the Catlins and have made a video for Chinese drivers, while Catlins Cafe owner Steve Clarke, of Owaka, has printed signs with the message ''drive on left'' and posted them outside his cafe to remind customers of the most basic New Zealand road rule.
Mr Clarke said 80% of his customers in February and March were middle-aged North American or European travellers in camper vans.''
It's almost a daily experience where someone will pull out of here on the wrong side of the road - typically going south, they'll pull out of here and they'll stay on the right-hand side of the road.''
He believed the mistakes happened because New Zealand roads were so quiet.''
I believe if you're in the US or in a busy European town you go with the traffic flow,'' he said.''
Here you've got to make a decision.''
Unable to find a New Zealand equivalent of British keep left road signs, he printed some high-resolution photos of the British sign and put them at his cafe entrance.
The Four Square grocery store across the street had put up copies as well.
The keep left message was a sentiment also expressed in Mr Bisset's ''Chinese Drivers on New Zealand Roads'' video, filmed in Balclutha and posted on YouTube.
Mr Bisset said the Mandarin video with English subtitles, available on line, was inspired by discussions with his friend Sherry Kong, who hosts the video, about cultural differences in New Zealand and China, including differences between driving rules.
The video explained, among other things, that a dotted white centre-line could confuse Chinese drivers used to driving on divided motorways, and talked about using passing lanes and following warning signs.
It was the second video the couple had made after a ''Timaru to Tekapo Promotional Video'' had brought the pair some attention in China, Mr Bisset said. He said he had not approached car rental companies about his video, but had thought perhaps he should.
William Bisset's video: