Thousands of parents, pupils and teachers have marched across the South and teacher unions have vowed it will all happen again if the Government doesn't give them better pay and conditions.
The Octagon was packed with more than 2000 teachers and suppporters  just after midday and chants of "fund our future" could be heard as marchers made their way into the Octagon as part of strike action which affects an estimated 773,000 children.
The crowd marched through the central city to the tune of jazz band playing When The Saints Go Marching In.
A long line of regional union delegates gave speeches, calling for the Government to address the issues that the teaching profession faces.
"What we want is for our students to have the educational opportunities that they need and deserve, with great well-trained and well-supported teachers to provide these opportunities,'' PPTA Otago region chairwoman Pauline McNeill said.
"For 2019 to truly deliver, we need our fair claims to be addressed and all of our collective agreements settled.
"Together, we can bring out the best.''
​There was a heavy police presence in the Octagon ahead of the march, with roughly a dozen officers present.
VOW FOR MORE STRIKES
Teacher unions have vowed to strike again if the Government doesn't give them better pay and conditions after today's mega-strike.
NZ Educational Institute president Lynda Stuart told about 8000 teachers and supporters who packed into Auckland's Aotea Square that "we have come too far not to go further".
"We have done too much not to do more," she declared.
"The situation we are in is so serious that I'm prepared to keep on going until we get the outcome that we need for teaching, leading and learning.
"That means more strike action if the Government doesn't take urgent action to fix this now.
"Of course none of us wants to strike and I hope that the Government will hear us and that they will act."
ON THE MARCH IN THE SOUTH
Meanwhile, many more teachers and supporters are taking part in marches and protests across the rest of the South.
Earlier, Hawea Flat Primary School principal Sue Heath told marchers in Wanaka that  "none of us want to be out here striking'' but they had "no choice".
''These issues facing the education sector have to be addressed now.''
Another marcher in Queenstown said: "We're angry, fired up, and ready to fight."
​The Ministry of Education said 1229 schools, or 51% of the 2409 state and integrated schools with union members, had notified it so far that they would close.
The actual number closing is expected to be much higher because many schools have not told the ministry what they plan to do.
The strike is the first by secondary teachers since 2010-11, when industrial action was cut short by the Christchurch earthquake, and the first national joint action ever by unions representing primary, intermediate, secondary and area schools.
The Ministry of Education has offered pay rises of 3% a year for three years, and an extra step at the top of the salary scales, to both the PPTA and the primary teachers' union, the NZ Educational Institute (NZEI). It says the offer would cost taxpayers $1.2 billion over four years.
But members of both unions have rejected the offer because the ministry hasn't offered anything to relieve teachers' workloads by providing more classroom release time.
INVERCARGILL
In Invercargill up to 600 teachers, children and supporters gathered outside the Civic Theatre this morning to protest the Government's offer for better conditions and pay.
The crowd held signs and banners as they marched around the block towards the war memorial, up Dee St, turning on to Esk St and back.
The marchers cheered as passing vehicles tooted horns in support.
James Hargest College teacher Rosie Shanks said she wanted better support so she could spend more time raising her own children.
"You spend a day in my job and see if you want more pay."
CENTRAL OTAGO
Nearly 100 teachers and staff picketed along Alexandra's Centennial Ave during teacher strikes in Central Otago today.
Motorists honked their horns in support as teachers held banners encouraging residents to "Toot for Teachers".
The gathering included teachers from Alexandra Primary, Terrace School, Dunstan High and Clyde Primary.
Dunstan High teacher Nathan Love highlighted regional concerns during the demonstration.
"From a local point of view, there is a real shortage. Teachers at Dunstan are nearing retirement. Locally it is really going to pinch."
In Cromwell, a handful of teachers positioned themselves with banners under the iconic fruit sculptures.
Another 30 school staff were more vocal as they marched through Cromwell's Mall chanting "One-Two-Three-Four, teachers walking out the door."
Cromwell Primary NZI representative Andrew Ede said the demonstrations were about "continuing the fight".
"It is about the teaching crisis and keeping teachers in the classroom.
We're fighting for the profession and the future of our kids"
QUEENSTOWN
More than 100 teachers, principals and parents are marching from Queenstown's Events Centre to State Highway 6, where they'll line the side of the road.
They're chanting as they march: "what do we want? Fair pay. When do we want it? Now"
Wakatipu High School PPTA chairwoman Ruth Needham said the turnout was "really positive".
"We're angry, fired up, and ready to fight."
The marchers received plenty of toots from passing motorists before the march finished about 11.40am.
WANAKA
About 100 Upper Clutha teachers rallied in Wanaka at 11am to be addressed by Hawea Flat Primary School principal Sue Heath.
Ms Heath said ''none of us want to be out here striking''.
''Not only does it cause significant financial hardship to us and our families, but it's also a major disruption for our children and their families.
''We have no choice.
''These issues facing the education sector have to be addressed now.'' 
OAMARU
About 170 teachers, including family members cheered at George Jones memorial park in lower Thames St this morning as NZEI field officer Paula Reynolds told them they were part of the largest strike action in New Zealand history.
Mrs Reynolds said she watched teachers work 60-plus hours as their class sizes grew out of hand -- and she watched their health and well-being suffer as a consequence.
"It's not OK," she said.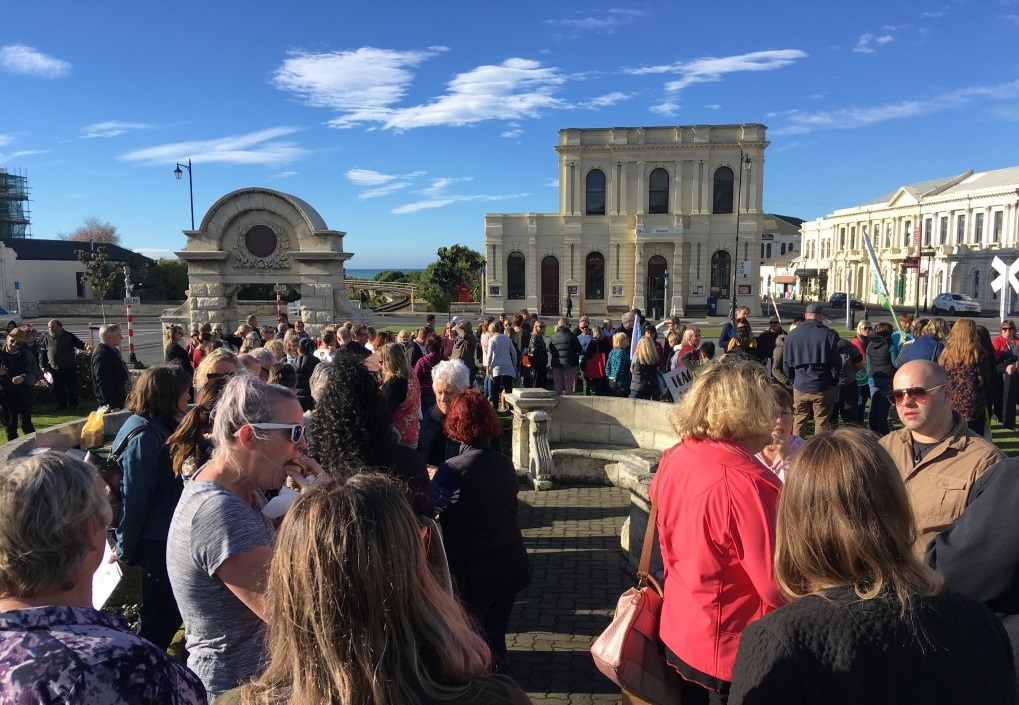 The New Zealand Post Primary Teachers' Association (PPTA) branch chair at Waitaki Boys' High School Emma Prosser said until now the PPTA had not been "overly active" in Oamaru, and many members did not want to travel to Timaru for a larger planned action today.
But to raise the profile of the association and its issues in Oamaru, the three local high schools decided to gather at the park in the town's central business district and join primary teachers whose pressures "are still the same".
At Waitaki Boys' 30 of 36 teaching staff, including the special education needs manager and some senior management, were members of the association.
Primary school teachers, who last took strike action in Oamaru in May, rallied earlier in the day before joining secondary school teachers at the park, chanting slogans on a march through Oamaru's central business district.
GORE
More than 40 teachers and supporters donned with colourful signs protested teachers working conditions outside the Gore Trout from 8.30am this morning.
The group join the rest of the teachers in the nation who are on strike today. They were met with toots and cheers of support from community members who drove past the group.
TEVIOT VALLEY
Teachers from Roxburgh and Millers Flat school joined forces to march along the main street of Roxburgh this morning.
Branch chairwoman of Roxburgh PPTA Wendy Gunn said an ageing workforce had not been addressed leading to shortages in the profession.
Planned southern strike action
Dunedin: Noon-2pm: March from the University of Otago Dental School to Octagon. Buses will also bring staff from schools in Balclutha and Milton.
Oamaru: 11.45am-2pm: Rallying at Oamaru Courthouse.
Queenstown: 10.30am-11.30am: March from Queenstown Events Centre courts to Frankton roadside and roundabout area.
Wanaka: 11am-noon: Rallying at lakefront.
Cromwell: Noon-1pm: Picketing at Cromwell fruit sculpture.
Roxburgh: 9.30am-11am: March from Roxburgh Area School through main street of Roxburgh.
Gore: 11am-1pm: Rally at ram statue before visiting other landmarks around the town.
Invercargill: Rally at the steps of the Civic Theatre before dispersing to various points around the city
Additional reporting NZME