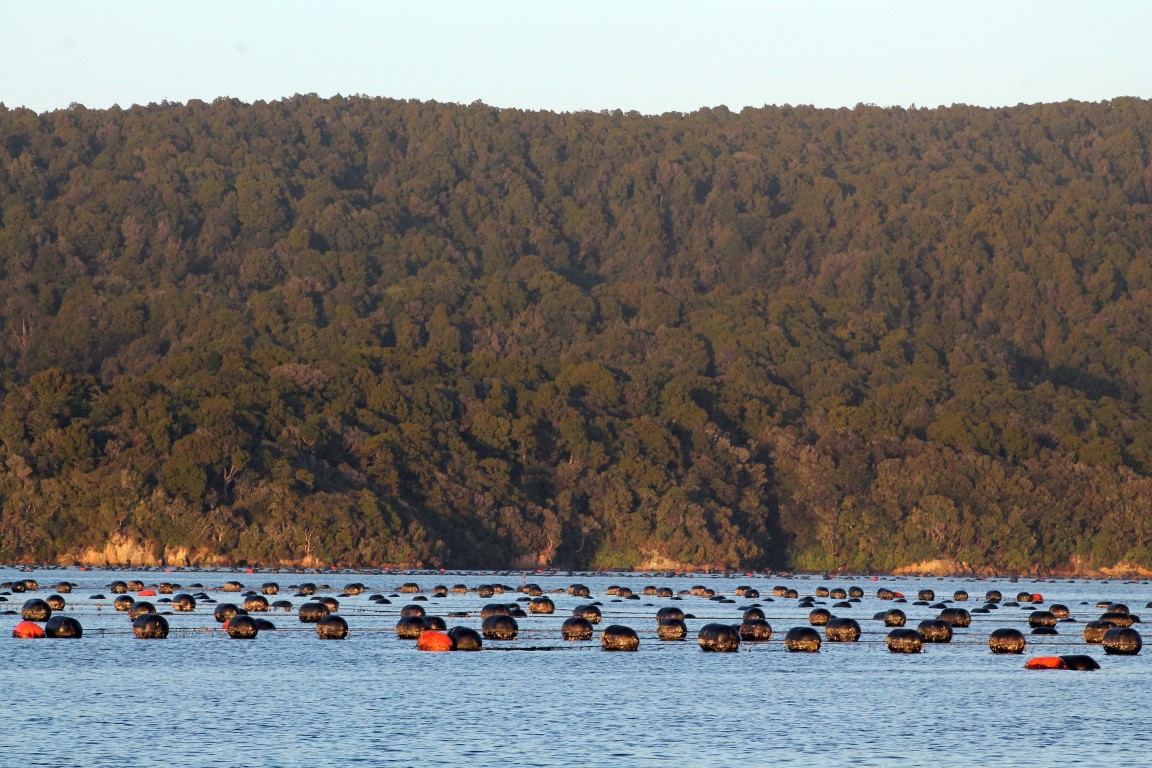 The cull of Stewart Island's caged oysters is under way, about three weeks after a lethal parasite was first detected in the area.
An oyster farm operated by Sanford in a joint venture with another company, Tio, is the first farm in Big Glory Bay, Stewart Island, to have its entire flat oyster stock removed in a bid to prevent Bonamia ostreae spreading to the Bluff wild oyster population.
A total of 120 cages, each containing about 40kg to 60kg of oysters, was lifted yesterday.
Sanford's was one of two Stewart Island farms where the Ministry for Primary Industries (MPI) found the parasite last month.
It was the first time it had been found outside the Marlborough Sounds and Nelson areas where it was first detected in 2015. It is fatal to flat oysters, but not harmful to humans.
The parasite has not been found in extensive sampling in the Foveaux Strait fishery.
MPI field headquarters manager for the operation Andrew Sander said there had been a few ``teething troubles'', but he was ``very pleased'' with how the removal work had begun yesterday in ``perfect'' conditions at Big Glory Bay.
He was ``absolutely'' satisfied with the timeframe in which action had been taken to prevent the parasite's spread.
MPI staff had been on the ground in Stewart Island since day one, he said, and there were many parties involved who needed to be consulted before a decision could be made.
``We have been pretty quick on this. We want this right the first time.''
Mr Sander said the action to remove all farmed oysters from Stewart Island would not give 100% certainty the risk of the parasite spreading would be eliminated, but it would reduce the risk.
Bluff Oyster Management Company operations manager Graeme Wright said he was satisfied with the speed of the intervention.
``There were huge decisions to be made at that time. While you want it to be as quick as you can, the right decision has been made now and we want to support them to get it done.''
Stewart Island-Rakiura Community Board chairman Jon Spraggon said the decision could have been made sooner.
``It is probably not moving fast enough. Bureaucracy doesn't move fast.''
The effect of the intervention on the community was going to be ``substantial'', but the community was on board with MPI's decision, he said.
``We have to be. It is a crud and we have to do something to prevent it spreading further,'' Mr Spraggon said.
The caged oysters are being uplifted by crane, then securely transported by vessel and truck to a landfill site outside Invercargill.
There, they will be buried under lime and dirt to provide protection from vermin and ensure rapid decomposition.
The vessels transporting the oysters are taking an indirect route from Stewart Island to avoid passing near oyster fisheries in Foveaux Strait and sites of significance to local iwi.
Mr Sander said yesterday's operation was a trial run, after which staff would have a better idea of how long the process would take to complete.
MPI readiness and response director Geoff Gwyn said in a statement the ministry acknowledged the strong feeling among local people to act quickly and to minimise the chance of any further spread during the removal process.
MPI staff will be conducting public meetings in Stewart Island and Bluff this week about the plan.
Staff also met affected farmers yesterday to discuss compensation claims.