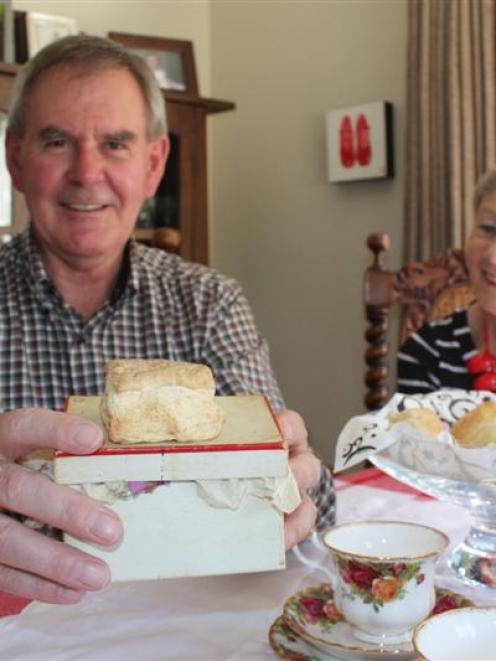 Most families hand down cherished heirlooms of jewellery or precious ornaments through the generations.
But in the McElroy family, pride of place among the heirlooms belongs to a scone.
Yes, a scone - a 75-year-old scone made in an Earnscleugh farmhouse kitchen in 1938 and kept ever since.
It has been posted back and forth between family members in Central Otago, Dunedin and Southland, been nibbled, and had a message written on it in ball point pen. But although rock-hard, it remains intact, without a trace of mould.
Gaye and Alan McElroy, of Otatara, Invercargill, ''inherited'' the scone about 30 years ago, still in its original paper napkin and cardboard box.
Mr McElroy said it was made by his late mother Hazel and her sister-in-law Adele but was left over.
They decided to serve it up again the next day thinking family members and farm workers would not notice, but they did and would not eat it.
''It turned into a family joke. The women decided to keep the scone and see just how long it would last before going off,'' he said.
The family is still waiting.
The women of the family began posting it to one another accompanied by notes - which the McElroys still have - saying things like ''Will ye no' come back again'' (to which the reply was ''too right I will'') and ''I'm still trying to get rid of this scone''.
Mrs McElroy, who makes a delicious scone herself, said she could not work out why it had not deteriorated.
''So I tried an experiment. For Father's Day in 1999 I made Alan a scone, wrapped it in a napkin and put it in a cardboard box. It hasn't gone mouldy, either.
''I think the cardboard and paper might be the trick. I put another one in a plastic container and it went mouldy after about 10 days.''
Now there are two generations of McElroy scones, Mrs McElroy said she was trying to persuade one of her daughters or daughters-in-law to bake a third-generation scone.