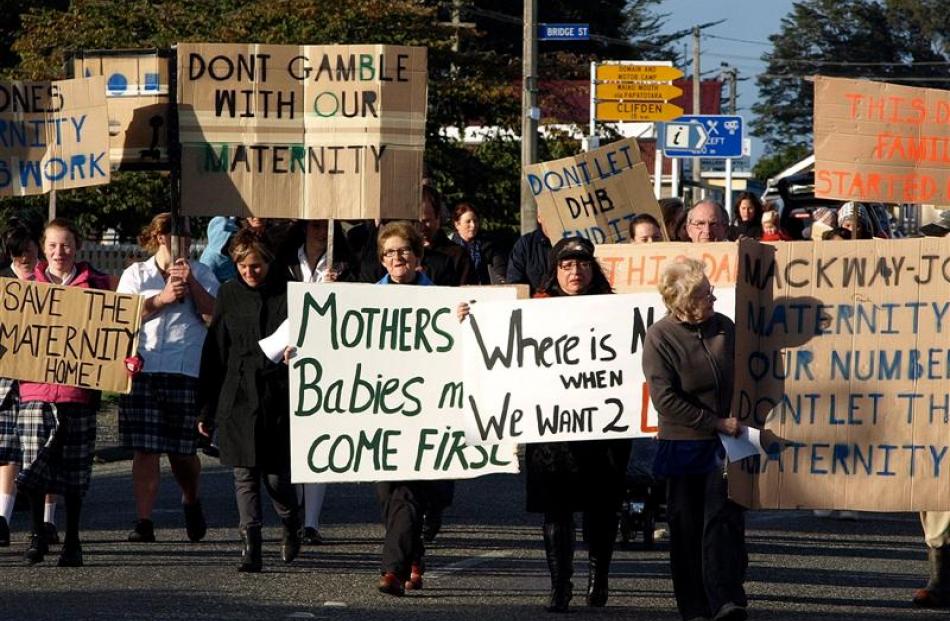 It is "disappointing" a Southland maternity centre is vowing to stay open when its contract with Southern District Health Board expires at the end of the month, DHB deputy chairman Paul Menzies, of Invercargill, says.
The Waiau Health Trust, at a well-attended public meeting in Tuatapere on Monday night, announced to applause that it would not cease providing a birthing facility at Tuatapere Maternity on March 31, Save Tuatapere Maternity Action Group chairwoman Lorelee Clarke said.
This was followed yesterday by one of the largest protest marches seen in the Western Southland town, which has a population of about 580.
"This is not just a protest. It is an event in the history of Tuatapere," Stan Hammond said.
"I can't remember something like this in 60 years where so many people have turned out to have their say on something. It's very, very rare. Rural people just don't protest."
The trust and the DHB are at odds over whether the trust chose not to renew its contract, which the DHB said was unsustainable with 20 births a year.
Mr Menzies said he sympathised with the community, but the centre was neither clinically nor financially sustainable.
If he was a local resident, he would not feel happy about his children being born there, because of the lack of clinical safety and the distance to other centres.
Mrs Clarke told the Otago Daily Times up to 200 people attended Monday's meeting, showing huge community support.
The audience was greatly heartened by trust deputy chairman John Munro's announcement the centre would stay open for births, she said.
Mr Munro told the ODT the trust would try to re-negotiate a contract with the DHB.
The DHB had been a "little bit misleading" in saying it was the trust's choice to pull out of the contract, he said.
In a statement, DHB funding and finance general manager Robert Mackway-Jones said he agreed with the trust's "original" decision to opt out of the contract, because the centre was not sustainable.
The DHB would work with the trust to provide post-natal and ante-natal services in Tuatapere.