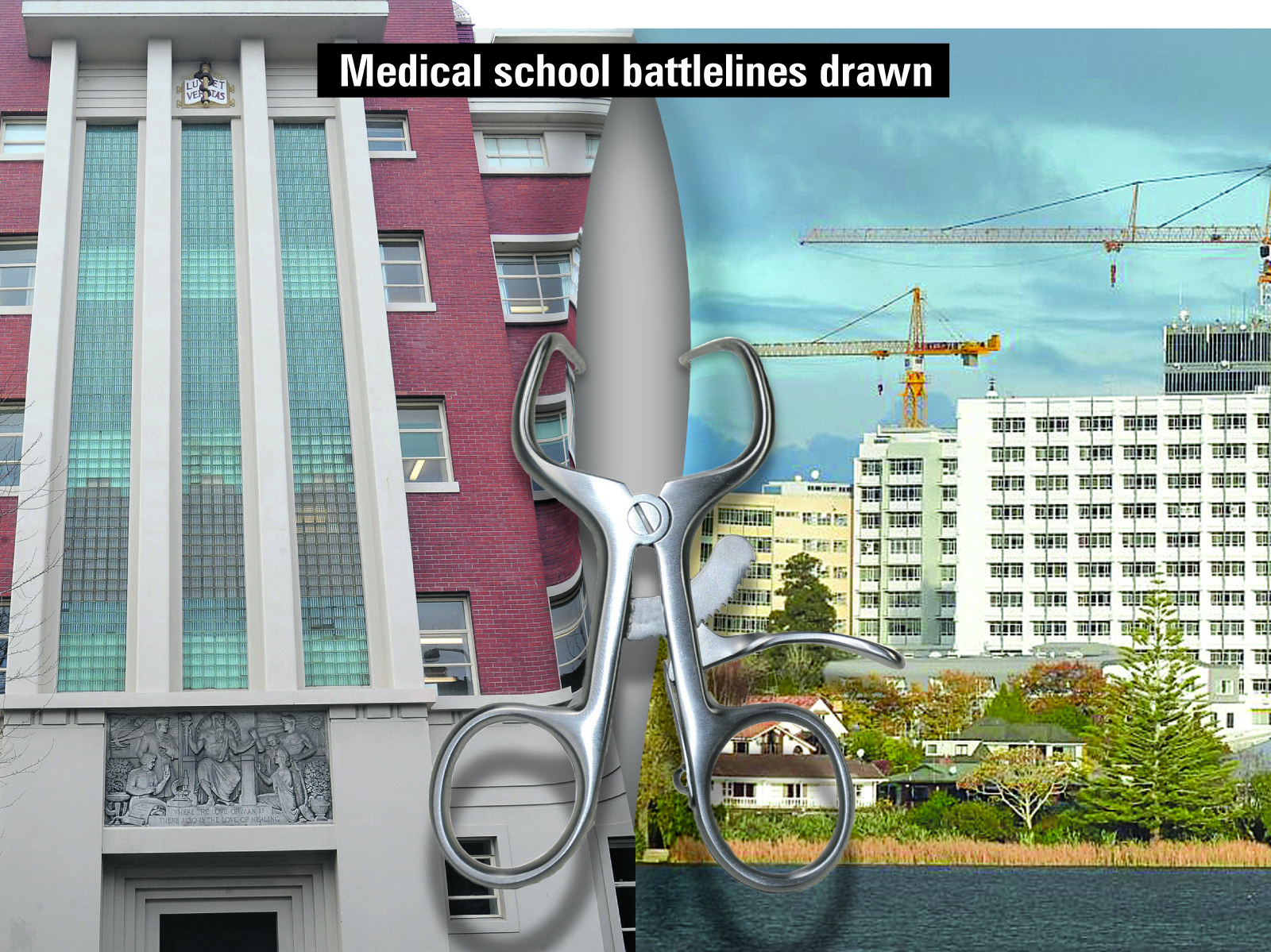 The bid by Waikato District Health Board and Waikato University  for a medical school has greatly perturbed Otago and Auckland universities, writes Eileen Goodwin.
There is nothing like a common threat to unite old foes.
Waikato's bid to set up a third medical school has forced traditional rivals Otago and Auckland into an unlikely alliance.
The two medical schools have in recent months pitched up together in Wellington to persuade officials of the merits of their proposed ``School of Rural Health''.
It is quite a contrast from their traditionally frosty relationship.
Auckland has the bigger logistical headache from the spectre of a third school. What it dubbed Waikato's ``expensive folly'' would place extreme pressure on medical trainee placements in the upper North Island.
For Dunedin, it would create more competition for research funding and senior staff.
There are certainly enough able students to fill three schools. But the strongest argument against a new school is a lack of trainee jobs when they graduate. If a new school were approved, the Government would need to increase health board funding to employ more postgraduate doctors.
And it would need to increase the number of vocational training places for general practitioners - the programme doctors enter after their two junior doctor years.
Relying on overseas-trained doctors is nothing new in New Zealand, but Waikato says it can help relieve that by training doctors in a different way to avoid a trainee bottleneck.
Waikato DHB and Waikato University would even build new medical facilities to create openings. ``The Waikato Medical School will invest in creating the capacity to train students in community settings and thus increase the national capacity for community-based clinical placements.''
Auckland/Otago have put up what is effectively a rival bid. The pair's rural school is more bold than its dull-sounding title might suggest.
Like a new medical school, the rural school would not be cheap; it would involve providing infrastructure for research and training in small centres to make those places attractive for doctors to work in.
The pair protest they have talked about doing something together for a couple of years, but the Waikato bid appeared to jolt them into action.
Tertiary Education Minister Paul Goldsmith is assessing both bids.
Waikato's is essentially a regional push from the DHB and the university, with the backing of Hamilton's two National MPs, and the region's councils.
It does not appear to have strong support from any main health sector body. The two leading general practitioner bodies are directly involved in the Otago/Auckland proposal, while the New Zealand Resident Doctors' Association (junior doctors' union) is opposed to the Waikato bid.
The system is straining from an extra 200 medical students shared between Otago and Auckland, which is being phased in over time.
Some new doctors will miss out on crucial trainee jobs.
A Waikato medical school would add another 60 graduates to the mix every year.
When the Otago/Auckland proposal was announced, Waikato was quick off the mark with a scathing press release blaming the schools for ``decades of neglect'' of rural areas.
Waikato sees the existing schools' stance as patch protection, and has been happy to call it out.
The public attack from Waikato University vice-chancellor Prof Neil Quigley shocked Otago, which is used to more collegial and genteel relationships with other universities.
To its credit, however, Waikato has succeeded in putting the rural medical workforce shortage on the public radar.
The ``Waikato Medical School'' Facebook page is active, and the bid has gained a lot of coverage in the local newspaper.
The founders of the North Ontario School of Medicine - the model for Waikato's proposal - visited New Zealand to promote Waikato's case. They talked about the resistance they encountered from other medical schools.
Waikato argues that Auckland and Dunedin are not training enough doctors who want to work in rural areas, and that overall the country faces a huge doctor shortage.
Its solution focuses on the problem in the five mid-North Island DHBs.
The third school would train the sort of doctor who serves rural people, not those drawn towards the ``global medical elite'', its formal proposal says pointedly.
The Waikato school would be graduate-level entry, meaning students already had a degree.
The two sides squared off in this month's edition of the New Zealand Medical Journal with opposing articles.
In his article, Otago Medical School dean Prof Peter Crampton argued a third medical school could inflict harm without fixing the problem.
Australia was a case in point, he said, as a big increase in medical students had not solved rural doctor shortages.
In New Zealand, DHBs last year created an extra 47 first year junior doctor positions, and nine candidates still missed out because of a shortage of positions, he wrote.
There is a lot to think about for the Government, and it will be impressed by the passion Waikato has shown in its case.
It is, however, highly unlikely to agree to a third medical school.
The Government has been opposed to empire-building in the tertiary sector, and as a result that sector is slimmer now. The $5million donation from Sir Owen Glenn for a Waikato medical school may help offset that, because the Government wants to encourage philanthropy.
National Party-aligned blogger David Farrar's thinking may be in line with that of the Government. In a recent blog-post he wrote:
``While it is good to have a focus on rural health, it is very unclear that we need a third medical school, or that Waikato could attract the expertise to run one.
``I think part of this is a desire by Waikato to gain funding. Medical schools bring in immense levels of funding - not just for the teaching, but also for the research that goes with it.''
The DHB's plan to help pay the costs of a new school will raise questions about whether it is the best use of health funds.
Waikato DHB is not without its own clinical service issues, particularly in mental health and obstetrics.
The reality of election year is that the bid will receive more attention and consideration as it could be a powerful vote winner in Waikato.
That means the Government is going to take its time with the decision - if the answer is no, the bad news is unlikely to be delivered before September 23, election day.
The Government will not be perturbed by keeping Otago and Auckland on their toes for a while.