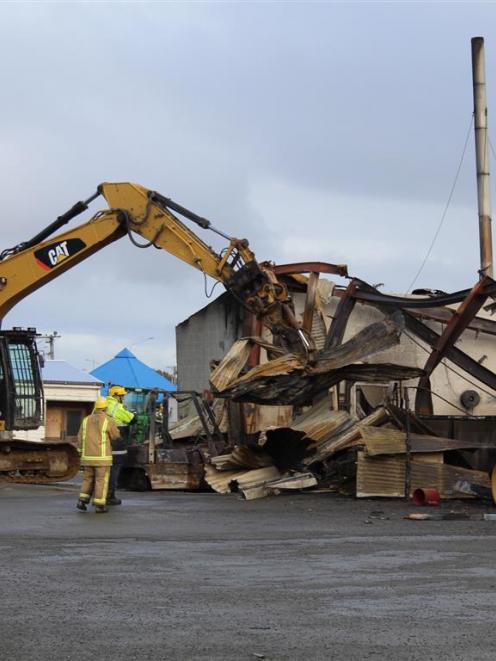 Staff at the Invercargill branch of Southland Farm Machinery are counting the cost after a huge fire destroyed the North Rd building early on Sunday morning.
The business is the local John Deere agency and group manager Carey Briar said new tractors being prepared for sale and in the showroom were lost, as well as several ride-on lawn mowers, farm machinery, clients' tractors in the workshop for repair, a utility truck, and all the stock in the parts department.
Staff completed a stock take yesterday, he said.
The loss would amount to "a reasonable sum''.
The building and contents were insured.
The alarm was raised about 11.50pm on Saturday. Almost 30 firefighters from Invercargill, Kingswell and Wallacetown attended, bringing the fire under control by about 2am.
Several Southland Farm Machinery staff went to the building and managed to move new tractors parked outside on the North Rd frontage out of harm's way, Mr Briar said.
Invercargill senior station officer Gordon Rodgers said yesterday the cause of the fire was not yet known.
A digger was used yesterday to "de-layer'' the building, so two fire investigators could do their work, and the investigators would be back on site today.
Mr Briar, who only joined the company two weeks ago, said about 20 staff worked at the branch, including mechanics, sales and office staff and managers.
"They are a close-knit team and a lot of them are long-termers who had a history with the building.
"They have taken it fairly hard, but they are also pragmatic and know that things have to carry on.''
It would be "business as usual'', he said, with mechanics offering service from mobile work vehicles, and parts and stock able to be sourced from the company's other branches in Gore and Cromwell.
Staff were working through potential options about moving to an alternative temporary site in Invercargill, and considering whether a new building could be rebuilt on the North Rd site, Mr Briar said.
He thanked people for their outpouring of support, including offers of workshop space from competitors.