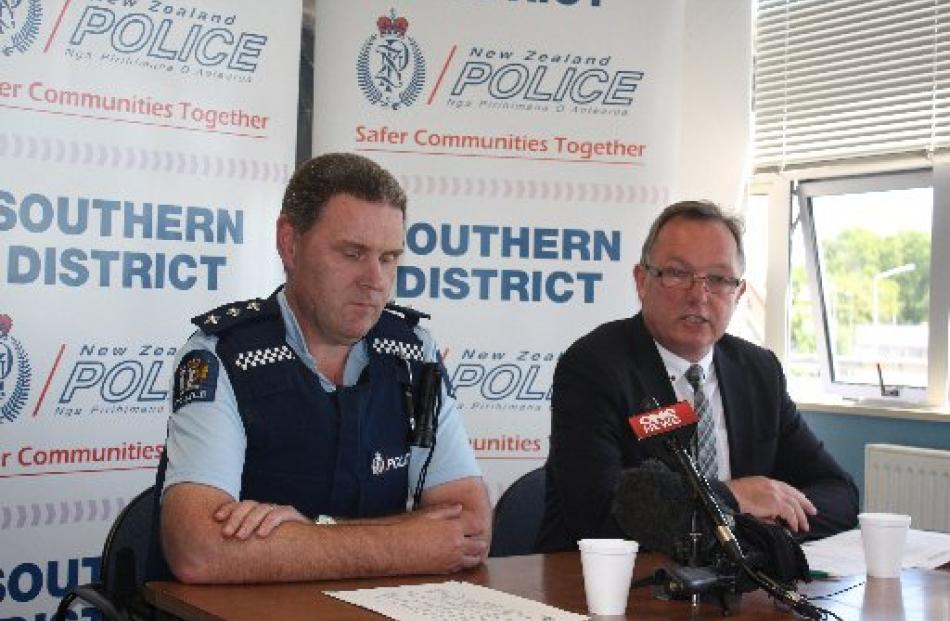 A 78-year-old woman and 76-year-old man are among 17 people, most with connections to the Invercargill-based Road Knights motorcycle gang, charged after police swooped on 14 properties yesterday.
Police arrested 10 men and seven women they said were key players in a crime ring, during searches of properties in Invercargill and Central Otago.
Some of those arrested were members of a ''crime family'' integral to the operation and structure of the Road Knights gang, Southern district police organised crime squad head Detective Senior Sergeant Malcolm Inglis said at a media briefing in Invercargill yesterday.
''This is a family who appear to have a made a substantial living from the proceeds of illegal activities.''
Cash, drugs, houses and motorbikes were seized under the Criminal Proceeds (Recovery) Act 2009.
Det Snr Sgt Inglis would not give the addresses of the properties, but said five were in Invercargill, one in Roxburgh and one at Moa Creek.
One was a property owned by an arrested person and rented out to tenants, he said.
The Road Knights' headquarters in Balmoral Dr, South Invercargill, was not seized, he said.
Collectively, the properties and motorbikes were worth hundreds of thousands of dollars.
The properties and motorbikes are now owned by the official assignee and there will be civil court proceedings to decide whether they are retained by the Crown.
The arrests concluded a 10-month investigation called Operation Crimson, which targeted the Road Knights and their criminal activities, Det Snr Sgt Inglis said.
Eleven people appeared in the Invercargill District Court yesterday following the raids. All were granted name suppression and bailed to reappear on January 28. They did not enter pleas.
Ten from Invercargill faced a raft of drug charges, while one man with a rural Southland address faced drugs charges and a firearms charge.
Several defendants were jointly charged with others in varying combinations.
Det Snr Sgt Inglis told the media briefing police still had to make a few more ''mop-up arrests'', and investigations were continuing into the theft of insulation batts from a Government-subsidised home insulation scheme in Invercargill.
The operation, run jointly by the Invercargill and Southern district police organised crime squads, assisted by the police national asset recovery unit, ''again highlighted the links between organised gangs and drug dealing'', he said.
''Police will continue to be relentless in targeting criminal gangs which attempt to fly under the radar and cause a significant level of harm in our communities.
''Their ill-gotten gains in the form of huge profits are at the expense of the welfare of our communities and our young people.''
As part of Operation Crimson, police and Customs had in July and August intercepted 1kg of the drug Pentedrone, an analogue of Ecstasy, with a street value in excess of $125,000, he said.
A 29-year-old Dunedin man linked to the Road Knights and a 42-year-old man and 50-year-old woman, both from Balclutha, were arrested and charged in August.
Those who appeared in court yesterday were:
Woman (78), two charges of offering to sell cannabis to people over the age of 18; man (76), 41 charges including manufacturing and supplying cannabis oil, possessing cannabis, selling cannabis and possessing BZP; woman (47), five charges; man (43), freezing worker, 34 charges; woman (42), sex worker, four charges; man (41), six charges including possessing a high-calibre rifle; man (40), freezing worker, three charges of importing pentadrone; man (35), 27 charges; man (28), four charges; woman (25), 32 charges; woman (22), four charges.
Operation Crimson
Ten-month operation targeting Invercargill-based Road Knights motorcycle gang.
Events yesterday
Searched: 14 properties in Invercargill, Alexandra, Roxburgh and Moa Creek areas.
Seized: $38,000 in cash, large quantities of cannabis, BZP and ecstasy ingredients.
Restrained: Cash, drugs, seven houses and two motorbikes under the Criminal Proceeds (Recovery) Act 2009.
Charged: 17 people on 195 charges including drug dealing, possessing firearms, cultivating cannabis. In court: 11.

In total
Arrests: 20.
Seized: Drugs with estimated street value of $160,000, a sawn-off pistol and high-calibre rifle.
In past two months: Three indoor cannabis-growing operations of more than 100 plants located in Invercargill.