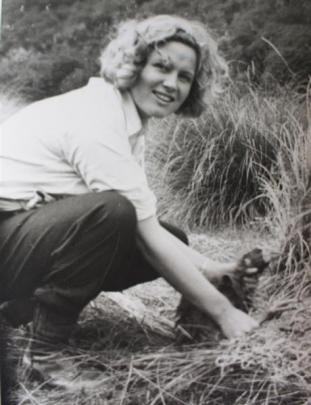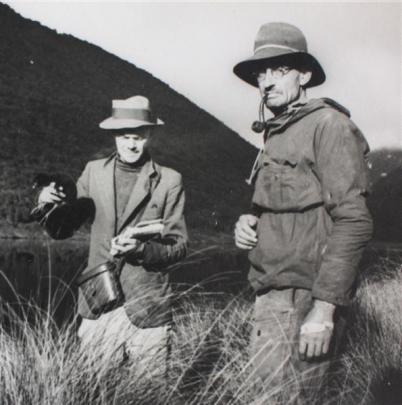 For a few years, Rex and Joan Watson were courted by news media from all over the world.
Their association with Dr Geoffrey Orbell, a man almost a generation older than them whom they called Doc and regarded as a mentor and father figure, had made them part of ornithological history.
''It was the worldwide interest that staggered us,'' Mrs Watson said.
''We were in all the newspapers - in the London Illustrated News twice, in Time magazine - [and were] written about in many scientific journals. And for at least two years, newspapers and magazines printed our own accounts of the day notornis was found.''
Almost 65 years later she still has three scrapbooks of clippings and many of the magazine articles. Somewhere along the line the Time magazine disappeared. She thinks it was probably taken to school by one of their children for a science project and not brought home again.
Mr Watson, who turns 90 in April, is not in good health, but Mrs Watson (87) has vivid memories of how they came to be high in the Murchison Mountains in 1948 herding two takahe into a flounder net.
Dr Orbell, an ear, nose, throat and eye specialist, moved to Invercargill in 1935. He was an energetic man - a boat builder, hunter, tramper, bird watcher and sea scout leader as well as a surgeon and family man.
Mr Watson, Ron Weston and Neil McCrostie were schoolboy sea scouts. As teenagers and young men they continued their friendship with Dr Orbell and hunted and tramped with him.
Mrs Watson, at that time Joan Telfer, was Mr Watson's girlfriend and began to accompany them on some of their expeditions.
Dr Orbell was convinced takahe were not extinct. Ever since he had seen a photograph of a stuffed specimen in the Otago Museum as a boy he had been on the lookout for signs of the birds during his back country expeditions. He also studied maps and spoke to people who had seen unidentified large birds or heard unusual deep calls.
In April, 1948, Dr Orbell and Mr Watson were deerstalking high above Lake Te Anau near a lake which was then known as the Lake of the Friendless (it has since been renamed Lake Orbell).
Mrs Watson takes up the story:''As they were walking along the beach, Rex spotted footprints. Doc measured them and thought they might be on to something. But when Doc sent the measurements to Dr [Robert] Falla, the director of the Dominion Museum in Wellington, he thought they were too big to be a takahe and were the prints of a white heron.''
There was heavy snow that winter and it wasn't until November that Dr Orbell, Mr Watson, Mr McCrostie and Miss Telfer were able to return to the area.
Within minutes of reaching the plateau where Dr Orbell thought they might find takahe they had netted two birds and seen another.
Mr Watson took photographs on his box Brownie camera. One shows Joan reclining on the beach watching a takahe tethered to a stick; another shows her smiling broadly and holding a bird on the ground.
Both Mr and Mrs Watson - they married in 1949 - remember the excitement and sense of achievement that day.
''Were we impressed with the birds? Oh yes,'' Mr Watson said.
Dr Orbell was very aware the find would interest the media, Mrs Watson said.
''As soon as he got back to Invercargill he sent off cables and distributed his movies and Rex's photographs. But I don't think any of us were prepared for the avalanche of publicity which resulted.''
Two months later, Mr and Mrs Watson were part of an 11-person group which camped at the lake for a week, recording birds and eggs and taking more photographs and movies.
Mrs Watson was the only woman. Because she had shorthand typing skills she became Dr Falla's secretary, recording his observations and reports.
The Watsons' friendship with Dr Orbell and his wife Sheila continued until the Orbells died - Dr Orbell in Mosgiel in 2007 aged 98 and his wife in 2010 aged 99.
They say they are proud to have known him.
''He was the most wonderful person,'' Mrs Watson said.
''He knew so much about flora and fauna. He always had time for others and was always sharing his knowledge. We loved to follow in his footsteps.''
Dunedin author Bill O'Brien, who is writing a comprehensive biography of Dr Orbell, has interviewed the Watsons about their friendship with Dr Orbell and their part in the rediscovery.
While the Watsons were ''pretty laid back'' about the rediscovery expeditions, their contribution was worth remembering, he said.
''The reality is they were involved in a monumental thing.''
O'Brien's book is almost completed. He said he hoped it would be published this year to coincide with the 65th anniversary of the rediscovery.
allison.rudd@alliedpress.co.nz
---
Trek result 'too good to be true'
An extract from an article written by Joan Watson (Telfer) published in The Mirror women's magazine in June 1949:
On November 19 [1948] a party including Dr Orbell, Neil McCrostie, Rex Watson and myself left Invercargill.
At 3.30am the next day we were on board the Takatumu, moving up the lake [Te Anau]. We dropped anchor and landed our packs on the western shores about 5.30am. On this occasion we were travelling very lightly, carrying lunch, cameras and 50 yards of fishing net.
The trek was long and tedious, up terraced slopes. Through dense beech forests, twined with lawyer and obstructed by windfalls and undergrowth tangled with a mass of roots, ferns and rotting trees, our progress was slow and checked on numerous occasions.
After three and a half hours' climbing we finally emerged on to a clearing covered with snow-grass and boxwood, and further on to snow-grass only.
When crossing this flat we noticed that the snow-grass had been pulled out at intervals in the same manner as swamp hens pull reeds. These places also showed many droppings suggestive of a large bird.
A few minutes later Dr Orbell dropped suddenly flat on the ground and motioned that we should follow suit. The three of us thought immediately of a deer. But it was not a deer. To quote the doctor: ''Either a pukeko or it!''Peering excitedly through the long snow-grass we saw a strange looking bird strutting about on a small patch of swampy ground. The bright crayfish [red] beak and dark head were unmistakable.
Dr Orbell crawled slowly and carefully through the long grass, applied a telephoto lens to his movie camera and commenced shooting.
At this stage he signalled that another bird had appeared on the scene. We took the net out of the pack and proceeded to drag it into a semi-circular position. When this task was completed we were ready for the attack, and the doctor indicated to Rex to stand at the opening of the net and help drive the birds in.
During all this time the birds were making a very penetrating gulping noise. Apparently not in the least scared, they walked into the net of their own accord, and when we attempted to release them from it they clawed with their powerful feet, snapped with their strong beaks and screamed violently. This commotion roused a third bird which we were unable to catch. He hovered at the edge of the bush ... for about an hour.
All this seemed to good to be true. Only 9.30am and two Notornis had been captured.
When we had completed our observations and the birds were released we returned [home] in what Time magazine so aptly described as ''a state of ornithological ecstasy''.
---