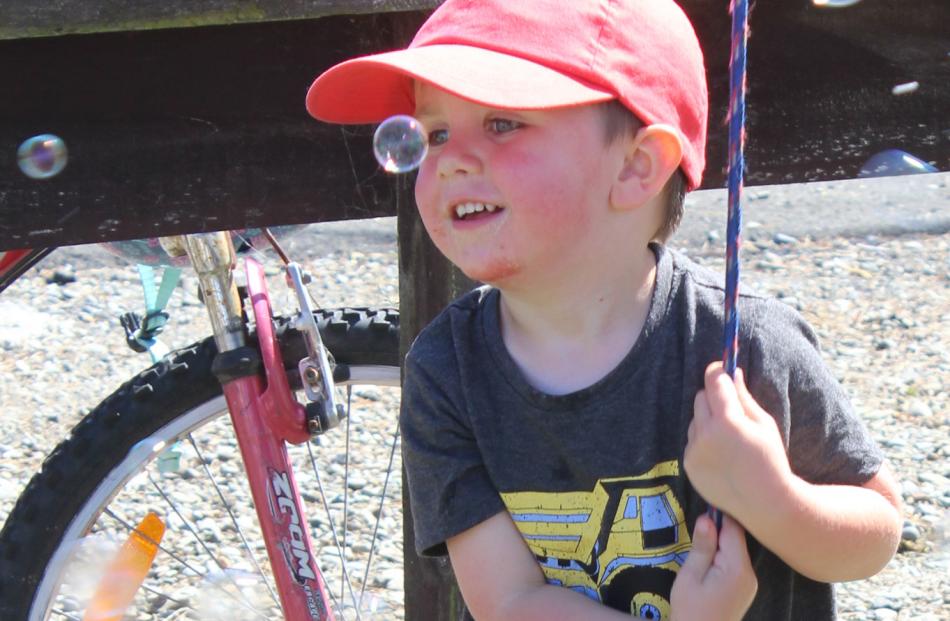 Jesse Leigh gets a thrill from racing down a hill in his trolley — so much so his family travelled to Invercargill from Christchurch to attend the South Alive Trolley Derby yesterday.
Inspired when he watched Kiwi Flyer for the first time, the 10-year-old set his sights on competing in a trolley derby himself, and yesterday came second in his category racing in General Leigh.
He said it was all about the speed. "I love the racing and seeing what time I get."
His mum Suzanne, who was diagnosed with cancer in 2016, also raced and won the adult category in the same trolley.
She said they participated every year, as well as other derbies around the South Island.
There were 15 entrants in total. Douglas Hackett won the 11-12 years old category. He had entered the event before, and said his new cart gave him the upper hand.
He said he noticed a difference racing in it compared to previous years and that pushing forward helped at the start.
The deciding race was between him and Holly Duston, but there were no hard feelings between the competitors; as they shook hands she smiled and said "next year".
"Next year," was his response.
The event celebrated International Children's Day with a Family Fun Day at nearby Elizabeth Park.
There, children rode donkeys and miniature horses, blew bubbles, slipped on the water slide and tossed gumboots.
At the event, Jaxon Murch (7) experienced his first time riding. He partnered up with an SPCA rescued miniature horse named Rocky
South Alive trustee and volunteer Jess Chalmers said fifth annual event went well and she was glad the sun was shining.
She said about 400 bags were filled with shredded paper to be used as racetrack barriers — "it takes a bit of preparation beforehand".