US tech billionaire Peter Thiel does not intend to live in the luxury lodge his company Second Star Ltd wants to build near Wanaka, his lawyer Michael Holm said yesterday.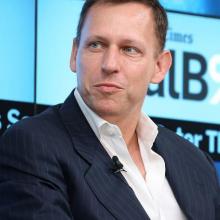 The proposal is for a 330m-long, grass-roofed complex, comprising 10 guest accommodation units with a basement floor level of 1165sq m, a private "owner's pod" with a floor area of 565sq m, a 40sq m meditation building, and a "back of house" building for which no designs have been submitted.
Landscape witness Stephen Brown, of Auckland, on behalf of opposer John May, described the building as "the length of Eden Park" and "pretty substantial".
Mr Holm told independent resource commissioners Ian Munro, Wendy Baker and Glyn Llewers, Mr Thiel and his family would visit Wanaka infrequently, possibly staying up to two weeks at a time.
Most of the time, their "owner's cottage" would be visitor accommodation.
The complex had been designed for a "very high calibre of guest", accommodating between 15 and 30 people at a time.
Mr Holm said the perception it would include a residence may have been because of references in the application to an "owner's cottage" or "owner's pod".
Commissioner Ian Munro asked: "so we are consenting solely visitor accommodation?".
"Yes. That is correct," Mr Holm said
Queenstown Lakes District Council planner Sarah Gathercole has recommended the development be rejected based on adverse effects on the landscape.
The resource consent application was notified last year, receiving four submissions in opposition and three requesting changes.
Opposers include neighbouring resident John May and his Longview Environmental Trust and the Upper Clutha Environmental Society.
The Upper Clutha Tracks Trust was neutral but sought 1.27km of access easements to improve the Glendhu Bay Track, which the applicant has agreed with.
The commissioners questioned witnesses extensively about "the reasonably difficult to see" test in the district plan, revegetation and native planting programmes, and whether green roof technology could adequately mimic the surrounding natural landscape so the house would melt into the background.
They were also concerned about the lack of designs for the "back of house" building. Commissioner Baker said she was "not quite sure what we are being asked to consent".
Tourism and hotel development expert Stephen Hamilton, of Auckland, said Wanaka did not offer luxury accommodation of the calibre being proposed by Second Star.
Mr Hamilton said the Second Star lodge would attract high-value tourists and provide future employment opportunities for New Zealanders.
He spoke about government policy to "build back better" after Covid, and Tourism NZ strategies to attract more "high-quality visitors".
"A key thing I wanted to say was that I don't agree that the discretionary spending of visitors at this lodge would likely or necessarily be higher if this lodge was to be located closer to central Wanaka ... and secondly there is evidence that guest staying in luxury lodges' discretionary spending in the local economy can be significant," he said.
Mr Munro asked Mr Hamilton if consent was granted based on important tourism related benefits, what sort of conditions should be imposed — for example, employing only New Zealanders, or providing only local products and services.
Mr Hamilton said he was not aware of such conditions elsewhere. Those practices were "simply good business".
Dunedin lawyer Phil Page, representing Mr May, said Mr Hamilton's evidence was "irrelevant".
If that were allowed, there could be many billionaires who might now want to come to Wanaka and argue their local spending justified developments with adverse landscape effects, he said.
"The question Mr Hamilton poses for you, is does spending lots of money in the local economy mean you get to adversely affect the outstanding natural landscape? If the answer is yes, then you have a major problem with the district plan," Mr Page said.
Expert witnesses yesterday also included architect Kengo Kumo, of Japan, 3D Visualisation specialist Jason Blair, Second Star's landscape architect Tony Milne and planner John Edmond.
The hearing continues today at 9am.
--  Marjorie Cook