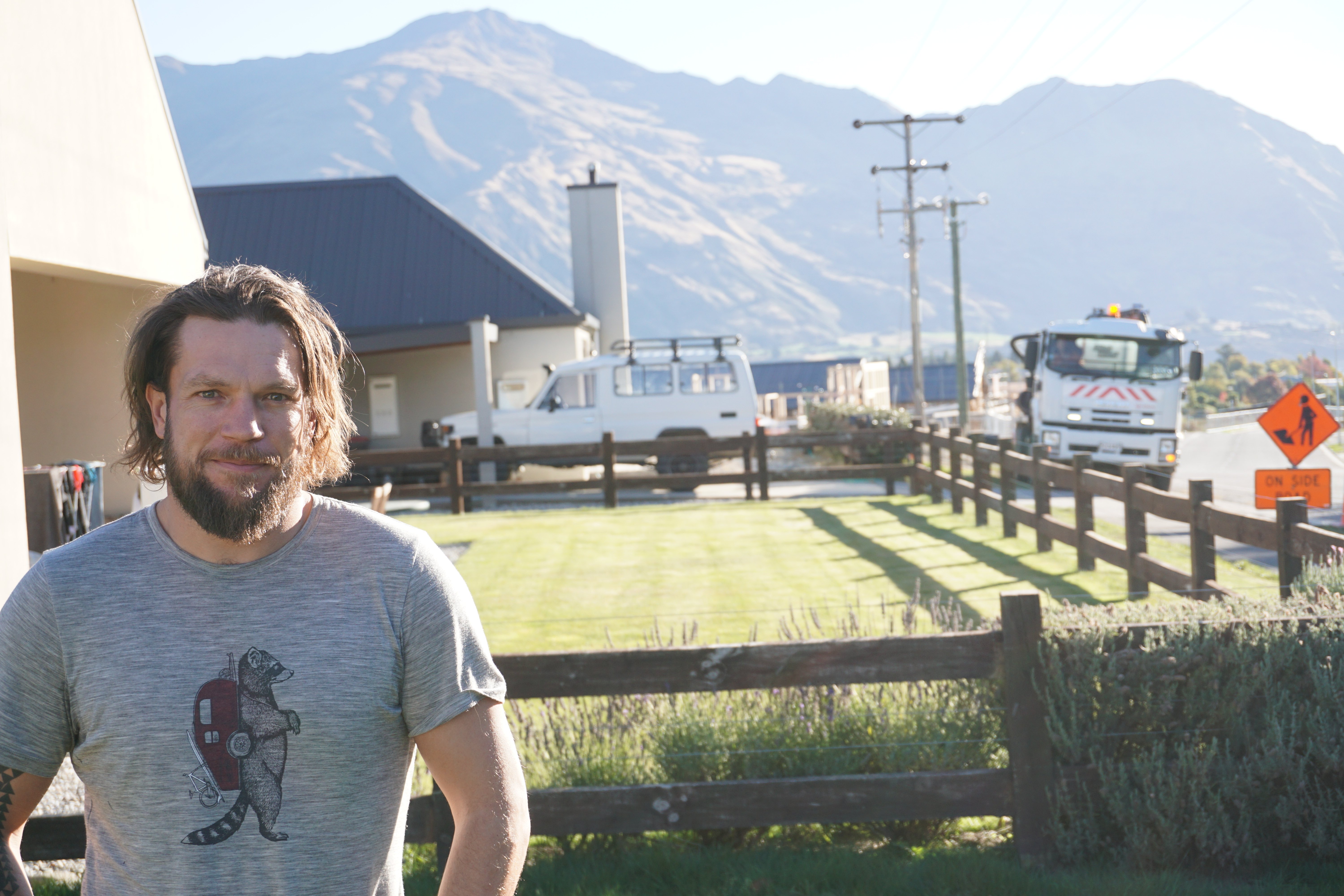 Last month the Queenstown Lakes District Council commissioned the Remote Economy Project, an independent research project to find out more about people who live in the district but earn or generate income elsewhere.
While results are set to be published in early July, reporter Sean Nugent tracks down a handful of Wanaka  residents quietly going about their business from their own homes.
It may be growing rapidly, but Wanaka is still a small town.
Tourism and hospitality are major industries, as are trades, busy erecting dozens of houses to meet heavy demand.
Retail, small businesses, and a few branches of national companies, are also scattered throughout the place.
And that is basically it.
But scrape the surface and a whole different world is uncovered - one where some of the town's residents are running or working for national and international businesses - from the comfort of their own home.
That is the case for Wanaka residents Patricia Ko, Steve Mosley and Simon Telfer.
All three are relatively new to the area, having moved there in the last four years, and while they all do much of their work remotely, they do so in completely different industries.
Ms Ko has run an African safari business with her husband for clients based all around the world for the past 12 years.
Three years ago, their family moved to Wanaka from Botswana, and brought their business with them.
She said almost all of her work was done online on her laptop or phone, whether it was taking bookings or communicating with clients and suppliers via email, Whatsapp or Skype.
That compact and portable office allowed her to spend more time with her children, who were heavily involved in snowsports.
"It's amazing that I'm able to do a lot with our kids, especially following their sport. I can work from most places from where they're doing their snowsports or school events.
"Our boys are very much involved in snowsports and we really love Mt Aspiring College so that's why we're Wanaka-based, but in theory we could be based in St Petersburg or anywhere.
"We quite often work on African time, so we quite often work in the evening and don't have to go back and forth to an office. My office is just my backpack so I can take my laptop out wherever I am and talk to my suppliers via Whatsapp and Skype.
"There is a down side as well, in that it never stops, but we love doing what we're doing so it's absolutely fine."
Software developer Steve Mosley works for one of New Zealand's major banks.
While its head office is in Wellington, Mr Mosley has worked from his Wanaka home for the past year, as his work was "all computer-based".
"For meetings we can just jump on Skype, so I'm talking to people using Skype at least once a day, usually multiple times a day.
"We have multiple applications for communicating these days.
"We use one called Flowdock which is like the much more popular Slack, which is good for group chat.
"Before you change some software you send someone a request to review it and that's all done through webpages."
Mr Mosley had worked in software development for the best part of 15 years and said there was a "definite trend" of more and more people in the industry working remotely.
He attributed this to the advancements of communication technology and allowing people to work remotely was a selling point for companies to retain top staff, although he noted New Zealand was still "playing catch-up" to the rest of the world.
"The speed of internet is a huge thing for making the real-time communication a possibility.
"Even just being able to jump on the phone with people without needing to worry about the cost of it is a lot different than it was back when I started in 2003. Back then you cared about the cost of making cellphone calls.
"To me the biggest benefits of remote working is that companies can keep good people.
"When other companies are offering it, it's just a competitive advantage and I feel that the downsides of having remote people have gotten so little that it's just this trade-off that companies are making these days."
On a personal level, being able to work at any time of the day and not having to commute were big attractions.
"When I was living in Wellington it would be a 15-minute drive to work at a minimum at 7am. If you left a bit later it could be a 40-minute drive or taking a train in miserable weather.
"Here, you've got the mountains and lake on your doorstep. If I want to go for a run at lunchtime I can just walk out the door.
"Last winter I would do nine days a fortnight by working extra hours, with the aim to go skiing on the other days."
Simon Telfer works within boardrooms around the country in various roles and runs coaching sessions over Skype for executives looking to transition from management roles to board roles.
Formerly of Auckland, Mr Telfer moved his family and business to Wanaka three and a-half years ago to enjoy the lifestyle.
He said he had "continued to do exactly the same thing" as he had done in Auckland for close to a decade prior, and labelled internet speed and the frequency of flights to Auckland out of Queenstown Airport for board meetings as "game-changers".
As someone with a young family, having the ability to work flexible hours was the "real attractive part" of working remotely.
"My work and home life is blended so I might be working Sunday afternoons but I may also be at the children's school helping out with things on a Tuesday morning.
"I probably work the same amount of hours but I have the ability to have a more balanced life and enjoy what Wanaka has to offer without being restricted by the hours of 9 to 5.
"Flexibility is a really attractive thing, particularly for the generation that is new to the workforce.
"Most large organisations have an element of flexibility. They're really looking at performance being based on what you achieve, not how long you're in the office.
"If that means you work from home or split your time in the office and home, it's becoming more and more common."
Both Mr Mosley and Ms Ko often spend some time working at the Cell, a shared workspace in the heart of town.
Established in 2014, the Cell was originally opened as a launchpad for entrepreneurs but office manager Mary Jo Muller said it had also become a place where remote workers could base themselves on a semi-regular basis.
She believed it was becoming increasingly common for people in Wanaka to work remotely, and pointed to the cost of living as one factor.
"Unfortunately that's what is necessary to survive here.
"I hear a lot of people who truly love the area and want to stay but without affordable accommodation they haven't been able to make it comfortable within the means that they're comfortable with.
"A lot more people are finding ways, whether its marketing, web development or software engineering, to be able to work a remote job from here."
Companies had also become more used to employees working remotely, she said.
"I think initially there was a trust issue for companies to have their workers outside of their sight.
"Now with the ability to log in [to a work network] or a VPN so you can have secure access to the same system means there is nothing vulnerable or at risk of getting out.
"Employers can now often know when people are logged in or out, there's a lot more accountability and I think they're understanding there's a lot more efficiency around technology so the commute and time at the office isn't out of necessity anymore."
The Queenstown Lakes District Council announced last week that the Remote Economy Project to date had "uncovered over 80 people with a range of talents that could benefit the area".
Responses gathered so far had come from various industries, including IT, professional services, and people running businesses based elsewhere.
QLDC economic development manager Peter Harris advised many of those who have completed the survey were keen to get more involved locally, whether to help an existing business, or to grow a local team.
"This suggests that there may be opportunities to help shape and nurture diverse economic opportunities."
The survey remains open for a week before results are collated and released in early July.