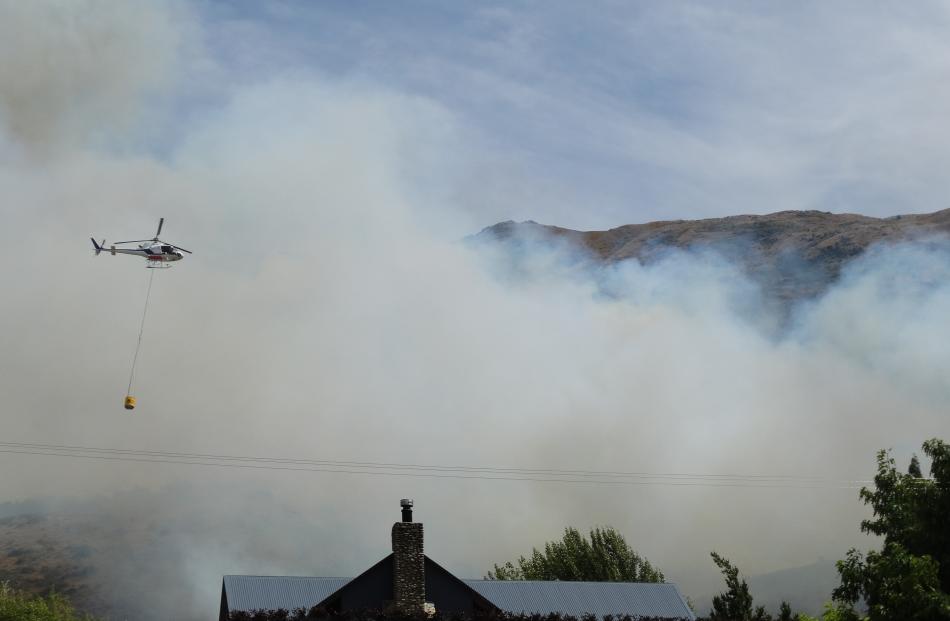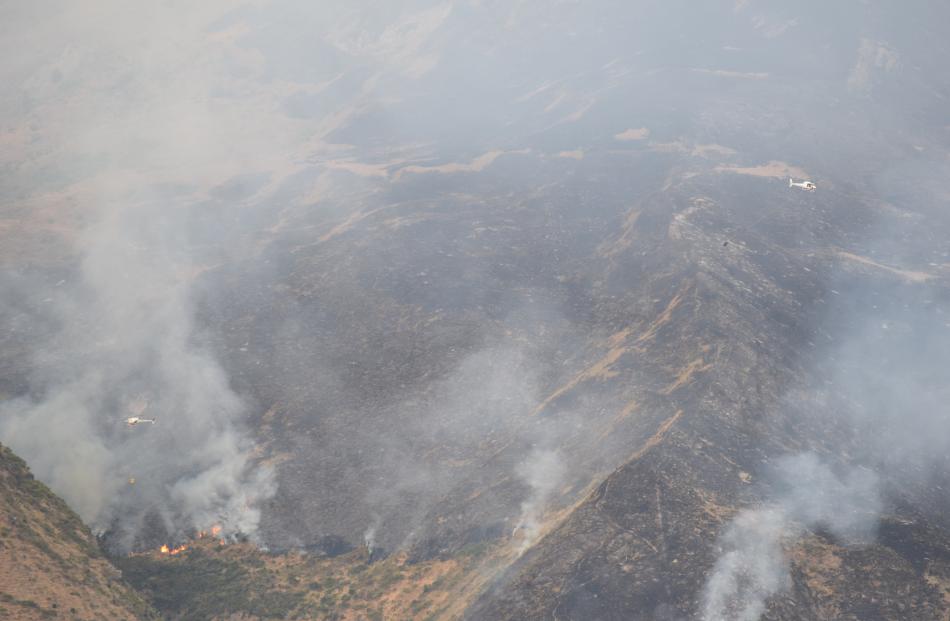 Helicopters and ground crews continue to fight a Wanaka fire in hot, windy conditions and will not be confident it is completely out until the area gets a significant amount of rain.
Crews were first alerted to the big blaze on Mt Alpha about 2.50pm yesterday, which burned through about 200ha of vegetation before dark.
MetService has issued a thunderstorm watch and heavy rain for Otago today, but there was no certainty about if, where or when a storm might hit.
Wanaka has had less than 5mm of rain since early December and it has been a hot and windy week so far, with the town recording 30degC today.
The weather was being monitored, with rain falling in Queenstown and parts of Otago this afternoon.
Incident controller Trevor Booth said six helicopters were still operating with six  ground crews (24 firefighters) dampening down hot spots late this afternoon and making sure there were no breakouts.
They would continue to keep an eye on the situation overnight, especially behind homes.
Fresh ground crews would be on site from 7am tomorrow, with the operation expected to continue for a few days, he said.
Mr Booth thanked the Wanaka community for their generous donation of baking, fruit and foods during the day. 
Earlier today, Principal Rural Fire Officer Graeme Still warned Wanaka residents they should not be fooled by the lack of flames, as the fire was "deep seated" and far from extinguished.
"It's definitely not out."
His warning came after residents woke to see the Mt Alpha fire had reignited on two separate fronts overnight.
Crews from Wanaka, Hawea, Luggate, Dunstan and Arrowtown worked overnight to protect homes on the outskirts of the town from the blaze.
Around 3am, after the fire flared up again late yesterday, crews and police were preparing to evacuate about 30 homes as well as occupants of the Wanaka Kiwi Holiday Park as a precaution due to a wind shift.
However, conditions had changed again and as at 4.30am the fire was not burning towards homes, and since first light today eight helicopters with monsoon buckets attacked the fire.
The aim was to contain the fire within its current perimeter and then put it out. The fire danger in this area was extreme, so crews were continuing to take a very cautious approach.
The Queenstown Lakes District Harbourmaster Marty Black had staff patrolling the lake to keep boaties away from the helicopter operations after some approached too close this morning.
There was an aerial exclusion zone above the fire to keep civilian aircraft and drones from obstructing the helicopters in their work.
There is no public access to the Mt Roy Track, Spots Creek Track and the Millennium Track from Ruby Bay to the Edgewater Bridge today because of the fire fighting operation and the extreme risk.
The fire was visible from Wanaka yesterday and at least 100 people drove up Wanaka-Mount Aspiring Rd to get a closer view.
Initially, residents of nearby houses and holidaymakers at the Top 10 Holiday Park were told to be ready to evacuate.
Fire and Emergency New Zealand (Fenz) Central Otago assistant area manager Steve Jones said the first thing fire crews did was protect those properties so they were no longer in danger.
Mr Jones said the fire had been contained by late afternoon, and all stock had been cleared from the hillside.
Mr Still did not know how the blaze started, but with the area being so dry, coupled with the heat and humidity, the fire just took off.
''We've been fully focused on putting it out, but we will start investigating the cause [today].''
Wanaka has had less than 5mm of rain since December 9, and the temperatures over the last three days, including today, have all been in the high twenties with high winds.
Mr Jones believed the heat combined with the wind played a major role in the size of the fire.
Meanwhile,  a 33-year-old man has been charged with endangering a transport facility after a drone was flown in the area of the fire yesterday afternoon.
He was due to appear in the Queenstown District Court on Monday.
 - Staff reporters