Brace yourselves - it looks like there is still a touch of winter in the air.
MetService has issued a watch for possible heavy snow in parts of inland Southland and Otago this week, which may affect stock and some higher roads and passes.
Meteorologist Andy Best says a series of fronts, preceded by strong westerlies and followed by cold strong southwesterlies, were forecast to move north across New Zealand from early Tuesday until Thursday.
"There is low confidence that snow might at times approach warning criteria over the lower South Island above about 500m from Tuesday through to Thursday - and parts of Canterbury and Marlborough from Tuesday evening and on Wednesday.''
Mr Best said the weather models were not in agreement today, so it was possible there may be no snow.
"Looking at all the models we have at the moment, this is the best guess we have.''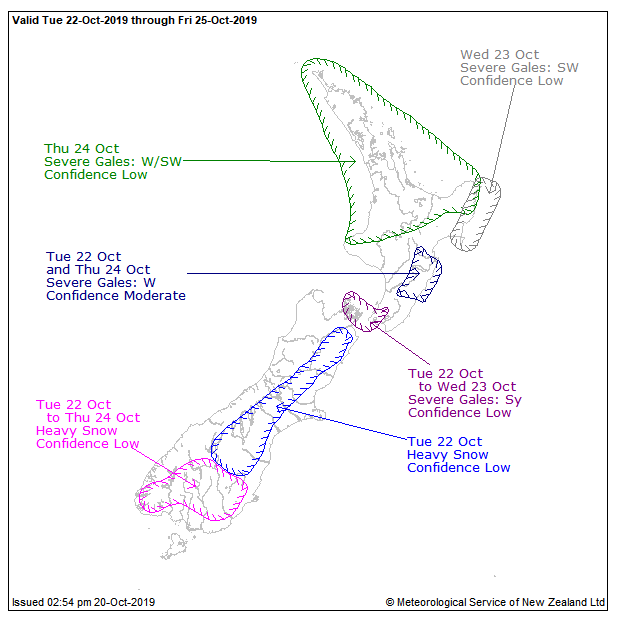 A period of snow showers is expected on the Lindis Pass (SH8) on Monday between 6am and 10am, bringing about 1cm of snow to the road above 800m.  Another period of snow is likely later on Tuesday.
Snow showers are also expected on the Crown Range road linking Queenstown and Wanaka on Monday between 4am and 9am, bringing 1cm to 2cm of snow above 700m. Another period of snow is likely during Tuesday.
On the Milford Road (SH94), up to 12cm of snow may settle on the road near the tunnel, mostly between 2am and 8am on Monday and lesser amounts to 700m. Further snow is likely during Tuesday.
Mr Best advised residents to keep up to date with the latest forecasts.