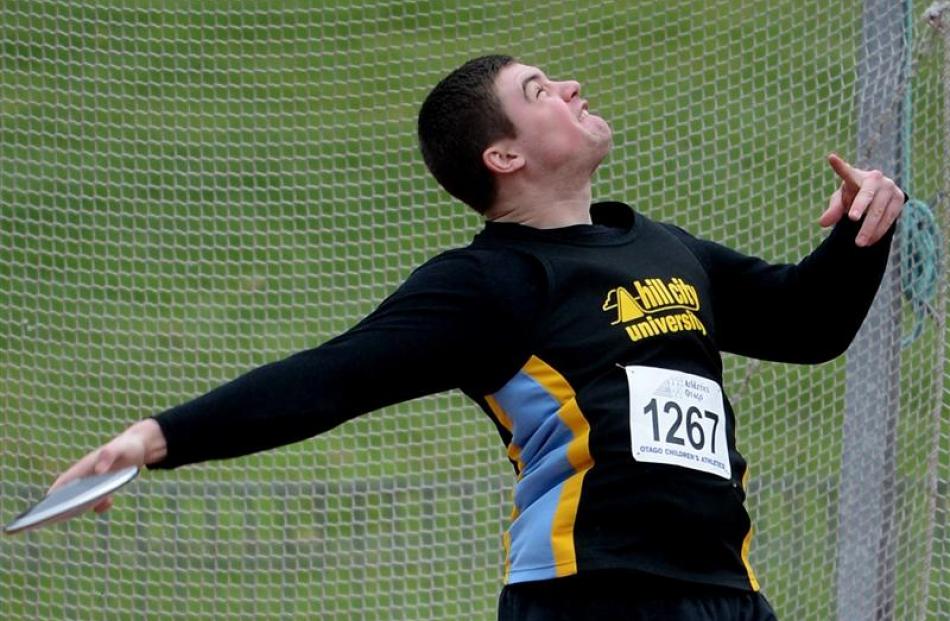 Jessica Hamill made a record-breaking start to the track and field season at the Caledonian Ground on Saturday.
The Taieri para shot putter, who won silver at the 2010 Delhi Commonwealth Games, extended her own national record in the F34 class by a whopping 25cm with a 7.10m put.
She set the old record (6.85m) in Cairns in May, and is part of the eight-strong New Zealand team preparing for the International Paralympic Committee world championships in Qatar next month.
The first track and field meet of the season was moved forward by a couple of weeks so the New Zealand team, which includes six Otago athletes, could compete as part of its 10-day camp.
Hamill's fellow team-mates also performed well. Liam Malone (Tasman) was the pick of the bunch, recording the fastest men's 100m time (11.92sec) of the day.
Josiah Lesa (Hill City-University) clocked a 12.13sec 100m, while Taieri's Sam Gouveneur was third in 13.20sec.
Hilary Harper (Christchurch Avon) edged Christina Ashton in the women's 100m by 0.61sec with a 12.37sec dash to the line.
Harper, who was in the city to celebrate Maddy Spence's 18th birthday, then edged Spence in the 200m by 1.06sec with a time of 26.83sec. Spence had to settle for third behind Kirsty Sutherland (Hill City-University), who stopped the clock in 27.47sec.
Other highlights included. - Todd Bates (Taieri) winning the open men's hammer throw with a 49.18m tossBryn McLeod-Jones winning the open men's shot put (12.51m) and open men's discus (38.47m).
Anna Grimaldi (Taieri) winning the para women's long jump with a 5m leap to beat Holly Robinson (4.62m)