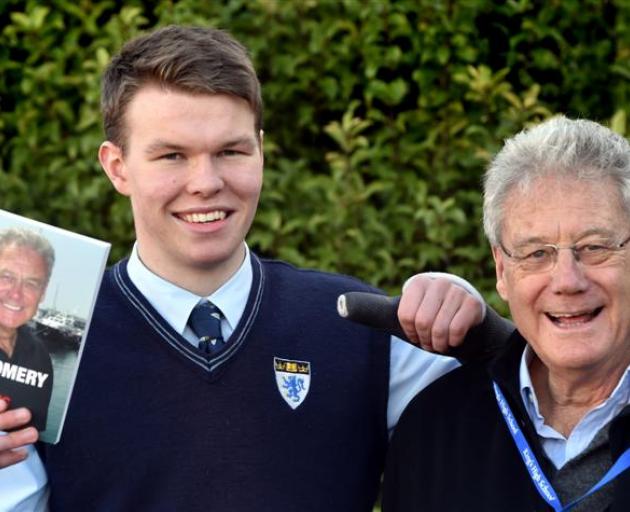 Peter Montgomery has delivered on his promise to return to King's High School and congratulate Rory O'Neill for breaking his long-standing 200m school record.
Montgomery, who said it was like saying ''goodbye to an old friend'' when O'Neill clocked 22.69sec for the 200m at the school's athletic day in February, was quite an athlete in his prime.
He ran a sizzling time of 23.26sec for the distance in 1960 and remarkably the record stood for 55 years.
When it finally tumbled, Montgomery vowed to return to his old school and shake hands with O'Neill.
The veteran broadcaster was in Dunedin yesterday to promote his book - Peter Montgomery The Voice of Yachting - and popped into King's to honour his word.
''I must say I'm thrilled to be back,'' Montgomery said.
''I'm catching up with a lot of old friends and I'm delighted to come back to my alma mater and catch up with Rory.
''I really wanted to honour my word and go to King's High School to meet Rory. He is a lovely young man and it is quite obvious talking to people here at King's that he has got a special future in sport and athletics.''
Montgomery presented O'Neill with a signed copy of his book and did get to shake O'Neill's one remaining functional hand.
The other is in a cast. He broke a bone in his thumb during a King's match against Waitaki Boys' High School earlier this month.
Montgomery said he was always surprised his record had stood for so long.
''I'm aware of another two or three lads who could have and should have [broken the record earlier]. But it was just their misfortune that on the school sports day they had either too much rain or strong winds and so on.
''It was time for it to go, definitely.''
Montgomery, who was last in Dunedin in 2013 when his mother died, said the response to his book had been positive.
The initial reaction focused on a rift between Montgomery and Team New Zealand boss Grant Dalton.
''There has been very good reaction. I'm glad to say, apart from the media frenzy in the first couple of days, all of the questions have moved on and we are not talking about Grant Dalton.''