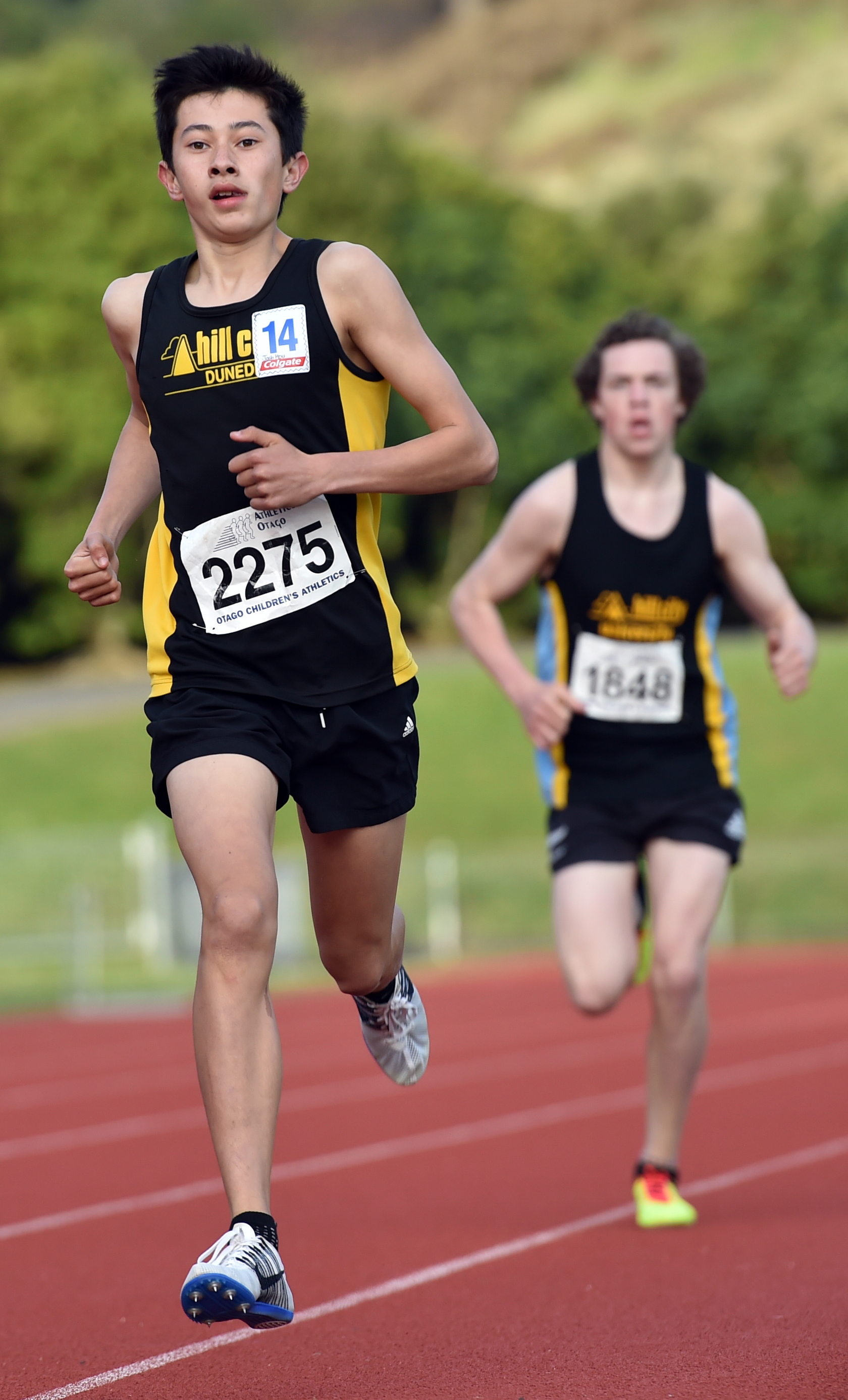 An eye for the lead and a stunning turn of speed over the final 300m was all it took for Josh Hou (Hill City-University) to win the historic Ness Cup handicap mile at the Caledonian Ground last night.
Starting from a handicap of 1min 20sec, Hou (14), a year 10 pupil at John McGlashan College, had little expectation on himself other than  running a good race and attempting to hold out other members of the Mike Weddell training group, including Drew Cairney.
A field of 20 faced the starter, with front marker Catherine Lund (Ariki) holding the lead until overtaken 150m out from the finish by the flying Hou.  Cairney was just a couple of strides behind him, with William Scharpf closing in fast on them.
Turning into the straight, virtually nothing separated the Hill City-University trio of promising junior runners, but it was Hou who dug deep within to discover some extra pace as he raced across the finish to hold out Cairney with Scharpf close behind in third.
"I didn't think I had it in me," Hou said soon after crossing the finish to win the impressive piece of silverware.
Despite  winning one of Otago's premier track trophies in his first race over the mile distance, Hou remained pretty low key.
"I just wanted to do well," he said.
Hou, who began sporting life as a cricketer, has progressed on to represent Otago in age-group basketball. Now in just his second season as a track runner, he has set Otago secondary schools records for 800m (2min 10sec), 1500m (4min 31sec) and 3000m (9min 20sec).
"I'm looking to beating these in the nationals'' he said looking towards the secondary schools championships in Hastings in December.
Cairney (16), a year 11 pupil at Kings High School, was full of praise for Hou at the finish. Cairney who started 15sec behind Hou, found himself making ground on Hou with each lap.
"I was taking out 5m per lap, and I thought 'if I keep up this, surely he can't keep on'," Cairney said of Hou's victory.
"So 800m I started to pick up the pace, but in the end he just had the wheels. He's in my training group and right on my tail all the time. He's a guy to look out for in the future."
Cairney added that it was the first time Hou had beaten him and that it ''probably wouldn't be the last''.
Hou clocked 4min 34.20sec and  Cairney 4min 29.51sec, a personal-best time by 16sec.
Highlights from other events at the meeting.—
• Jake Paul (Wellington) got the nod in a photo finish with Felix McDonald (Taieri) in the 100m. Paul clocked 11.13sec, with McDonald recording a personal-best 11.14sec. McDonald went on to win the men's 400m shortly after, clocking 50.40sec.
• Schuyler Orr showed a clean pair of heels to win the men's 200min in 23.52sec.
• Fiona Centers (Hill City-University) won the open women's 100m in 12.56sec.
• Hilary Harper (Christchurch) won the open women's 400m in 1min 1.17sec.