Danyon Ashcroft had a sneaky search on Google to see what he might expect when he arrives in Iran next month.
The 18-year-old Otago Nuggets guard has been named in the New Zealand under-18 team for the Asia Championship in Iran next month.
The travelling squad includes 17-year-old Auckland Tuatara guard Dontae Russo-Nance, who has made a strong impression in the NBL, and Tai Wynyard's younger brother, Tautoko Wynyard.
The team was selected from a larger group that attended the national selection camp in Auckland and was also based on performances during last month's under-19 national tournament in Rangiora.
"It is a great opportunity and I'm really grateful for it," Ashcroft said.
"There were 24 of us at the April camp and only 12 of us got picked from that. It is awesome to be able to travel to a country and be able to represent your country.
"I did have a look [on the internet] just to see what [Iran] looks like and stuff. It should be a good experience."
The New Zealand under-18 team is coached by former Otago Nuggets centre Miles Pearce, and former Nuggets guard Justin Bailey is an assistant coach.
Ashcroft got the news a few weeks ago via email.
His former high school coach, Ian Cathcart, was one of the first he contacted with the good news.
Ashcroft was not planning on playing basketball when he arrived at Waitaki Boys' in year 9. But Cathcart had seen what he was capable of and encouraged him to try out for the team.
"He is probably — no, he is — the most athletic kid I've come across during my coaching time," Cathcart said.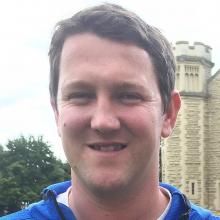 "I just remember him coming in during year 9 and he was pretty raw and actually wasn't even going to play basketball.
"But I made sure he came along because I remember seeing him at a basketball session and going, wow, this kid could be pretty good.
"It is really nice that he has come all the way through at the school, and I guess it shows you don't have to move away to make New Zealand teams.
"He has had a lot of support through our programme, but he is just great kid too. He is a solid young man."
Ashcroft made his debut for the Nuggets when he got on late in a quarter during the 94-80 win over the Hawke's Bay Hawks in Dunedin in May.
He had less than a minute on court but it was time enough to put up a shot and, well, miss. But being part of the Nuggets squad and being able to train regularly with them has helped him make big improvements in his game.
The team goal at the Asian Championship is to make the top four and qualify for the World Cup next year. The chances to assemble before then could be quite limited.
Pearce said most of the players "are in and around very good programmes where they're from".
"They've got that domestic league experience and access to good coaches that we can lean on; coaches like Judd [Flavell] and Brent [Matehaere], Aaron [Young] and Trent [Adam].
"It's phenomenal that I can call these guys and say things like 'hey, can you please get this player to work specifically on such-and-such?' That's a huge asset for this programme."
The draw for the tournament is yet to be released.
 - Otago's Abby Harris has been named as a reserve for the New Zealand under-18 team for the women's Asia Championship, which will be held in India on September 5-11.