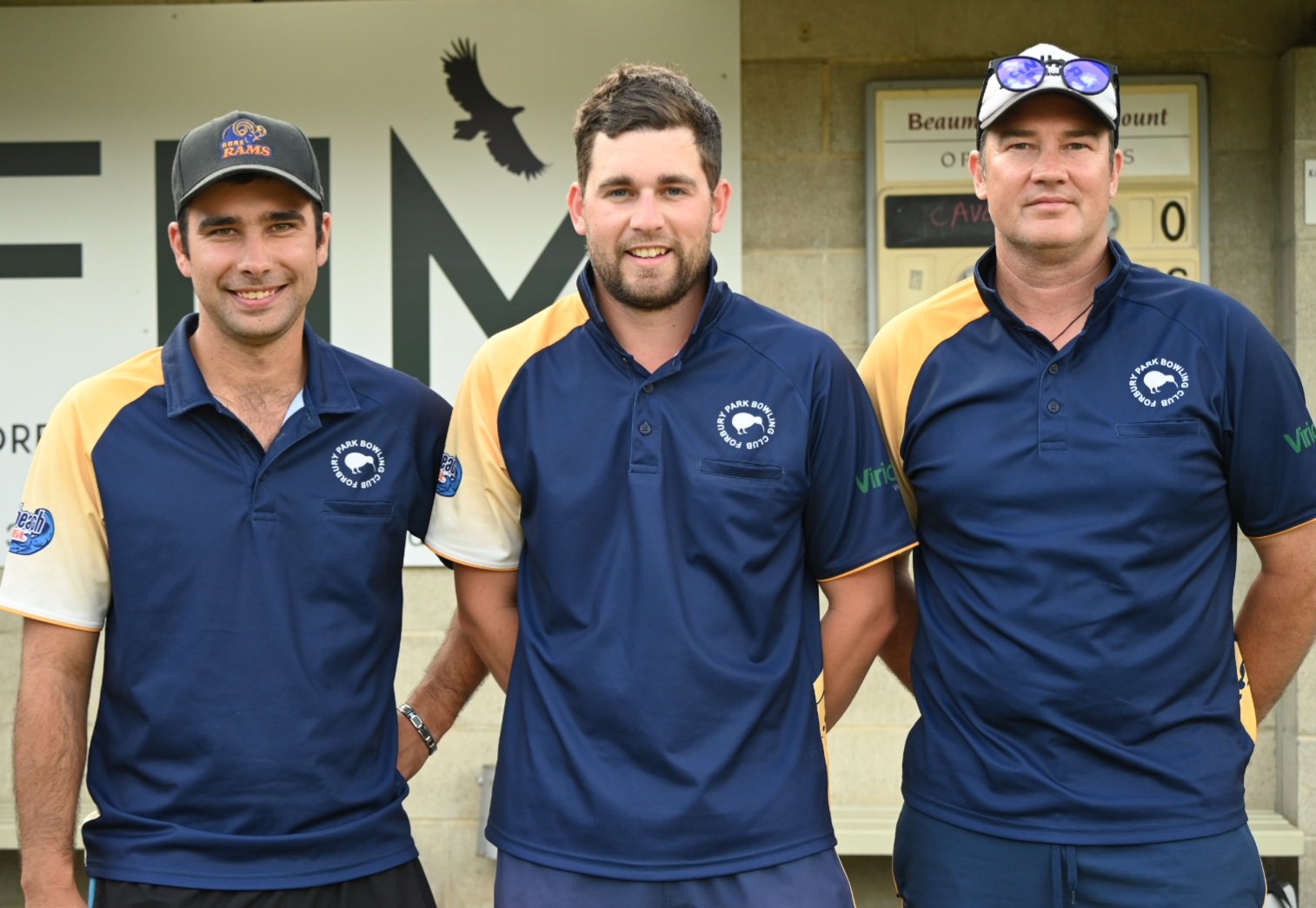 It was a masterful display from Forbury Park trio Sheldon Bagrie-Howley, Oliver Mason and Nic Boreboom, who proved to be in a class of their own winning the Bowls Dunedin open men's triples at the Kaikorai Bowling Club on Tuesday evening.
Commonwealth Games contender Bagrie-Howley is proving an inspiration since joining Forbury Park at the start of the season. Teaming up with Mason for the open pairs last month brought instant results, with the two winning the Bowls Dunedin open pairs.
Not only is Forbury Park becoming one of the most successful clubs this season, but Mason's game has gone to a whole new level, where he too could well soon be on the radar of national selectors.
In teaming up again, Bagrie-Howley and Mason added Nic Boreboom to the mix to contest the open triples title, with the three proving lethal.
There lop-sided wins in the first two rounds of post-section last Sunday bore testament to the level to which the Bagrie-Howley and Mason combination has taken men's bowls in Dunedin competition.
The inclusion of Boreboom lifting his game as evidenced with his placement from lead providing Mason and Bagrie-Howley with an excellent foundation.
Mason from second added further pressure to the head for Bagrie-Howley to deliver from skip and shut out any challenges to the head.
Only nearing the business end of competition were the Forbury Park combination tested with a 19-15 win over Taieri trio Any McLean, Dave Archer and Niel Louw in the quarterfinal followed by another challenge from Forbury Park clubmates Rodney Fleming, Stephen Fleming and Nigel Thompson, whom they beat in the semifinal 17-15.
In near perfect conditions with the green running fast and true for the final on Tuesday evening, Caversham trio Darryl Angus, Neville Ward and Craig Campbell immediately let their opponents know that they were there to play, registering the first point.
Forbury Park hit back with one on the second with Caversham fighting back to score two on the third for a 3-1 lead, but from then on it was all Forbury Park with successive three pointers on the fourth and fifth before marching out to an unbeatable 21-8 lead on the 16 end and forcing Caversham to concede with two of the mandatory 18 ends remaining.
The victory earned Mason his fifth Bowls Dunedin centre title and his first gold star, while for Boreboom it became his first centre title and for Bagrie Howley his second Dunedin centre title in a month.
Caversham proved worthy finalists as they scraped for every point and met the demands placed on them by the three-pronged attack from Forbury Park with every bowl.
On its way to earning its place in the final, Caversham overcame the Marty Kreft-skipped St Clair combination 20-19 in the first round of post-section play, then unloaded a 23-18 victory on the Paul Nichols skipped St Kilda trio, before denying the Forbury Park three of Andy Callender, Steve Wilson and Mike Bracegirdle a chance to make it an all-Forbury Park final, defeating them 18-16.