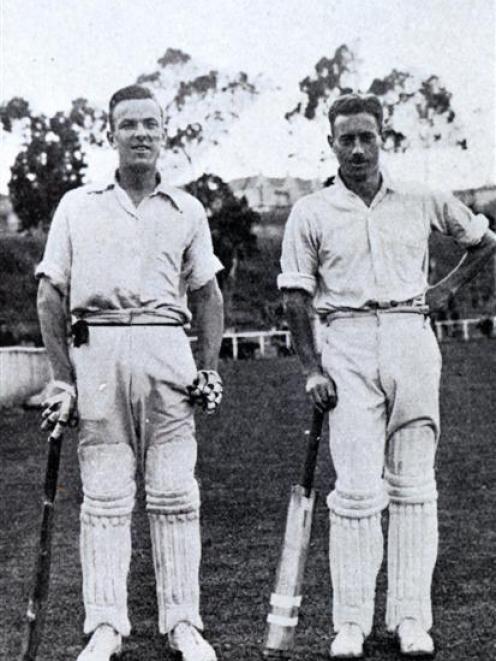 Perhaps it was passion. Maybe it was stubbornness. Either way, Alec Knight was certainly patient.
Where others would have long since given up, Knight laboured for more than 20 years and played 49 matches before registering his maiden and only first-class century.
Perhaps that statistic says as much about his career as anything else.
His much-anticipated 100 was scored in a three-day match against Canterbury at Carisbrook in February 1941.
It was not enough to help his side avoid an innings defeat, but it was arguably his greatest hour and good reward for an honest cricketer who never stopped trying.
In reply to Canterbury's 507 for six declared, Otago was dismissed for 187. Knight top-scored with 56 at the top of the innings and was soon out in the middle again after Canterbury enforced the follow-on.
This time Knight was not going to be denied. He was unbeaten on 52 at stumps on the second day and returned determined to reach three figures, eventually scoring 152 before left-arm spinner Alan Burgess snuck a delivery past his defences. Knight was the last out.
He played one more first-class match for Otago in December 1943 and did not have a happy time. He was bowled for two in the first innings and made a duck in the second dig.
It was an inauspicious end to a long career which, at a quick glance, appears rather modest. In 51 games, all for Otago, Knight scored 2245 runs at an average of 24.13.
Aside from its duration - it spanned 26 seasons - his career was unremarkable. But those who played alongside Knight paint a different picture.
Former Otago player and retired broadcaster Iain Gallaway recalls playing club cricket and representative cricket alongside Knight and describes him in a different light.
"He was a very attractive player," Gallaway explained.
"He was graceful and very fluent in his stroke play. You never got the impression that he was struggling. He always looked at ease.
"And he was a very useful bowler," Gallaway added, recalling fondly how he teamed up with Knight to dismiss the great Walter Hadlee in a representative two-day match at Lancaster Park in December 1942.
"I always felt that Knight was unlucky not to play for New Zealand. He was very consistent, although I suppose you can say that was in a relatively modest way."
Knight played in a time when the Otago cricket team was not very strong and he was often left fighting a lone battle at the crease.
While he struggled to post big scores regularly, especially early in his career, he was a great team man and contributed in the field and, occasionally, at the bowling crease.
A safe slip fieldsman, Knight claimed 34 catches and took 11 wickets at 34.27.
Tall with dark hair, Knight cut the dapper figure and was always impeccably turned out, Gallaway said. He also stood out for his choice of footwear - Knight refused to wear the heavy cricket boots popular at the time, preferring instead what we would call sneakers today.
"Everyone else was in boots, but Alec was in shoes.
"He was his own man. And quiet - very quiet but pleasant and popular."
Knight played for the Grange club for the majority of his career but switched to Carisbrook in the mid '40s.
Gallaway had not long left school when Knight showed up at the club. Just why he switched clubs after a long affiliation with Grange was a mystery to Gallaway. But playing alongside one of his boyhood heroes was a great thrill.
"I remember I needed to pinch myself. I developed my passion for cricket in 1930 and he was one of my great heroes. He was such a good player."
Knight continued to play club cricket for about 10 years after his last first-class appearance and returned to the middle to umpire in a Plunket Shield match between Otago and Northern Districts at Carisbrook in December 1957.
Knight moved to Auckland later in life but Otago cricket remained close to his heart. So close, in fact, he turned up unexpectedly during an Otago-Auckland Shell Trophy game at Eden Park in January 1985 in his Otago cap and blazer and delivered a team talk.
The match, which had been drifting towards a tame draw, burst into life. Otago fast bowler Neil Mallender sliced through the Auckland line-up, taking seven for 27. Reduced to 50 for nine, Auckland clung on desperately for a draw.
Who knows what might have happened had Knight delivered his speech a few hours earlier. One thing is for sure - Knight kept trying to win matches for Otago right until the end.
---
FOR THE RECORD
Name: Alexander (Alec) Rutherford Knight
Born: January 24, 1899, Dunedin
Died: April 8, 1986, Auckland
Bat: Right hand batsman
Bowl: Right arm off-break
First-class record (all for Otago): 51 matches, 2245 runs at 24.13, 11 wickets at 34.27
---