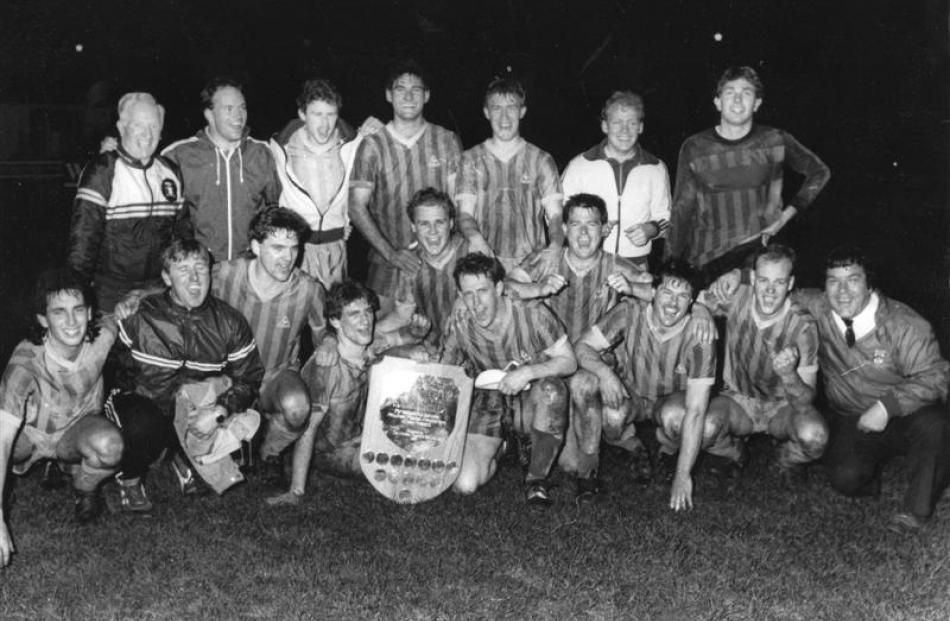 They do it for love, not money, and readers of the Otago Daily Times sports pages over the past few decades should be thankful for that. They are the long-serving ''stringers'', or contributing writers. In the final of three profiles, sports editor Hayden Meikle talks to football guru Rab Smith.
Rab Smith
ODT position: Football writer.
Held since: 1978.
Age: 73.
Occupation: Retired bookbinder.
Family: Wife Pam, sons David and Gordon, daughter Jenn, dog Ben.
Rab Smith's most memorable players
Goalkeepers: Lutz Pfannenstiel, Jim Taylor.
Defenders: Peter Haddock, Ceri Evans, Graham Carr, Malcolm Ferguson, Graeme Marshall.
Midfielders: Terry Wilson, Jimmy Wilson, Doug Hemmings, Steve Fleming, Mike McGarry.
Forwards: Wynton Rufer, Andy Deeley, Steve Wooddin, John Wilkinson, Paddy McGarry, Barry White.
Best coaches: Barry Truman, Terry Conley, Genady Smirnov, Derek Daniels.
Greatest moments: 1982 All Whites campaign, Hibs beating Real Madrid and Barcelona.
Hayden Meikle: The name Rab. For non-Scottish types, where does that come from?
Rab Smith: Robert. The Scots version of Robert. In my family, I was Robert. Usually if I was in trouble.
HM: Where were you born and raised?
RS: Edinburgh and Leith, the port of Leith. It has its own character. Edinburgh thinks it's got character but Leith is a port, and all ports have a wee bit of character to them. It's the home of Hibernian. I was born in Easter Rd, which is also the name of the football club's ground. The ground's actually in Albion Rd, funnily enough.
HM: What did your parents do?
RS: The old man was at sea all his life. He was a rover. My mother was a happy Scots housewife, bringing up kids.
HM: How many kids?
RS: My sister just died a couple of years ago. She was the eldest, then me in the middle, then my wee brother 10 years younger.
HM: What was life like for you as a kid?
RS: We're talking before the war and after. It was fairly tough. Not a lot of money around. We had simple pleasures. Nobody had much money. You're talking rationing and a shortage of jobs. The old man struggled to get work because there was a recession in shipping. That's a story in itself. One of the few ships that became available was a ship called the Mamaku, and it was being delivered to New Zealand. It was a one-way passage, which he would never have taken normally. But things were so tough. He waved goodbye and took off. As a wee boy, my mother used to get me to go up to the library and try to track down his ship. I'd go through the shipping news and it would pop up in Singapore and other places. So he got dumped in New Zealand. He worked at Port Chalmers for a while. Then when he came home, we were all thinking about coming out here but that sort of fell through. Years later, I decided to give it a whirl.
HM: Where did you go to school?
RS: Leith Academy. It's a prestigious old school. Wait for it, it's 450 years old. I went to the secondary school.
HM: Were you much of a student?
RS: Yeah, I was a smart kid. Maths was probably one of my stronger points. But the curse of the school was they just played rugby there. There was a solid group of us who refused to play rugby. We'd go to gym and this little fellow would say, ''Forward, the rugby men''. We all had to sit there while they went off. In fact, if you kicked the ball, you got strapped.
HM: So you were a football man right from the start?
RS: Yeah, but I played cricket and did a bit of rowing and athletics.
HM: And you're a passionate Hibernian fan.
RS: Well, I lived 200 or 300 yards from the ground. In those days, of course, Hibs were a great team. The ''famous five'' - Smith, Reilly, Johnstone, Turnbull and Ormond.
HM: Were you a regular at home games?
RS: I used to stagger up there. They were the days when you could just ask some guy to lift you up into the ground.
HM: Any famous memories?
RS: Just when we beat Real Madrid and Barcelona. Cleaned those two up. Happy days.
HM: How successful was your own playing career?
RS: Oh, not very. I played for works teams and things, and I enjoyed it. I was always fitter than I was skilful. My brother, Keith, was a top player. He had all the talent. He played for Middlesbrough, mostly in the reserves. But I got into the mountains pretty quickly. I'm a qualified ski instructor. Did a couple of years up in the bonny country. Like all wee Scots kids, I was a cyclist. Then I got into tramping and skiing and loved it.
HM: What did you do when you left school?
RS: I'm a bookbinder by trade. And I got into the conservation side of that. That's one of the reasons I came to New Zealand. Printing and bookbinding just went down the toilet. It's got a good future now. But back then I thought, if I want to look over the horizon, now might be the time.
HM: How old were you when you came to New Zealand?
RS: I'd just got married to my wife, Pam. We decided that would be the adventure and we'd give it a go. I got a job offer from Williamson Jeffrey. They had offices here and in Auckland. I moved from there to the university library, and I was there for 33 years.
HM: What exactly is bookbinding?
RS: Well, it's super simple now. You throw things in, press a button, and stuff pops out the other end. I used to bind in leather and calfskin and all that. It's one of the few refuges of that kind of binding all over the world. Conserving what we had became a big deal. But cost became a big deal. Now you stick things in an acid-free box. That's phase one, and it often just stays there.
HM: When did you finish at the library?
RS: I must have been retired 10 years.
HM: Have you and Pam ever thought about moving back to Scotland?
RS: Of course. Every 10 minutes or so. Most years now, we go back.
HM: What was the football scene like in Otago when you arrived?
RS: Like most people, you have a look at it and say, this is rubbish, and you move on to something else. That's possibly another reason why I got into the tramping scene. I had a mate who conned me into going up to Roslyn just to stay fit. I've been with that club ever since. My boys played for Roslyn. I've done coaching, and been secretary and president. I'm a life member.
HM: How and when did you get the job writing football for the ODT?
RS: It was 1978. They had a guy writing about football called Harry Kerr. I used to produce a programme and I used to have a crack at the guy. When he gave it away, I came in and had a chat with Brent Edwards. Said I'd give it a go. And within a couple of weeks I was covering England B v Otago.
HM: So you've been our football writer since then.
RS: Yeah, I've enjoyed it. And I've always been a keen photographer, too. I used to develop stuff in our basement. It would be freezing cold in winter. I'd have hot water bottles with the chemicals on top. I got into the photography quite seriously. Then the web came along and that was another challenge. For a while, I was making a few bob designing websites for pubs and small firms. I run the Footballsouth website. Do all the match programmes. That's good fun.
HM: You enjoy having the odd laugh or a crack in your programmes, don't you?
RS: People disagree sometimes with what you write. But you just tell them they are welcome to do the programmes themselves if they'd like.
HM: Football is very tribal. You must have struck that over the years.
RS: Definitely. That's what is great about football. The rivalries. Whether it's Hibs and Hearts in Edinburgh, Celtic and Rangers, or Roslyn and Northern. The standard of football in Dunedin in the old days didn't turn me on, but there was a good social side to it.
HM: Since 1978, what has been the heyday of Otago football?
RS: The early national league days. There were a lot of ambitious people around, with a few bob. It was new and exciting to see Mt Wellington and Christchurch United and teams like that. You had imports in town. Fakes and fibbers and wasters, along with some very good players. The old teams were full of real characters. Now they're just lads. Good players, but a totally different set-up. You miss people like Steve Wooddin and Dennis Barker and Pat Berry and Peter Haddock.
HM: How do you describe the present state of football down here?
RS: The whole country's suffering. But Otago suffers more than Auckland because of finances. Local sport, in general, seems to have lost the ability to raise money. Everyone leans too heavily on grants. I can remember wheeling pigs around in barrows in pubs and strange stuff like that. You wouldn't get people doing that these days.
HM: The current national league? You a fan?
RS: I don't mind it at all. I'd like to see it bigger, with more games, and I'd like to see Otago doing better. But it boils down to resources, and possibly a lack of ambition when it comes to importing players. I believe in giving local players a chance, but you also need some old heads around them. It's not too difficult to get good players. There are millions of very good players in the UK desperate to play somewhere. Advertise for them. I did it myself for Roslyn, and we got 120 replies.
HM: You think Otago United can do something similar?
RS: I'm sympathetic. They're so concerned with just surviving, which has got tougher. Four or five years ago, we had a bit more money when we had Terry Phelan running about. The guy was a top player but he was a waste of time as a coach here. Now we're staggering on, through a depression. But a high priority should be importing a very good player or two.
HM: You must have seen your share of great players.
RS: Yeah. Barney McGarry's family. Three boys, three girls. All played for Otago. Paddy was a classy player but he was a bit chunky like his father. Mike McGarry, obviously. Excellent player. Steve Wooddin would be up there.
HM: If I recall correctly, you went to the 1982 World Cup.
RS: I did. A dream, really. New Zealand, Scotland, Russia and Brazil. I took a month off. My mate and I bought an old Volkswagen in London. We got robbed on our first day in Spain. Lost all my camera equipment. But what a great tournament! I also went to Italy in 1990. And I had an amazing trip with the masters guys to Germany. This big guy marked me who had played about 50 times for Russia. He was about six foot 5. He had this broken English and I wasn't sure if he was saying he was going to take it easy on me or he was going to break my leg. It was an extremely well-organised tournament.
HM: Were you in Wellington the night the All Whites beat Bahrain?
RS: I sure was. That was another epic situation. All the old Otago guys turned up and congregated at a pub.
HM: What's the key to covering a football game?
RS: I believe you've got to do your homework. It fascinates me when a TV guy comes up and asks who the No 9 is or whatever. It's good to find out about the players, and see if the coaches can tell you bits and pieces. It's not rocket science.
HM: Still enjoying it?
RS: Yeah. Some games seem to last longer than others. But that's just a sign it's a bad game.