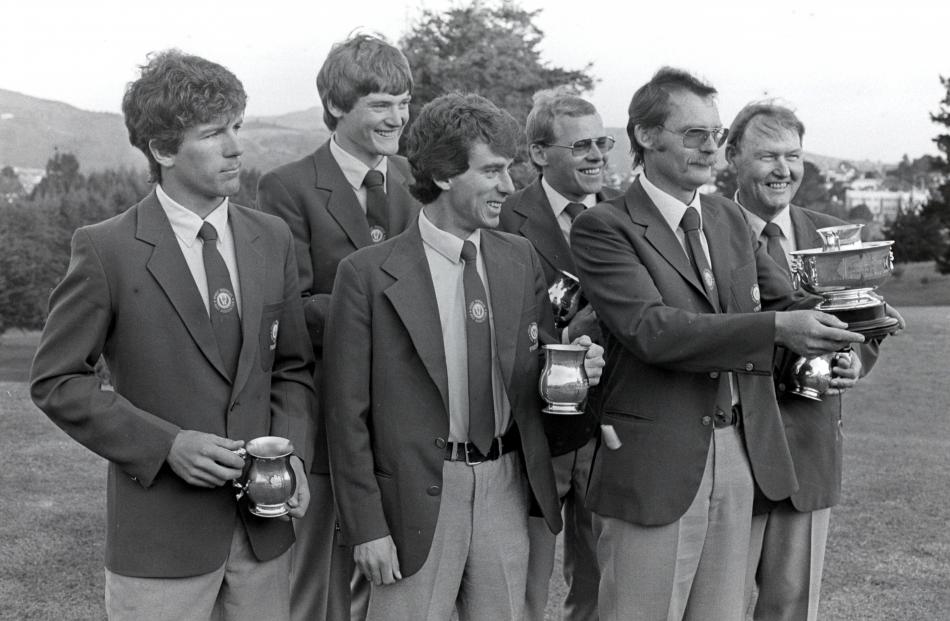 They first walked the Balmacewen fairways in representative action 30 years ago.
Yesterday, Kim McDonald and Owen Kendall were back at the Otago Golf Club in their provincial colours, measuring yardage and reading the greens.
But this time, the two former New Zealand representatives were on the bags, rather than swinging the clubs.
McDonald has been caddying at the interprovincial championships throughout the week for Otago No 1 Brent McEwan, while Kendall was caddying for his son, Bay of Plenty No 1 Brad Kendall.
At the tournament in 1982, McDonald played No 1 for Otago and Kendall was at No 1 for Bay of Plenty.
Otago ended up winning the tournament, with McDonald leading the charge.
''That was back in the days where you didn't have a final and semifinals. You just played the week against other teams and whoever had the most points won,'' he said.
Kendall (59) and McDonald (60) have a lifelong friendship through the sport and McDonald hosted Kendall at his house this week.
Neither man has particularly strong memories of the week 30 years ago when Otago last prevailed at the national tournament.
''To be honest, I'm not even sure we played against Otago,'' Kendall said.
''I can't remember a lot about it ... but the course hasn't changed much. They have knocked a few trees down, as you do, but it is pretty much the same.''
Kendall has been helping his son out for the past few years and still plays golf, off a three handicap, at Mt Maunganui.
He played amateur golf for Bay of Plenty for many years and his brother, Terry, was a touring professional for many years.
McDonald is enjoying the caddying role and, though he could not recall much about the victory in 1982, he said local knowledge of the course was important.
''Local knowledge is a real key, as is having a good team culture. That seems to be working pretty well so far,'' he said.
McDonald, a member at St Clair, still plays golf and has just gone out to a one handicap after many years playing off scratch.
Yesterday, the pair's golfers could not be separated. McEwan and the younger Kendall finished all square after 18 holes, although Bay of Plenty won the match 3 to 1.