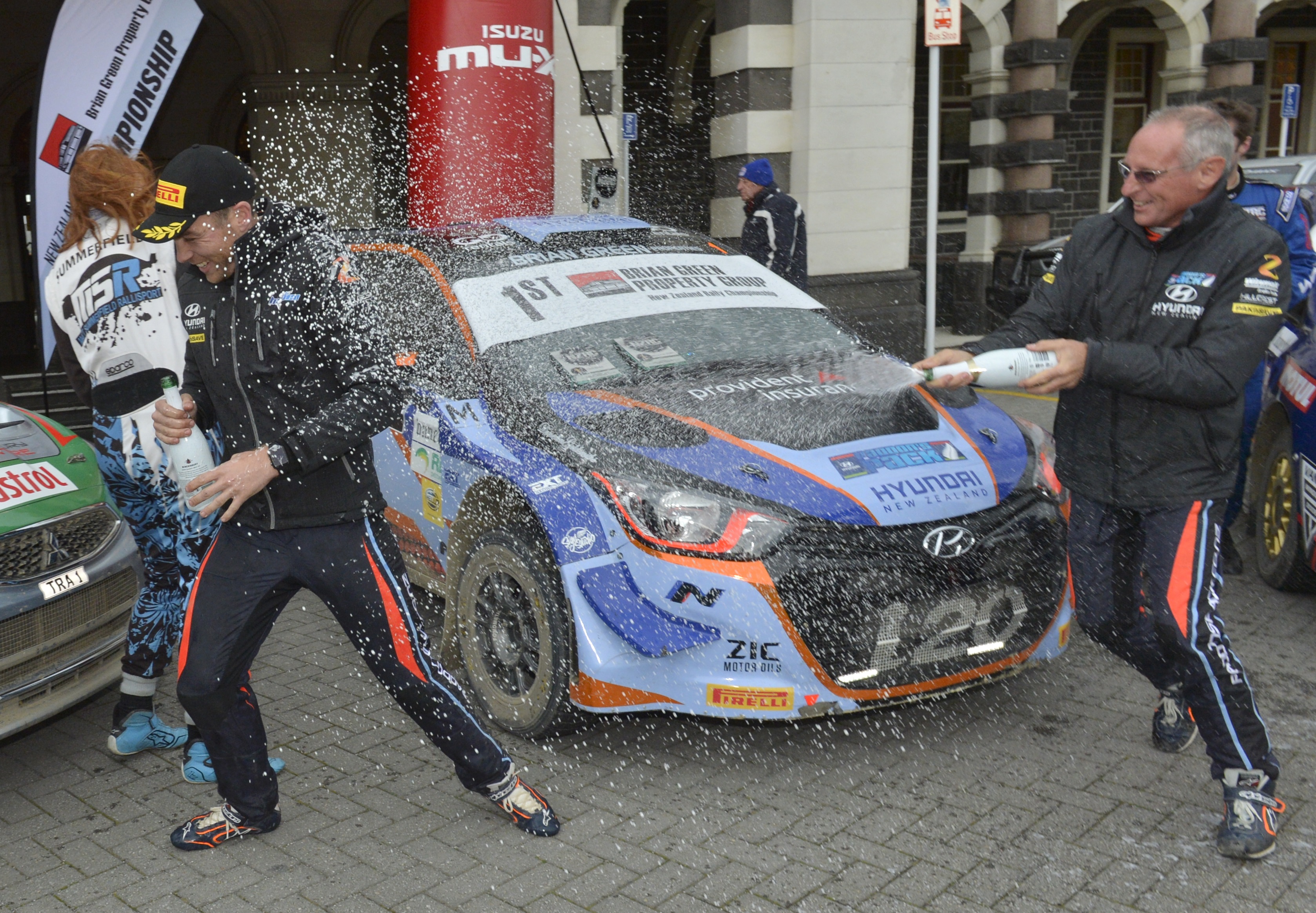 Confidence and commitment were the key ingredients to WRC driver Hayden Paddon once again blitzing the Otago Rally field by a massive margin.
The Wanaka-based international and Blenheim co-driver John Kennard stormed home 8min 27.7sec clear of their closest rivals - the Subaru WRX STi crew of Aucklander Ben Hunt and Tony Rawstorn.
Paddon (30) didn't eclipse his 2016 victory gap of more than nine minutes, but he did win every one of the 17 stages of the 280 competitive kilometre rally in record time, including bettering his own 15.05km Kuri Bush top score from 2016 by 4.3sec.
His blistering pace nearly caused him to come unstuck on his favourite bush stage on the first day.
"I had it a bit wide on a corner, bent the left rear wheel and knocked it about a bit," he said.
The second day also saw him have a "couple of moments" as he continued to push hard in an effort to retain the top speed necessary for when he steps back into the next round of the WRC in Portugal next month.
Kennard summed up why Paddon, who is competing in his third year as a WRC Hyundai Motorsport driver, is now such a fast, flying Kiwi.
"You get in the car with him and you just feel it - that commitment. Over crests you know any other driver that is here is backing off a bit but Hayden just listens [to Kennard's pace note] and goes," he said.
Auckland-based Ben Hunt had a strong showing in his Subaru WRX STi to finish runner-up by a large margin of 2min 34.9sec over brother and sister pairing Matt and Nicole Summerfield in their debut event in a new Mitsubishi Mirage.
Hunt and co-driver Tony Rawstorn overcame a 50sec time penalty on day one, due to their car not starting, to finish second that day and then again on leg two, giving them 36 championship points to Paddon's 44 points.
Rangiora's Summerfield was pleasantly surprised by his podium result, which was effectively handed to him after Dunedin's Emma Gilmour and co-driver Anthony McLoughlin punctured on the last stage while leading him by 50sec.
He has transitioned out of an older model Subaru and was finding there was "so much learning" to be done to get to grips with his new car.
Christchurch's Josh Marston with Gore co-driver Andrew Graves finished fourth in their Holden Barina AP4.
Te Aroha's Graham Featherstone and Dave Devonport (Mitsubishi Evo 7) rounded out the top five.
Notable retirements included Dunedin's Rhys Gardner, who was out after stage three with gearbox issues and also former circuit racing star Greg Murphy, following a fuel pressure issue in his Holden Barina AP4 on the second day, after setting one of his best-ever rally times in finishing fourth on stage 12.
Hastings driver Grant Blackberry and Ric Chalmers impressed in driving their Mitsubishi Evo X to seventh overall and first in the Allcomers Rally. It was Blackberry's maiden event in the car and he joked that he was "starting to like it now".
James Mitchell and his co-driver Matt Hayes (Mitsubishi Evo 5) were the first Dunedin team to finish, coming in 14th and fourth in the Allcomers class.
Ray Wilson and Len Fisher, of Waikato, bought their Audi Quattro S2 Coupe home first in the new Otago Classic 4WD rally class.
The New Zealand Rally Championship moves to round two in Whangarei in three weeks.