A Kiwi American football star turned missile defence advocate paid tribute to a rugby legend forebear in Dunedin this week.
Three-time Superbowl winner Riki Ellison, the first New Zealander to play in the National Football League (NFL), visited the New Zealand Sports Hall of Fame in Dunedin on Monday.
He was joined by his second-cousin, Otakou farmer and kaumatua Edward Ellison.
While there he viewed the display on his ancestor, Tom Ellison, the captain of New Zealand's first official rugby team when it toured Australia in 1893, and donated a shirt from his playing days.
He also visited Tom Ellison's grave at Otakou on the Otago Peninsula, and registered himself, his children and grandchildren at Otakou marae, including son Rhett who plays in the NFL as a tight-end for the New York Giants.
Born in Christchurch, the Ngai Tahu football legend moved overseas with his family at a young age, and now lives in the US and speaks with an accent far closer to California than Canterbury.
But he maintains a soft spot for New Zealand.
"I had a chance to drive that high road today [on the] Otago Peninsula and it was better than the Pacific Coast Highway between Los Angeles and San Francisco,'' he reckoned.
He now lives in Alexandria, Virginia.
"Across from the swamp in Washington DC,'' in his words.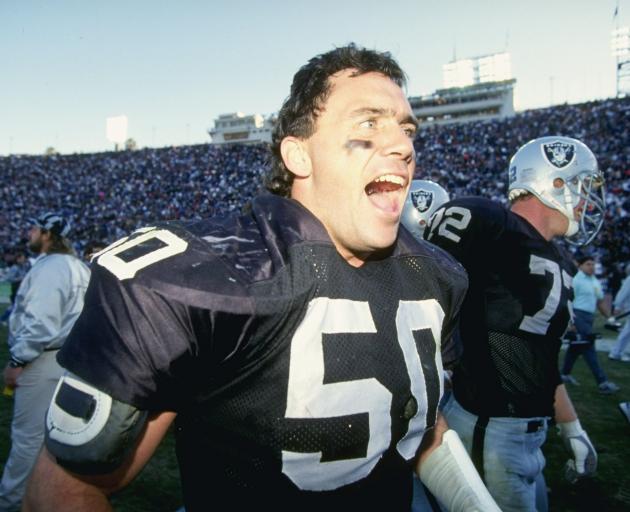 It is fair to say the 58-year-old has had an unconventional career since his playing days.
In 2002, he launched the Missile Defence Advocacy Alliance, a non-profit organisation "with a singular purpose and mission to drive for the deployment, development and evolution of missile defence,'' according to its website.
Missile defence systems track, intercept and destroy attacking missiles.
Mr Ellison speaks as enthusiastically about missile defence as he does about American football, citing the successful interception of thousands of rockets and artillery by the Israeli Iron Dome system, or the successful shooting-down of missiles fired by the Houthi militia in Yemen at Saudi Arabia.
He acknowledges controversy can surround advocacy for missile defence systems, but says they act as a stabilising force in trouble spots.
"There's a lot of controversy in it, but the basic concept is to stabilise the region that you put these systems in, to negate the type of of offensive capability that is killing people.
"That capability today is ... saving lives. And most of all, it's negating North Korea, and [has] given us an opportunity to have negotiations.''