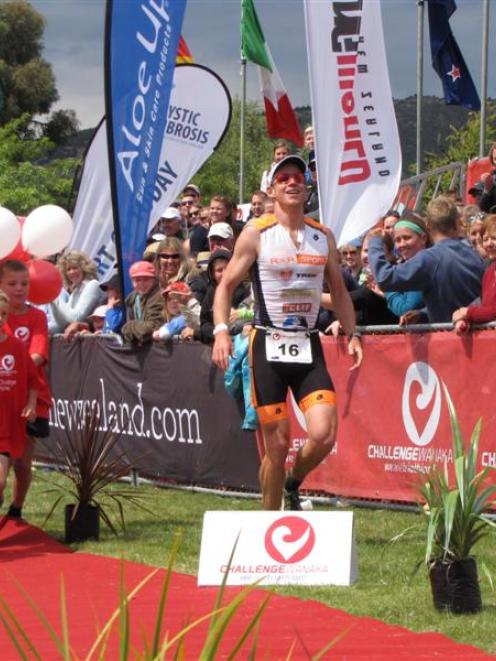 Multisporter Dougal Allan's long-distance triathlon debut at Challenge Wanaka on Saturday could signal the beginning of a promising career in the sport after the hometown hero clinched third place in the men's elite field.
Allan, of Albert Town, had previously competed in the event in a team, but signed up for the individual elite category late last year, after a sponsorship opportunity arose, and his curiosity about whether he could succeed at the sport got the better of him.
• Slideshow: Challenge Wanaka 
After joking before the event he would be the ''tail-end marshal'' in the 3.8km swim leg - his weakest discipline, Allan was the 19th male to exit Lake Wanaka with a 17-minute deficit on swim leader and overall race winner Dylan McNeice.
''I judge myself on my own merits and I was really happy with the swim,'' Allan said after the race.
He was happier still with his performance over the 180km cycle, in which he achieved the overall fastest time.
''My bike was my strongest leg and my run was probably what I was most proud of.''
After overtaking Matt Burgess during the marathon, Allan stormed home in third place, 16 minutes behind winner McNeice.
''I didn't really have too many expectations. I always enter a race with an open mind and I'm always confident in my ability to win any race that I do.
''But I had a real process focus all day and I was just focusing on doing everything right at that time. I wasn't thinking ahead,'' Allan said.
''It wasn't until I sort of came in to the finishing chute that I let myself accept that I'd finished third and it was a pretty cool feeling.''
As a local competitor, Allan had familiarity with the course on his side and was also buoyed throughout the race by a vocal home crowd keen to see him succeed in his first long-distance triathlon.
His impressive result made it more than likely he would pursue the sport and return for future Challenge Wanaka races, he said.
''I really enjoyed it. I'd like to get better at my swim, obviously. That would probably help. And this race really offers me that opportunity to race at home and get that support and, yeah, I'd love to do it again.''