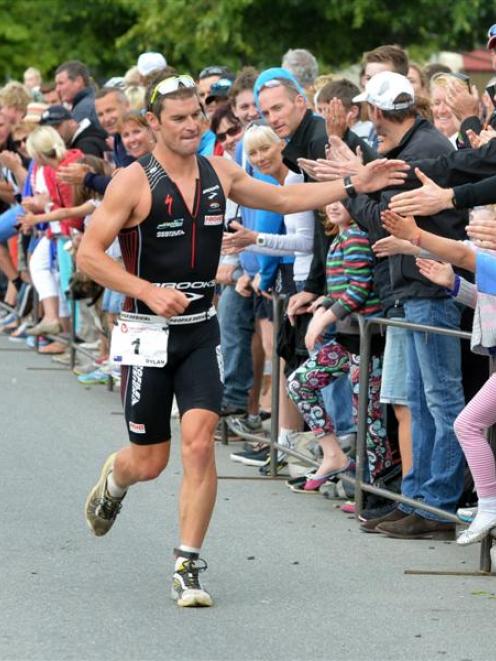 A near-perfect race for Dylan McNeice at Challenge Wanaka on Saturday secured him the event's first male back-to-back victories, while first-time female champion Candice Hammond was ''shocked'' to hold on for first place in a hard-fought women's race.
McNeice, of Christchurch, dominated the event from the outset in cool, calm conditions, with a supreme display of consistent pacing.
• Slideshow: Challenge Wanaka 
He finished in a time of 8hr 38min 48sec, 11 minutes clear of 2010 winner, course record holder (8:34:31) and five-time Coast to Coast champion, Richard Ussher, of Nelson.
Wanaka multisport specialist Dougal Allan finished third nearly five minutes later in his first long-distance triathlon.
Helped by a glass-smooth Lake Wanaka, McNeice began his race with a record in the swim leg, exiting the water in 46min 25sec, more than a minute faster than Kieran Doe's 2012 time and more than four minutes ahead of a group including Ben Logan, of Wanaka, Bryan Rhodes, of Christchurch, Matt Burgess, of Papakura, and Jaroslav Kovacic, of Slovenia.
Like many competitors, McNeice struggled to thaw out in the cool weather after swimming in the 14.1degC water.
''The air when we got out, it was freezing. My hands were numb, my feet were numb.''
However, he increased his lead on the bike and remained at least six minutes ahead of the rest of the field from 50km until the end.
Ussher began to fade in the second half of the run, after a strong challenge. Allan stormed the bike leg, caught up six minutes on McNeice, but could only hold those splits through the run.
McNeice said he had prepared ''better than ever'' for the race, in light of the extra pressure he felt as defending champion.
''There's no such thing as perfection but I think that's as close as I'll ever get. I was really surprised I was holding around that seven-minute gap.
''It gave me a big boost of confidence and even coming into the last 30 to 40k of the bike, I had good legs and thought 'I can hold this and have a good run'.
''And then when I heard that I had nine minutes on Richard at the first run split I got, that sort of gave me the confidence to just push through and just keep going for the win ... I was very lucky to have a great day.''
While he believed consecutive victories would ''do a lot'' for his career, it would also ramp up the pressure even further.
''Hey it's great, but next year I'll be shaking in my boots at the start line again, no doubt.''
Cambridge-based Hammond, who was runner-up last year, won the women's race in 9hr 33min 54sec, 7min 13sec ahead of five-time Challenge Wanaka champion Crawford, who had previously won the event every time she had entered. Wanaka-based German Simone Maier finished in third nearly eight minutes after Crawford.
Hammond began the race in good form after winning the Dunedin Marathon in September and the Taupo half-distance race in December and proved too much for Crawford, who has made significant changes to her training regime since the world championships in Hawaii last September and ''struggled'' in the cold on Saturday.
Unlike McNeice, Hammond was behind after the swim, exiting in eighth place, 10min 30sec down on Crawford. Carrie Lester, of Australia, was four minutes behind Crawford in second.
The women's race soon developed into a battle between Hammond and Crawford, as Lester dropped out on the bike leg and fellow pros Tamsyn Hayes, of Dunedin, and Wanaka-based German Simone Maier moved into the top four.
By the start of the run leg, Hammond was in front by 23sec, having overhauled Crawford with around 30km to go on the bike.
Both women remained strong through the run and, based on previous results, it seemed Crawford might be choosing her moment to close the gap and pass. But Hammond gradually increased the margin on the second lap and won comfortably.
''I am very shocked. I wasn't expecting that at all ... I was hoping to maybe podium, but I definitely didn't think I could win it,'' Hammond said after her win.
''There was no wind and I was able to settle into my rhythm and I really enjoyed it for the first time. I just chase, that's all I can do. There's no plan. I was a bit flustered actually, as I've never been close to Gina before, so I thought 'have I done the right thing?'
''I really really like Gina Crawford. I just think she's such a great athlete, she's so honest and such a hard worker and I thought if she comes through, I would have accepted it, just because I think she's amazing. But I just tried to stay and work on myself ... and then it came together for me.''