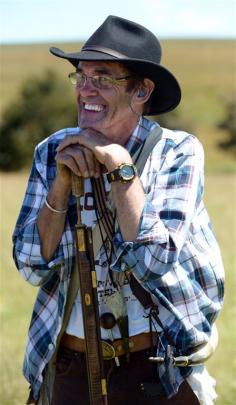 Nothing beats the smell of a good shot.
The mixture of fire and powder.
Spark and flint.
None of those these fancy-pants modern items for these boys.
It was the final day of competition for black powder shooting at the Master Games yesterday and about a dozen shooters worked up a sweat with their rifles in a farmer's paddock out the back of Outram.
The process to shoot is not straightforward.
These weapons come from the battlefields of Gettysburg and Crimea.
It is about pouring in your powder and getting the ball in the right position.
They would probably last about two seconds on a modern battlefield but for these enthusiasts that is not what it is about.
Brian Kelly, of Greymouth, said shooting these rifles was more of a challenge than modern weaponry offered.
"They don't go off so fast. They are much slower. The projectile of them is about 900 feet a second while the more modern ones are up to 2400 feet,'' he said.
"But they are all different. You have to work with them. Treat them differently to get a good shot.''
Kelly's rifle was more than 15 years old and he said he had shot some wildlife with it, although nothing more than the odd wild goat.
The lock and woodwork on his rifle were made in the United States while the barrel came from Germany.
All were replicas especially made for people such as Kelly.
Andrew Duncan, of Dunedin, is another who likes the sport.
He said it became a trial of different sorts.
Each rifle owner swapped to give the others a shot as part of the sport.
"They almost develop a personality of their own,'' Duncan said.
"How he may load mine may be totally different from the way I may load mine. You pick it up and it shoots differently than the way I shoot mine.''It's like they have secret ingredients ... it becomes more than a hobby, it becomes an obsession.''
Another shooter Grant Wilkins, of Kaiapoi, said it was a sport which was all about camaraderie and getting to know all the other shooters.
The more powerful rifles could shoot up to 900m although the target at that distance had to be larger.