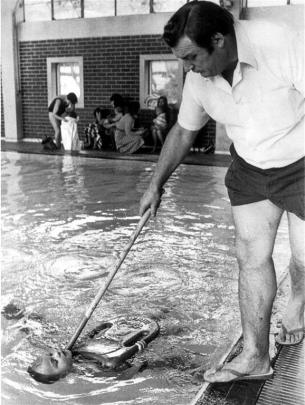 Gold X 2 The Duncan Laing Story, which tells the life of one of New Zealand's greatest swimming coaches, will be launched in Dunedin tomorrow. Author Stefan Laing, Duncan's son, spoke to sports reporter Damian George about the book and his reasons for writing it. 
To many people, the name Duncan Laing is synonymous with the name Danyon Loader.
Laing, who died in 2008 aged 77, is probably best remembered for his efforts in guiding Dunedin swimming sensation Loader to double Olympic gold in Atlanta 20 years ago.
Many people are also probably aware Laing coached many of Dunedin's other talented young swimmers, several of whom achieved national and international success.
Not as many will be aware Laing was much more than a swimming coach.
After representing Taranaki, he coached several Dunedin rugby clubs and Otago B, and was an Otago A selector.
And even fewer people are probably aware Laing was also a champion surf life-saver, captaining New Zealand to first place at the World Surf Life-saving Championships in Melbourne in 1956.
Two years earlier, he was selected in the New Zealand team to take on Australia in the Coronation test at Bondi Beach in Sydney, where the New Zealand side was on track to win the beach relay before Duncan, the third of four runners, stumbled when a dog suddenly sprang out in front of him and the opportunity was lost.
He twice won gold in the six-man rescue and resuscitation event with Taranaki's Fitzroy club at the national championships in the late 1940s and early 1950s.
But it was not his sporting achievements which inspired Duncan's son, Stefan, to pay tribute to his father by writing Gold X 2 The Duncan Laing Story.
"Basically, I more or less thought Dunc's life journey was a story worth telling.
"A lot of people knew sort of little bits about his life and what he did.
"I wanted to expand on that and try, through the method of interviewing all his old friends, people he knew and worked with, to get his character out there.
"His character was the key to it.''
Laing was a "bloke's bloke'', Stefan said, and that was a trait which "somehow'' carried him all the way to being one of the best swimming coaches in New Zealand.
The book had taken Stefan two years to write but eight years to get on the shelves since he first voiced the idea with his father.
"When he was pretty crook, I was with him and we talked it over and he was a little bit dubious.
"But I said, 'I think you've got a story there, Dunc', and he slowly warmed to it.
"He was a very private man, and quite humble.''
Laing's contribution to a variety of sports was hard to put into words, Stefan said, but he felt he had done it justice.
"He did it for the love of it.''On his father's swimming coaching success, Stefan said it was a result of pure passion.
"He always thought that we had swimmers as good as anywhere else in the world.
"There are not very many people who are prepared to go to the lengths that he did just to get that success.
"He learned what a good swimmer looks like.
"He taught babies how to swim. He knew swimming from when they couldn't even get in the water to when they were trying to swim 10km and trying to get a certain time and trying to win a race.
"We've got some really good swimming coaches in this country, but you've got to have the character that lends itself to getting the kids to understand what you're trying to tell them to do."
Laing had hoped Loader's Olympic success in Atlanta would spur more Olympic champions and Stefan said his father would probably be disappointed that had not happened.
"He'd be disappointed that we haven't kicked on and found a few more Danyons because he knows they're out there.''
Stefan will be in Dunedin to launch the book at the Otago Bridge Club at 2pm tomorrow, along with Loader.