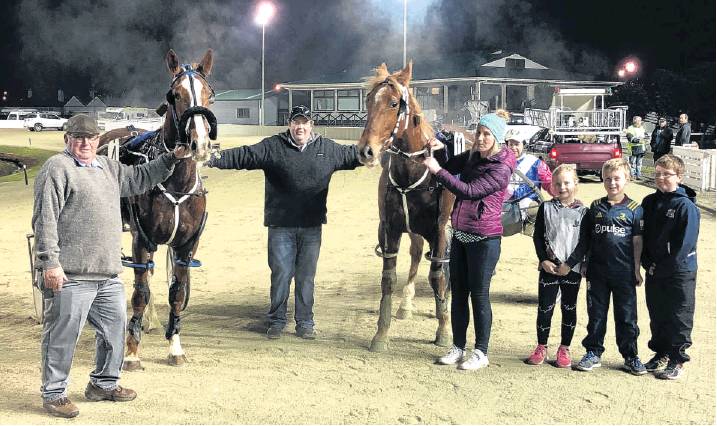 The Cleland family scored one of their biggest thrills in harness racing when Cruisin Reuben nosed out The Red Robber in race 8 at Forbury Park last night.
The Waikaka harness racing enthusiasts scored their first race quinella as owners when the Tony Stratford-trained pacers finished one-two in an exciting finish to race 8.
The family combination of John and Dianne Cleland and sons Jason and Shane make up the Cleland Racing Syndicate, which shares in the ownership of both pacers with two large groups of owners.
Shane said it was one the highlights of his time owning horses.
''That was a huge thrill - it is the first quinella I have been involved with.''
The Cleland family members have raced horses extensively in the South Island with a range of trainers over the past decade.
Cruisin Rueben and The Red Robber have both been perform­ing consistently through the win­ter at Forbury Park.
The Red Robber has placed in five of his past seven starts.
Thankfully for the Clelands, he was pipped by one of his own on this occasion.
''The Red Robber really deserved it more, but it was great for Cruisin Rueben,'' Shane said.
Fellow owner Dawn Wilson also shares in the ownership of both horses.
Her quinella result came on a big night for her family, too.
Her brother, Daniel, produced Last Harah to win race 3.
The trainer races the horse with his father, Lindsay, who bred the horse.
Dawn contributed heavily to the win, as she oversees most of Last Harah's training.
Emotions also ran high for two commentators last night.
Before Jason Teaz called his last race in Otago as the pro­vince's full time commentator, his colleagues Mark McNamara and Matthew Cross enjoyed success with Imran Khan.
The Amber Hoffman-trained squaregaiter continued his brilliant form for a hat-trick of wins with victory in race 5.
McNamara is the managing owner among a ten-strong group, made up largely of media per­sonalities, that race the horse.
All credit for the horse's brilli­ant run of form should go to Hoffman, he said.
The commentator said the only thing that could top off Imran Khan's season would be a trophy at the Otago harness racing awards.
''It would be nice to beat the Williamsons at their own game and get Otago trotter of the year,'' he quipped.