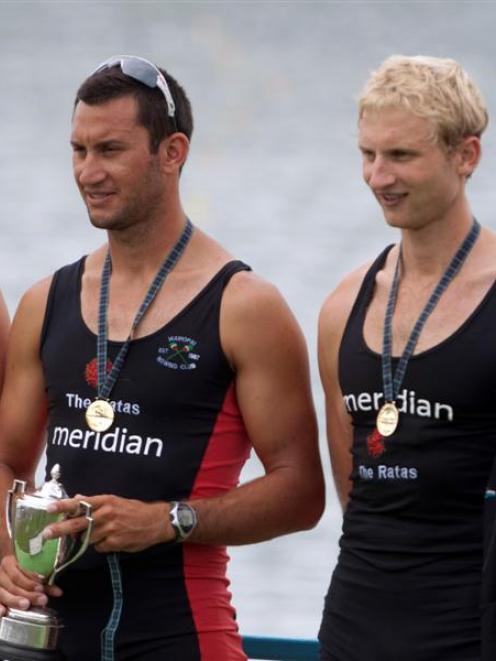 Hamish Bond (North End), the iron man of New Zealand rowing, added two more red coats to his collection at Lake Ruataniwha yesterday.
Bond (25) has now won 13 men's premier titles at New Zealand championships and has the chance to add another in the eights today.
The Southern RPC crew of Jade Eru, Carl Meyer, John Storey and Bond won the coxless four in 6min 46.95sec when it beat Central RPC (6min 52.21sec), with Waikato third.
There were two Otago rowers , Alistair Bond (North End) and Justin Evans (University), in the Southern RPC crew that finished fourth in 7min 07.48sec.
Hamish Bond's crew made a big push at 1000m and had clear water by the 1500m mark. The crew continued the momentum to the finish.
Earlier, Bond and pairs partner Jade Uru produced a furious final 500m push to beat fellow world champion and New Zealand crew mate Eric Murray and his Waikato RPC partner David Eade in the men's premier pairs final.
Eade and Uru were crew mates in the New Zealand four that won the bronze medal at the Karapiro world championships.
Murray and Eade kept close for three-quarters of the race but the experienced combination of Bond and Uru kept something in reserve for the final 500m and they sprinted off to a two-length win. Adam Tripp and Nick Pusinelli (Auckland) were third.
Bond and Uru were timed at 6min 35.61sec and were 5.08sec ahead of Waikato at the finish. Murray and Eade clocked 6min 40.69sec and Tripp and Pusinelli 6min 47sec.
It was closer in the women's pairs race with world champion Rebecca Scown and Louise Trappitt (Waikato RPC) beating Kelsey Bevan and Emma Feathery, of Auckland, in the final 200m to win by half-a-length. Peter Taylor (Auckland) caused an upset when he beat three times world champion Duncan Grant by just one boat length.
Third was former Alexandra rower Todd Petherick, ahead of former under-23 lightweight single sculls world champion Graham Oberlin Brown.
The regatta was on hold for four hours in the afternoon when a westerly wind ruffled the lake.
It was a good day for oarsmen from the Otago region as they won seven medals - three gold and four silver on the first day of finals.
The best silver medal was won by Elyse Fraser (Otago University) who was narrowly beaten by Erin Monique Shelton (Petone), in the women's senior single sculls. Former Southern Sting netballer Sarah Barnes (Waihopai) was third. Shelton won by half a length at the line and was timed at 8min 02.92sec ahead of Fraser (8min 03.65sec) and Barnes (8min 06.25sec).