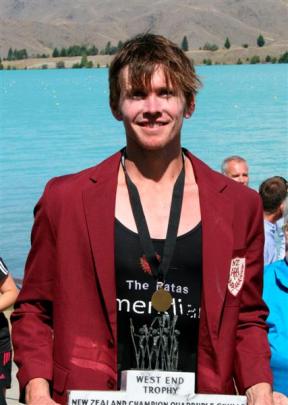 Fergus Fauvel (Otago University) won his first red coat yesterday but put celebrations on hold until after the New Zealand championships.
He was a member of the Southern RPC premier quadruple sculls crew with Nathan Cohen, Hayden Cohen and Nathan Flannery that won the gold medal on Lake Ruataniwha in 5min 52.46sec.
They were followed home by Auckland RPC in 5min 54.51sec and Central RPC in 5min 59.80sec.
''Its a great feeling,'' Fauvel told the Otago Daily Times from Twizel.
''Its nice to get one finally. It's special.''
It was also the first red coat for Hayden Cohen and Flannery.
Fauvel (26) started rowing when he was a land surveying student at the University of Otago five years ago. He is now studying performance music at Waikato University.
He was a novice when he joined the Otago University Rowing Club and his potential was recognised by club coaches Sonya Walker and Glen Sinclair.
His rapid progress in the sport was helped by the facilities at the Otago University Aquatic Centre. He was named in the New Zealand elite squad two years ago.
The Southern crew was always in control and made a decisive push at the 1000m to quickly gain a 1-length lead over Auckland.
''We got out into the lead and sat in front of the other crews,'' Fauvel said.
''We didn't follow our race plan and just rowed to the conditions and played it safely.
''If Auckland had made another move we had enough left to make another push.''
Fauvel was runner-up in his singles sculls heat to London Olympics double sculls champion Nathan Cohen and is expected to again reach the podium.
The Southern RPC crew of Olivia Loe (stroke), Phoebe Spoors, Kristen Froude, Johannah Kearney, Esther Austin, Tessa Young, Sophie Shingleton, Lisa Owen and Lydia Milner (cox) won the gold medal in the women's under-22 eight in 6min 18.95sec.
They were followed by the Waikato RPC in 6min 19.66sec and Central RPC in 6min 22.30sec.
It was a triumph for the Oamaru club with Kearney being in the middle of the boat.
Southern RPC had the lead at halfway but Waikato came back strongly in the last 500m and it was a stroke for stroke battle in the last 100m with Southern holding on to take the gold medal.
Jack O'Leary (Otago) is one of the promising younger scullers who are making their mark at the championships.
O'Leary (17) reached three finals during yesterday's semifinals. He was third in the men's under-20 single sculls in 7min 35.01sec, fourth in the men's club single sculls in 7min 44.31sec and fourth in the club double sculls with Eachan Bruce in 6min 52.73sec.
The Dunstan Arm pair of Simon Smith and Doug Cryer were second in the same semifinal in 6min 48.47sec. O'Leary, who is coached by John Parnell, is a member of the High Performance Xcelerator programme.
Two Otago crews advanced to the final in the same women's club double sculls semifinals. Caitlin Buist and Nicola Shanks (University) were second in 7min 56.67sec and Hannah Duggan and Claudia Grave (Otago) third in 7min 58.80sec.
Other Otago crews to reach the finals yesterday were Zoe McBride (Otago), who won the women's under-20 single sculls semifinal in 8min 04.86sec, and the North End novice double sculls of Sam Munro and Ryan Wilson who won their semifinal in 7min 38.32sec.