He was probably always destined to be a referee on the touch field but is making quick strides to get to the top of his sport.
Michael Buttery (15), a year 11 pupil at John McGlashan College, has just come back from Australia where he refereed at a transtasman youth tournament.
Buttery, though, is eyeing the possibility of heading further afield with his sights on the Touch Youth World Cup in Manchester next year.
He has been brought up immersed in the refereeing ranks as his parents, Simon and Alex, were heavily involved in the sport.
"I was always watching them and running their water, on the side of the field, so it was basically inevitable that I would get into the game," Michael said.
"My dad has attended two World Cups and a Trans Tasman and my mum has been a referee for 20 years and is the Otago director of touch referees for the past 10 years."
He started early, both playing and referring and, although he still plays, is more focused on refereeing.
"I refereed my first game when I was 8 and slowly got some coaching to start moving up the ranks. I went to my first tournament [Masters Games] when I was 10. My first national tournament was when I was 11."
Touch referees are graded on a badge level and he is a three, which means he can do international games. His father is level four while his mother is level three but is attempting to go to the fourth level.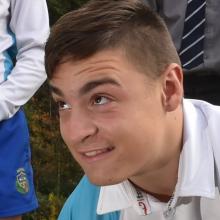 Buttery refereed a transtasman tournament in Newcastle last month which he said it was enjoyable but very intense.
Last weekend, he attended the youth national tournament and teamed up with young Dunedin referee Logan Whitty to referee the under-18 girls final won by Otago.
Buttery said to be a successful referee you had to confident, fit, have good teamwork, resilience, personal integrity, a driving commitment and a sense of humour.
He was in the middle refereeing for a minimum of about eight games a week.
"Games rules haven't changed much but it's definitely got faster as skills have developed.
"Generally, about half [of the games] will be by myself and the other half either with one or two others. The games I've got over the years have got more intense, but I still enjoy reffing the social games."
He said working with top local referees such as Thys McCurdy, Tim Lucas and Tufele Taufa to name a few, had really helped him.
Fellow Dunedin referee Whitty is also making strides in his refereeing and was lucky enough to be up in Auckland. Buttery is ranked No11 in the refereeing ranks at the national tournament with Whitty just behind him at No12.
Whitty (17) has also been an assistant referee at premier club rugby games as he continues a climb up the ranks.
Buttery had been coached by top national and international coaches and said that had helped him a lot.
He also referees rugby union in the winter and plays a bit of volleyball when he can.
But the next few months may be a focus on saving money as he aims to head to Manchester next year for the Youth World Cup in Manchester.