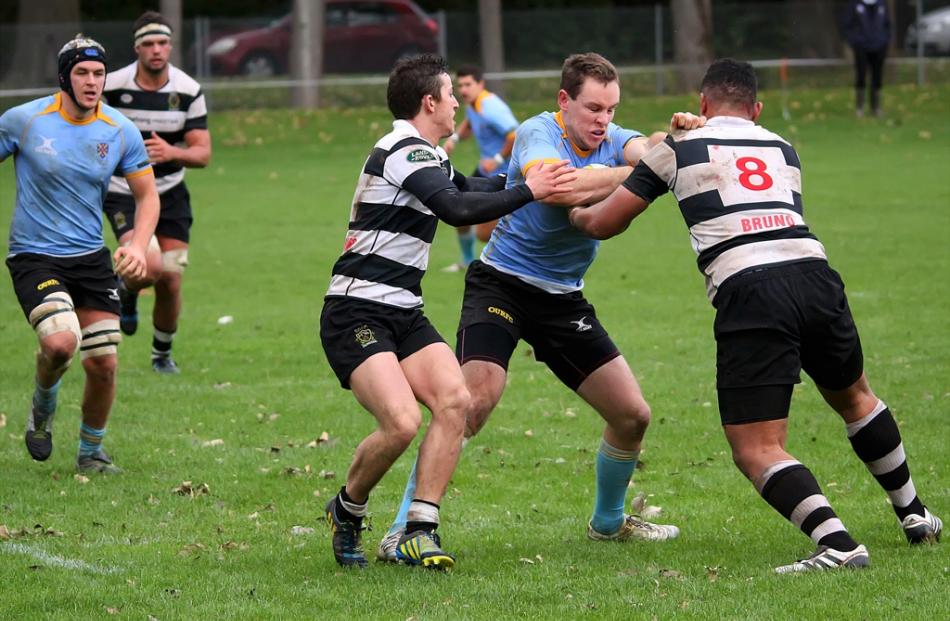 Alhambra-Union are the only unbeaten team after five rounds and lead the Dunedin premier rugby competition with 21 points.
The Marty Gray coached team drew with Dunedin 9-all at Kettle Park today and were unlucky not to win the game.
Three penalty goals by first five-eighth Greg Dyer gave Dunedin a 9-0 lead at the break.
But Alhambra-Union came back strongly in the second spell to even the scores with Peter Breen kicking two penalty goals and a dropped goal.
Alhambra-Union is followed on the points table by Taieri on 20, Kaikorai (19), Dunedin and Southern (18), University A (11), Harbour (10), Zingari-Richmond (7), Pirates (5) and Green Island (0).
Southern regained the prized Cavanagh Trophy with a commanding 24-3 win over Varsity A at the University Oval. The students had held the trophy for the past two years.
Southern was too quick and too efficient and consolidated its hold on the trophy with two quick tries after the halftime break.
Kaikorai was beaten for the first time this winter when they were comprehensively outplayed by Taieri 34-7 at Peter Johnstone Park.
Pirates gained its first win of the season with a five try 36-17 bonus point win over Green Island at Miller Park.
---
Southern 24 (Tei Walden, Ricky Riccitelli, Frae Wilson, Byron Dodge tries; Ben Patston 2 con), University A 3 (Fletcher Smith pen). Halftime: Southern 14-3.
Taieri 34 (Kori Rupene , Michael Collins 2, Charlie O'Connell, Mike McKee tries; Josh Casey 3 con, pen), Kaikorai 7 (Bryce Morgan try; Cam Rutherford con). Halftime: Taieri 10-0.
Alhambra-Union 9 (Peter Breen 2 pen, dropped goal), Dunedin 9 (Greg Dyer 3 pen). Halftime: Dunedin 9-0.
Pirates 36 (Adam Gavegan, Opini To'omalaitai, Solomon T-Pole, Shaun McCarroll, Hisa Sasagi tries; Craig Sneddon 4 con, pen), Green Island 17 (Mike Bennett, Simon Tupu tries; Shane McNoe 2con, pen). Halftime: Pirates 17-3.
Harbour 28 (Ratu Dawai, Joe Collins, Pete Mirrielees tries; Nick Ealey 2 con, 3 pen), Zingari-Richmond 19 (Lachie Moore try; Willie Ripia 1 con, 4 pen). Halftime: 6-all.
---