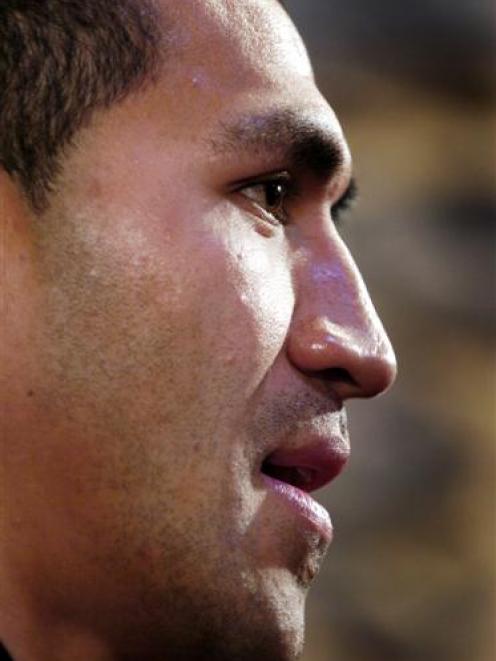 All Black great Jeff Wilson went to the same secondary school and was the hero for Mils Muliaina when he was growing up in Invercargill.
"I grew up knowing that Jeff Wilson also went to Cargill High School," Muliaina told the Otago Daily Times yesterday.
"I heard about his record points score in an interschool game."
Muliaina was a pupil at Tweedsmuir Intermediate when Wilson was an All Black.
"I looked up to Jeff and could relate to him because he came from Invercargill," he said.
"I hoped to play rugby like him."
When he transferred to Southland Boys High School in his final year at school in Invercargill, Muliaina played in the first XV with All Blacks-to-be Corey Flynn and Clarke Dermody.
Muliaina will enter the history books on Saturday when he starts his 46th test at fullback, breaking the record of 45 tests in the position, held by Christian Cullen, another All Black great.
"I've been fortunate to have a coaching staff that has had faith in me," he said.
"I relish the moment every time I put on the jersey."
He will play his 60th test - two more than Cullen, who is remembered as an attacking fullback.
"I'd like to be remembered for being solid and able to do my job," he said.
Muliaina followed his brother Faolua to Kelston Boys High School in Auckland for his final school year in 1998.
"It was a chance for me to get out of Invercargill and experience something different," he said.
He expected to return to Invercargill and sign up for the Southland NPC squad but decided to stay up north and signed with the Auckland Rugby Academy.
"I haven't looked back since," Muliaina said.
"It was a very good decision in terms of my rugby career. I met Graham Henry, then the Blues coach, before he left to coach Wales."
Muliaina found it difficult when he first went to Auckland.
"It was scary," he said.
"I remember my first week at school. It just blew me away.
"It was the big smoke and the other guys looked so big.
"I remember going back to Invercargill for the holidays and just didn't want to go back up there."
But his mother and elder brother could see a better future for Muliaina if he stayed up north for another year.
"It was certainly a big step for me. Looking back now, I can't see how I did it.
"It was one of the biggest decisions of my life.
"I was two plane trips and a long way from Invercargill. When I look back now, I'm so grateful that I made it."
If Muliaina had not been offered a position at the Auckland academy, he intended to return to Invercargill in an attempt to make the Southland team.
"When I was in Invercargill, my big goal was to make the Southland team. I didn't think there was anything bigger," he said.
Muliaina has found it frustrating fronting up for games at night when the temperature is cooler and the surface is slippery and does not favour open rugby.
"Last week, there were a few times I wanted to go out wide but I didn't like to call the moves to Dan Carter because the wind could pick up the ball and Bryan Habana could swoop in," he said.
"We have a good forward pack that can muscle it up front when the conditions don't suit open rugby. I make sure my game is really solid behind them."
Muliaina comes from a successful sporting family.
His older brother Faolua (29) played in the midfield for Southland.
Younger brother Alesana (25) is in this year's Southland Air New Zealand Cup squad.
Muliaina was born in Samoa and the family shifted to Invercargill when he was aged 3.
Ita, his mother, and Runi, his stepfather, will be at Carisbrook for the test on Saturday.
Lou, his father, lives in Wellington and was at Westpac Stadium last Saturday.