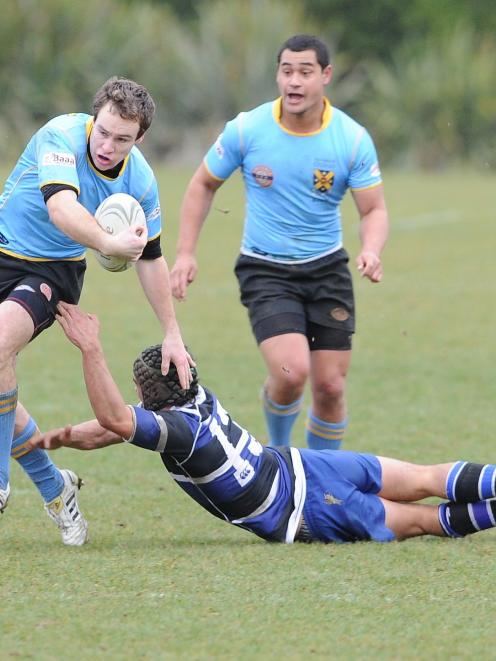 University A continued its remarkable comeback when it reached the semifinals in Dunedin premier club rugby on Saturday.
Big lock Rob Verbakel was in aggressive form and scored two tries to put the students into the semifinals when Kaikorai was beaten 25-17.
The students had just two wins after eight rounds and looked down and out when they were ninth in the 10-team competition.
Other key players in the University comeback were No 8 and captain Paul Grant, tighthead prop Tama Tuirirangi and first five-eighth Stephen Fenemor.
Fenemor has scored 227 points and is the first player in Dunedin premier rugby to top 200 points in a season since 2006.
University A finished fourth in the Gallaway Trophy and will play top side Taieri in one semifinal.
Taieri ruined Alhambra-Union's chances with a 24-13 win at Peter Johnstone Park.
Midfield back Kai Daniel was the star of the Dunedin team that hung on to beat Harbour 32-27.
Dunedin led 32-3 before Harbour came back strongly in the last 20 minutes, second five-eighth Hadley May scoring three tries.
Dunedin will play Southern in the other semifinal. Southern clinched third spot when it beat Pirates 21-13.
A last-minute try by prop Chris Preddy gave Zingari-Richmond its fourth win of the season when it downed Green Island 29-26.
It was a significant turnaround by the club, under new coach Brendon Timmins, because Zingari had been beaten in every game of the premier competition in the previous two seasons.
Taieri 24
Alhambra-Union 13
Taieri scored three tries in its win at Peter Johnstone Park, but it will need to brush up its play to beat University A in the semifinal.
The Taieri backline made many basic mistakes through risky passes and wrong options.
Promising movements had little reward because of loose passes at the end.
But there was promise because Ben Nowell was in top form and used his silky skills to tear the Alhambra-Union defence to ribbons.
Halfback Nick Roulston was tidy and centre Kori Rupene was always a danger with the ball in hand.
The forwards set up a good platform. Tighthead prop Brett Anderson had a strong game in the scrum, flanker Willis Scott was an effective link and a lethal spot tackler, and hooker Will Hurst was effective in broken play.
The best Alhambra-Union player was tighthead prop Scott Manson, who was solid in the scrum, effective with the pick and go and strong on defence.
He was backed by hooker Ben Pereira and No 8 Regan Turoa.
Second five-eighth Colin Davies was a strong defender and was the best Alhambra-Union back. Fullback Corey McFadzean was dangerous on the counter-attack.
Tries to lock Karl Bloxham and Scott gave Taieri a 14-3 lead at the break but this was reduced to one point, 14-13, when Manson scored after nine minutes in the second spell.
A Rupene try three minutes later gave Taieri the buffer it needed and it held on to its advantage with strong defence.
Taieri 24 (Kori Rupene, Willis Scott, Karl Bloxham tries; Hayden Parker 3 con, pen)
Alhambra-Union 13 (Scott Manson try; Peter Breen con, 2 pen).
Halftime: 14-3.
University A 25
Kaikorai 17
University A was more disciplined in the forwards and its rush defence overcame a lively Kaikorai team at Bishopscourt.
The game was decided when the students scored tries in the first and last minute of the first spell.
The first try was scored after 30 seconds when first five-eighth Stephen Fenemor broke the Kaikorai defensive line at halfway and lock Rob Verbakel was up in support to score the try.
University added another five points before the break when winger Dan Hyndman broke out of his own 22 and No 8 Paul Grant was in support and ran 60m up the touchline for the try.
Verbakel played a dominant role.
He made eight clean takes in the lineout and was lively around the paddock with his support play and strong defence.
Grant also did his share in the lineout and was dangerous with his strong running with the ball.
Flanker Jack Wolfreys was a lively defender and hooker Paddy Ryan was an additional loose forward. Prop Tama Tuirirangi was solid in the front row.
The best student back was Fenemor with his accurate tactical kicking and ability to carry the ball to the line. Guy Schwikkard showed class at second five.
The students led 15-3 at the break but Kaikorai was a more effective unit when Nathan Hull came on at No 8 in the second spell and in partnership with Adam Hill and Mitch Clarke gave Kaikorai dominance at the breakdown.
It won a lot of ball but the delivery in the backline was too slow and the rushed student defence kept Kaikorai pinned behind the advantage line.
Fullback Tony Ensor showed plenty of speed to score Kaikorai's two second-half tries.
The first came from broken play when winger Bryce Morgan sped down the right flank and Ensor was up in support to score the try.
Verbakel scored his second try midway through the spell after a sustained build-up by the student pack.
University A 25 (Rob Verbakel 2, Paul Grant tries; Stephen Fenemor 2 con, 2 pen)
Kaikorai 17 (Tony Ensor 2 tries; Cam Rutherford 2 con, pen)
Halftime: 15-3.
Dunedin 32
Harbour 27
Harbour threw caution to the wind and attacked from all parts of the paddock in the last 20 minutes and almost caught Dunedin.
But its revival came too late because Dunedin had controlled the first 60 minutes at Kettle Park and led 32-3 when it subbed its best players.
Harbour scored four tries in its period of dominance and second five-eighth Hadley May scored three of them.
The former flanker was the best player and was backed by halfback Johnny Legg, flanker Angus Duckett and lock Nick Harwood.
Harbour had been aggressive and controlled the ball and had the edge over Dunedin in the first 20 minutes but the backline was dysfunctional.
The turning point in the game came after 28 minutes when dynamic Dunedin flanker Hugh Blake sprinted 40 minutes to score the only first-half try.
The halftime advantage was stretched to 20-3 in the first minute of the second spell, when halfback Brad Weber ran 50m to score an intercept try.
Two more Dunedin tries followed quickly and Dunedin had complete control before Harbour had its purple patch.
Dunedin 32 (Jesse Toto, Brad Weber, Hugh Blake, Tom Verdonk, Fraser Lau tries; Toto con, pen, Steph Masoe con)
Harbour 27 (Hadley May 3, Ola Va'a tries; Soren Moller con, pen, Johnny Legg con)
Halftime: 13-3.
Southern 21
Pirates 13
The Southern forward pack took control in the final 20 minutes to grind out a victory over Pirates at Bathgate Park.
Southern stole an early advantage through a fortuitous intercept try to Tom Franklin and the early sinbinning of Shane Parata.
But a competitive Pirates side refused to yield under pressure, dominating territory and possession for the remainder of the first half.
Within minutes of the second spell, Pirates had drawn level at 13-13, through tries to Jake Maiono and Craig Sneddon.
Southern rang the changes for the final quarter and the game turned.
Pirates became starved of ball and Southern began to dominate by keeping the ball in its forwards, eventually adding points through a Bryce Hosie penalty and a Warren Moffat try.
Southern's tight five, particularly front-rowers Moffat, Johnny Mason and Mike Mata'afa, worked tirelessly in conjunction with the loose forwards, complementing a solid defensive screen in the backs.
Flanker Franklin was outstanding around the park and responsible for a lot of Southern's go-forward.
For Pirates, it was a game that was there for the taking until the final quarter.
Garth Swan, in his 100th premier match for Pirates, was impressive on the openside flank, as was blindside Josh Clark. Lock Brad Ross proved an imposing force, particularly at the lineout.
Southern 21 (Tom Franklin, Warren Moffat tries; Bryce Hosie con, 3 pen)
Pirates 13 (Jake Maiono, Craig Sneddon tries; Sneddon pen)
Halftime: 13-8.
Zingari-Richmond 29
Green Island 26
A late try by tighthead prop Chris Preddy gave Zingari-Richmond an upset win over Green Island at Montecillo.
The game was played at a hectic pace and Zingari made the most of its chances to score three tries.
It had the dominant scrum, in which Preddy played a key role, while towering lock Tom Rowe dominated the lineout.
Flanker Brady Carmichael was a strong defender and upset many promising Green Island attacks.
First five-eighth Christian Walker directed play and Fumiaki Tanaka was a lively halfback.
The Green Island backs attacked from all parts of the paddock. Centre Roma Saulieoge was lively and fullback Devin Stapley was dangerous on the counter-attack.
Loose forwards Junior Sala and Jackson Hemopo were the best Green Island forwards.
Green Island should have won the game but it blew its chances with dropped passes and by taking too many wrong options.
Zingari-Richmond 29 (Christian Walker, Brady Carmichael, Jeremy Bekhuis, Andrew Melville, Jack Facer tries; Walker 2 con)
Green Island 26 (Roma Saulieoge, Dean Moeahu, Andre Clarke tries; Joe Bartlett con, 3 pen)
Halftime: Green Island 15-12.