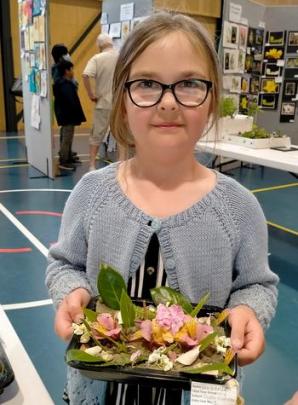 The creativity of Christchurch school pupils has helped raise money to support children with cancer.
The Festival of Flowers was held last Saturday, giving pupils from Gilberthorpe Primary, St Bernadette's Primary, Hornby Primary, South Hornby Primary and Hornby High School the opportunity to display their floral creations to the community for a gold coin entry fee. They raised about $1500. 
Their exhibits ranged from floral arrangements to plant-themed drawings, models and poetry.
Wigram Lions helped organise the event to support Camp Quality's 2022 summer camp, and also raffled hampers with items gifted by local businesses.
Youth team chairman Syd Horgan said the event had a "feel-good factor" for adults as well as children.
"For many, it's been some time since they were at school, and they were literally blown away by the talents of many students," Horgan said.
The Covid-19 pandemic posed an extra challenge, causing the festival to be pushed back from the original October date.
It was not easy to hold such an event amid other end-of-year events and the Lions appreciated the effort of principals and teachers, he said.