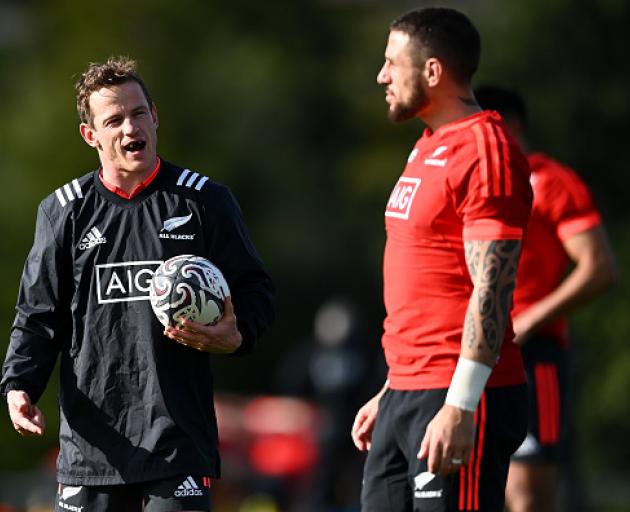 Unwanted All Blacks TJ Perenara and Brad Weber, along with 11 debutants, have been named in the Māori All Blacks squad to play Ireland in the upcoming two-match series.
It will be Perenara's first appearance for the Māori All Blacks. The other debutants are Highlanders prop Jermaine Ainsley, Chiefs hooker Tyrone Thompson, Hurricanes loose forward Caleb Delaney, Blues loosie Cameron Suafoa, Hurricanes first-five Reuben Love, Hurricanes midfielder Bailyn Sullivan, and outside backs Zarn Sullivan, Josh Moorby and Connor Garden-Bachop, of the Blues, Hurricanes and Highlanders respectively.
The captain will be announced at a later date. It will be the first time the Māori All Blacks have played Ireland since 2010. The first match will be at FMG Stadium Waikato on Wednesday, June 29, at 7.05pm, and their second match at SKY Stadium Wellington on Tuesday, July 12, at 7.05pm. 
The presence of two former Māori All Blacks in the Ireland side, Jamison Gibson-Park (Ngāti Porou/Ngāi Tai) and James Lowe (Ngāpuhi/Ngāi Te Rangi) will add another interesting element to the matches.
Māori All Blacks coach Clayton McMillan is looking forward to taking on the Irish.
"We are expecting a fierce challenge from Ireland, to be playing a tier one nation at home in Aotearoa has been long awaited. The squad named is a mix of experienced players who know how to perform at this level, and players that bring fresh perspective and energy to the game.
"We are lucky to have three experienced All Blacks in the squad in TJ Perenara (Ngāti Rangitihi), Brad Weber (Ngāti Porou) and Tyrel Lomax (Muaupoko / Ngāi Tūhoe).
"I'm looking forward to the passion and knowledge they will bring. This is also a great opportunity for our 11 new caps, there is immense pride in pulling on the Māori All Blacks jersey and with that representing their heritage, their whānau, and their country.
"These two fixtures against Ireland will allow players to showcase what they have and put their best foot forward on an international stage."
The Māori All Blacks have played Ireland on just two previous occasions, the most famous being the New Zealand Natives 13-4 win at Lansdowne Road in Dublin in 1888.
The only other match between the two sides was in 2010 at Rotorua International Stadium where the Māori All Blacks won 31-28.
Māori All Blacks:
Props
Tamaiti Williams Ngāpuhi Canterbury Crusaders
Ollie Norris Ngāpuhi Waikato Chiefs
Marcel Renata Ngāti Whānaunga / Ngāi Takoto Auckland Blues
Jermaine Ainsley* Te Rārawa / Te Arawa Otago Highlanders
Tyrel Lomax Muaupoko / Ngāi Tūhoe Tasman Hurricanes
Hookers
Leni Apisai Ngāti Awa Auckland
Kurt Eklund Ngāti Kahu Bay of Plenty Blues
Tyrone Thompson* Ngāi Tāmanuhiri / Ngāti Rangiwewehi Hawke's Bay Chiefs
Locks
Isaia Walker-Leawere Ngāti Porou Hawke's Bay Hurricanes
Manaaki Selby-Rickit Ngāti Raukawa / Ngāti Tūwharetoa Bay of Plenty Highlanders
Josh Dickson Ngāi Tahu Otago Highlanders
Loose forwards
Reed Prinsep Te Rārawa Canterbury Hurricanes
Caleb Delany* Ngāti Tūwharetoa Wellington Hurricanes
Billy Harmon Ngāi Tahu Canterbury Highlanders
Te Kamaka (TK) Howden* Ngāi Tūhoe Manawatū Hurricanes
Cameron Suafoa* Ngāpuhi Auckland Blues
Half backs
TJ Perenara* Ngāti Rangitihi Wellington Hurricanes
Brad Weber Ngāti Porou Hawke's Bay Chiefs
First-five
Josh Ioane Te Rārawa Otago Chiefs
Ruben Love* Te Atiawa Wellington Hurricanes
Midfield
Alex Nankivell Ngāti Pikiao Tasman Chiefs
Rameka Poihipi Ngāti Whakaue Canterbury Chiefs
Billy Proctor Ngāi Te Rangi / Ngāpuhi Wellington Hurricanes
Bailyn Sullivan* Ngāti Kahungunu Waikato Hurricanes
Outside Backs
Connor Garden-Bachop* Ngāti Awa Wellington Highlanders
Josh Moorby* Ngāti Maniapoto Northland Hurricanes
Zarn Sullivan* Ngāti Kahungunu Auckland Blues
Shaun Stevenson Ngāpuhi North Harbour Chiefs