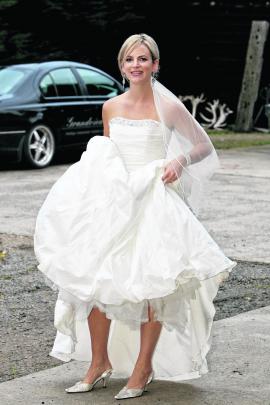 Soft sensuality in wedding dresses is sought by brides this season.
This is achieved through layering and texturing, which creates whispering movement and flow in flounced or tiered skirts of silk chiffon or organza for ultimate romantic appeal.
Although lace (often incorporating beading) remains hot, it is often paired with a contrasting fabric as a breakaway from the all-over lace look. For instance, a fitted lace bodice will be teamed with a flowing skirt.
Lace is also being used as a delightful accent, such as for a high-neck sheer in-fill or an in-fill for a plunging cut-out back. Stretch tulles or organzas are also being used for bodice in-fill and to cover arms (semi-transparent sleeves bring strength to rounded shoulders and trim up less than perfect arms).
Applique lace details add elegance to a simple gown, while jewellery can also add a finishing flourish. Colour splashes using contrasting ribbon ties at the waistline are fun and are also a way of emphasising a small waist.
When it comes to tones, various shades of ivory are a favourite, while pale blush pink is also a firm choice. Be careful, say the professional dressmakers, when selecting white fabric. There are many shades of white, some more flattering to particular skin tones than others.
WEDDING DRESS SUCCESS
Any wedding dress's success is about it relating closely to the bride's individuality. This way she will swing through the day feeling comfortable, relaxed and looking radiant. Wedding shoes that fit are also a factor!
And most brides select well. They will have either known instinctively what suits them and therefore what they want, or they will have pored over pattern books and magazines and browsed through websites. And always their secret weapon is the experienced dressmaker or designer. They know fabrics and how they perform, which is vital when relating them to the myriad design options available.
Bridal boutiques specialising in off-the-peg gowns for sale or hire are also a great option.

TIP: Those contemplating plunging cut-out backs should be aware that they cannot use a normal bra and need to be able to wear either a built-in bra or adhesive silicon supports.