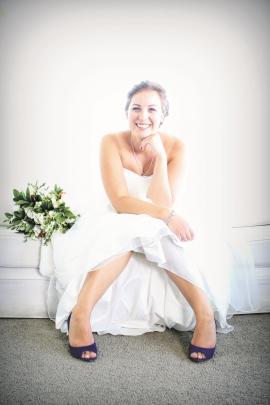 All brides are beautiful. But, unless they are among the fortunate few, they will have put in some preparation for their wedding day!
Poised to help are professionals who work in the fields of appearance medicine and beauty therapies, such as massage, facials, manicures, waxing, hair removal, eyebrow shaping and tinting, eyelash tinting and extending, detoxifying body wraps and other treatments and regimes.
Also standing by are talented makeup artists, hairdressers and health and fitness specialists, along with dental professionals who offer teeth-whitening systems.
Gyms offer specialised programmes that assist with fitness and dietary issues, but unless she is already attending a facility regularly the bride-to-be needs a good lead-in time to gain results.
Any skin problems need to be addressed at least six months in advance. This may simply mean adopting a healthy balanced diet. Moderate exercise up to 40 minutes four times a week is great for the circulation!
Many brides do not have the time or opportunity to gain a natural tan, particularly early on in the summer season. This is where tanning systems come in. Those with fairer skin usually prefer self-tanning creams or a professional spray tan. But before brides and their attendants step into the tanning bay a trial run is urged for a good skin match. Those with darker skin tones may wish to use vertical tanners or sunbeds to add extra glow.
When it comes to makeup, keep things natural on the day unless makeup is always quite dramatically applied. The temptation to try new makeup tricks should be avoided unless they are subtle!
Remember that cream gowns often have the effect of draining colour from the face. Makeup artists can counteract this with subtle adaptations in colour tones. Like the other professionals involved they want the bride to look the most stunning she can be on her day and will always suggest a trial run.
TIP: Six to eight glasses of water a day is an effective tonic for the skin.