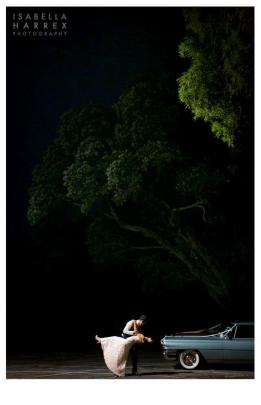 Photographs will live on years and years after your wedding day - it is so important to document your special day in a personalised, professional manner, writes Jennifer Hughson.
To avoid disappointment after the presents have been unwrapped and you've shaken the sand out of your suitcase, hire an experienced professional!
There are so many photographers out there - and even relatives or friends with a fancy SLR camera offering to take photos at your wedding - but beware, having a good camera does not automatically make you a half decent photographer! A little button called 'auto-focus' cannot 'auto-great-composition' or fix the fact that your 6'4" cousin's head has been cropped off...
I asked some local professional photographers for their thoughts on why it is so important to prioritise photography for your wedding day and how to choose a photographer you 'click' with (sorry had to be done...).
Kimberley Cheyne Photography
- "An experienced professional photographer will be capable of helping you feel relaxed and to have fun, and will know how to pose and direct you both for really natural and flattering photos! Light is the most important aspect of photography, and the person capturing your wedding day needs to be able to identify the most flattering and gorgeous light quickly, and deal with any difficult lighting situations well. This is simply learnt with experience.
"They will know the important shots to take, as well as anticipating and creating other shots, to make your wedding different from everybody else's. They will constantly be looking out for moments you don't even know are happening. They should have multiple back-up systems set up, so that you don't risk losing any images from your day. They will also have professional equipment and software for processing the images after the wedding day!
"Skills in image processing and editing are essential for timeless images, rather than images that look like they have just been put through Instagram! Meet up with the photographers whose work you love, and make sure you can relax and get on really well together - you are going to be spending lots of time together on the biggest day of your life!"
Kerry Crosland of Kelk Photography
- "Photos are a record of your wedding day, a piece of social history, and one of the only things that you can keep as a reminder of the day. Choose a wedding photographer that you can get along with. You are going to be with them for quite a while at an emotional/stressful/ joyful time in your life. Make sure they can recognise that and capture it. When you choose a wedding photographer make sure you see right through a whole wedding coverage.
"Sometimes a really creative photographer can miss the details in family groups that your mother will see the second she looks at the photos. Of course the opposite can also apply, where really detailed posing can leave a couple tired and bored, and that can show in the photos. Finding a photographer who can work both these scenarios is the best option."
Sinead Jenkins Photography -
"The important thing is to know what you are getting, and being comfortable with that. Plan for the time after your wedding - when your grandchildren are looking at your wedding album - and know that you'll be happy with the choice you are making today. I have received emails from couples who got married recently, had a friend or a very inexperienced photographer shoot their wedding, and are now desperately trying to find a way to 'fix' disappointing images.
"Sadly, no amount of re-shooting or editing can truly change the fact that lots of moments were simply not captured, or are too dark or blurry to be rescued. There is no substitute for talent and experience, so if you can, choose someone who can handle the technical challenges and more. Often a photographer becomes more than just the person taking photographs. Your wedding photographer is one of the few people around on the day that will be there at every crucial moment. They will have been to plenty of weddings before and can offer advice and words of support when your dress needs a last minute alteration, or your beautiful outdoor ceremony is flooded with rain. Choose someone you like."
Isabella Harrex Photography
- "You put so much effort into planning your day, so it goes without saying that you'll want to remember the details and how it felt to be getting married! Often, the day is so busy and emotional that you can forget the details rather quickly, so it's important to have someone there capturing your memories so that you'll have them to look back on! A good professional photographer will capture you at your best, and produce beautiful images that you and your love will treasure.
"Check out a few photographers, and go with person whose style that you love the most. It's important that they're easy and friendly to deal with, as you'll be spending a lot of time with them on your day! When you enquire with a photographer, be sure to include as much information as possible about your wedding, to make sure that they're the right person to photograph it."
Book as early as possible
As soon as you have settled on a wedding date and venue, a photographer is the next step! Once you and your fiancé have spent time researching different photographers' work through their websites and blogs, and have met up with some to see how you relate to each other, it's important to get onto booking your favourite as soon as possible to avoid disappointment. Some of these professionals are already fully booked for the 2013-14 wedding season and are receiving inquiries for 2015. The sooner the better applies here, particularly if your date falls in the peak time of November to March.
When meeting with your photographer before the big day, talk about special details you may want captured and shoots in particular locations - it might be the family heirloom attached to the bride's bouquet or a shot under a special tree in the family backyard. They will have an eye for important details on the day but it won't hurt mentioning everything you expect from them before the excitement of the day takes over.
A lot of photographers will also travel out of town for your wedding, but most often you will have to cover travel/accommodation costs. Keep this in mind when budgeting but also look into photographers who are local to the area you plan on holding your wedding.
Create a timeline of your wedding day so you all know how long you have for photos at each stage of your wedding day, such as getting ready, the ceremony, and allowing for photos in different locations. Make a list of the important photos and groups of people you want in them (friends, extended family, immediate family from each side etc). It is such a busy, exciting day you really don't want to be consumed with too much to remember. If you are prepared with a clear list, you can give this to your photographer or someone with a loud voice who knows the family, to help gather everyone together quickly.
As with trends for anything, they come and go. Have fun with your photos but make sure the bulk of them are timeless images based on your love and a celebration of the day that will never go out of fashion. Currently, the vintage, whimsical look is popular (long grassy fields, soft golden light) and also edgy, urban areas for photos (bright, vibrant walls).
People are moving away from cutsie trends and opting for the more beautifully styled magazine shots too. Using props is definitely in - things like moustaches on sticks, vintage suitcases, and empty photo frames - which can be fun and relax your bridal party and guests in front of the camera.
Just make sure you still have a nice simple head shot of the two of you looking at the camera (your gran will appreciate this). A good example of a trend going in and out of fashion quickly is 'spot colour' - a black and white image with a detail left in colour, such as the flowers - photographers are now cringing at past work with this effect used. Trends are always around in some form and act as an historical reference of sorts, just be sure you don't have your whole set of images using such a bold trend!
Some advice from the professionals:
"Remember the most important thing is that your wedding is a celebration of your love and your journey as a couple! It should be full of fun and laughter, surrounded by people who love you! EVERY wedding is perfect when this is your aim. The most important photos are of the people, the relationships, the generations, the connections. Make a choice to not worry about anything on the day and enjoy EVERY minute. Definitely have back-ups for rainy day photos... but also embrace the rain and get out in it with umbrellas! Practice kissing in a pretty way, not an 'eating-each-others-face' kind of way. Make sure you have a nice tidy room to get ready in, so that your preparation photos are clean and fresh! TRUST your photographer to capture your day amazingly. Give yourself permission to be FABULOUS! This is YOUR day to feel amazing! Also set aside time to just relax with your wonderful new spouse - the more you show your new spouse how much you completely ADORE them, the more you will LOVE your photos!" - Kimberley Cheyne Photography
"Enjoy planning your wedding day. Don't make a meal of it, I have seen fantastic weddings planned in a week. If you have a long lead time to the wedding then only open the planning box every now and again, don't let it consume your life. After 30 years in business, I can say with total honesty we love photographing weddings. They are all different, all special, and an event that we regard as a great privilege to record. All our photographers are enthusiastic and work really hard on the wedding day. We are here to work for the couple and that is our priority." - Kerry Crosland of Kelk Photography
"Keep it real! Prioritise what really matters on your day, and if you are struggling to pay for everything then simplify and pare down - but keep hold of what is important. Communicate with your photographer - make sure you are both on the same page and know exactly what you are getting when the wedding day is over. Personalise your wedding. Don't feel pressured into doing something just because it looks cool on a blog. Remember what makes you YOU, and incorporate that into your day. Most of all, have fun! Weddings are about fun, and love, and celebration. Don't worry about your 'best side' or keeping up appearances all day - your photographer will capture you looking your best. Relax and enjoy!" - Sinead Jenkins Photography
"Remember that it's your day, and it's most important that YOU have a nice time! It's easy to get caught up in all the little details, but what really matters is that you and your love enjoy what will be one of the happiest days of your life." - Isabella Harrex Photography
Visit these professional Dunedin-based photographers' websites and also this Pinterest link for more images of trends and fun ideas for your wedding day photos.
http://pinterest.com/pansycouture/wedding-photography-ideas/