As anyone who has ever staged a wedding will tell you, it all hinges on the planning. Be it a large production with all the trimmings or a small intimate gathering, there is no shortcut to making it a dream day.
Once the decisions are made as to where and when the wedding will be, and what form it will take, serious planning can begin, preferably with the help of parents and close friends.
It should be everybody's goal to see that all details are covered for the big day. Along the way, there will no doubt be disagreements. But with tolerance levels maintained and communication lines kept open, problems will be resolved.
A concept that the bride and groom feel comfortable with is what matters most, as it is their day, no matter who pays the bills!In Otago many celebrants, photographers and venues are booked well over a year in advance. With this in mind, the following is a calendar of some of the more important details to attend to.-
TWELVE MONTHS
• Choose date, place, time and style of wedding and reception.
• Meet families to work out who will pay for what.
• Work out fair estimate of guest numbers.
• Make appointments to see the religious or independent marriage celebrant and book the church or alternative venue for ceremony.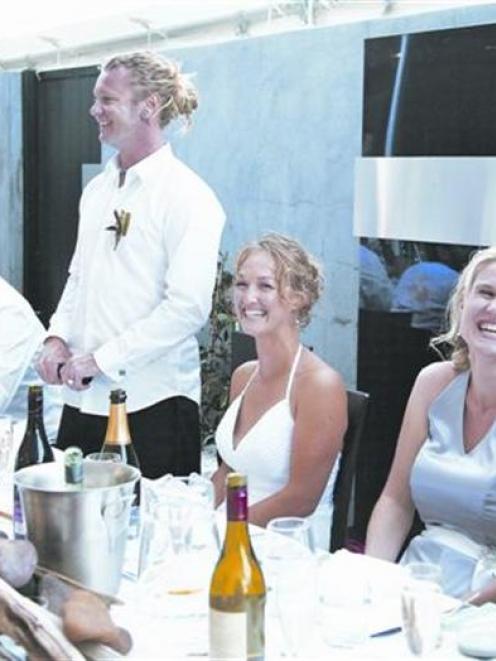 • Get estimates for reception from function managers or caterers and make a firm booking as soon as possible, as many popular venues are booked at least 12 months in advance.
• Choose style of wedding cars and book them.
• Discuss and order wedding cake.
• Choose and book photographer and videographer.
• Choose attendants and begin planning gowns.
• Decide on honeymoon and make reservations if applicable.
THREE MONTHS
• Choose florist.
• Arrange visas and travel documents if applicable.
• Choose wedding rings.
TEN TO EIGHT WEEKS
• Finalise guest list and order wedding invitations.
• Organise a list of wedding presents.
• If going overseas for honeymoon, organise passport in married name.
SIX WEEKS
• Apply at district court for a marriage licence.
• Finalise guest list and send invitations.
• Choose presents for attendants.
• Record gifts received and write thankyou letters.
FOUR WEEKS
• Check that bridegroom and best man have arranged their wedding attire.
• Arrange seating details at reception.
• Visit hairdresser with headdress to discuss wedding-day style.
• Wear-in wedding shoes
• Arrange date of wedding rehearsal at church.
TWO WEEKS
• Confirm numbers to caterer.
• Make final check with photographer and florist.
• Prepare speeches.
• Get honeymoon clothes organised.
• Have going-away car serviced.
UP TO ONE WEEK
• Wrap gifts for attendants.
• Pack for honeymoon and check all final arrangements for this.
• Have wedding rehearsal.
DAY BEFORE
• Check car if this is to be used on the honeymoon.
• Pack going-away clothes.
• Give attendants their presents.
• Have a manicure, a long, relaxing bath if possible and an early night.
THE DAY
• Have a good breakfast.
• Allow plenty of time to dress.
• All is in place so enjoy every minute!