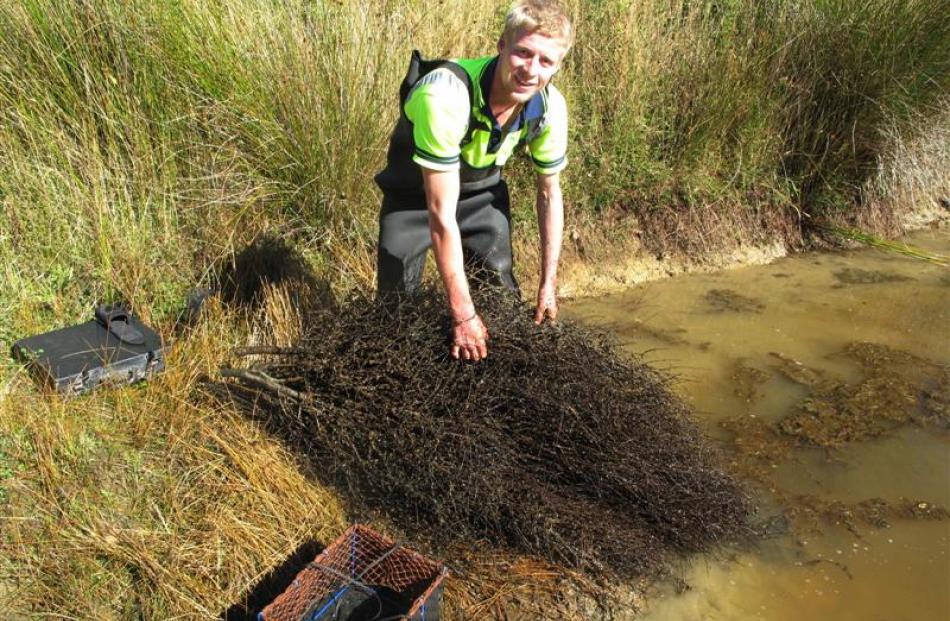 A fledgling industry is being developed in Otago-Southland with the development of a freshwater crayfish (koura) farming operation by forestry company Ernslaw One, as agribusiness business reporter Sally Rae reports.
John Hollows reckons he has a dream job.
''It's an opportunity of a lifetime,'' Mr Hollows said, referring to his role as aquaculture manager for Keewai, a new business that has stemmed from a forestry company's decision to diversify into freshwater crayfish (koura) farming.
Ernslaw One is utilising fire ponds in its forests, spread throughout Otago and Southland, to provide an additional revenue stream and Mr Hollows believed there was potential for ''quite a big industry'' to result from the initiative.
While it is still largely in the development stage, permits have been secured to farm and sell the crayfish under the brand name Keewai, and 11 forests have been registered as fish farms.
The first sales were expected next year, targeting the domestic market initially to get processes in place.
Export would then follow, probably beginning with Asia.
Mr Hollows, who was previously an environmental officer at Fish and Game, said while some people had farmed freshwater crayfish previously, it had mostly been ''more hobby stuff'' and he believed the company was the first to ''put some scale in it''.
He did his thesis on freshwater crayfish and always thought farming them could be done but it required scale.
Over the past three years, he had enjoyed the challenge of working through pond development and looking how to make the ponds more attractive to the crayfish, getting permits, working through food safety, and also branding.
He had also spent a lot of time in the field and, last summer, dived into 50-odd ponds - ending up with pneumonia - while trying to see what made the crayfish ''tick''.
Approaching the stage of organising the first sales was ''pretty special'', he said.
Each year, Keewai would steadily increase what it produced and, long term, it expected to produce between eight and 10 tonnes from Otago-Southland.
It would take about 2000 ponds to get that volume, he said.
Existing ponds were being used and a ''heap more'' had been dug out.
Three years ago, there were 300 of them and now there were 1100 and the company was ''still digging''.
Describing koura as a high-end niche product, Mr Hollows said the story behind it was also ''pretty sharp''.
At a time when people were looking for healthier options and ''cleaner, greener'' food, there were no pesticides, chemicals or feeding involved, and there was nothing artificial in the water.
''It's a really natural product. As far as New Zealand Inc. goes, I think this is the best one. There's nothing bad in there.''
The Government was looking at land-based aquaculture and increasing revenue from productive land, while it was not interfering with Ernslaw One's forestry operations.
As well as providing additional revenue for the company, it would also create employment opportunities.
At the moment, Mr Hollows was full-time and there were also three part-time employees, as well as contractors.
Another bonus was that the crayfish were quite sensitive to environmental pollution, so if they were growing in a forest, it meant the environment was in good shape - ''a bit like a canary in a mine shaft'', he said.
The ''environmental tick'' was also important, especially as overseas markets were looking at where trees came from and what was happening with forests.
The majority of Keewai's brood stock came from within Ernslaw One's forests.
They would live a ''quiet life'' and it would be their offspring that were sold.
They were slow growing in the South, which he believed ''adds to the flavour'', taking three to four years to get to a saleable size.
The crayfish were challenging species to handle, as they were quite aggressive and cannibalistic.
''They don't play nicely together,'' Mr Hollows quipped.
A Sustainable Farming Fund grant of $120,000, over three years, had helped with some more in-depth scientific research on ponds.
A ''really good group'' of people were involved in a working group, which included representatives from the University of Otago, Fish and Game, Ngai Tahu and other forestry companies.
There had only been positive comments and everyone involved was excited about it, he said.
It was about proving the business first in Otago and Southland, before looking at spreading it further.
He believed other forestry companies and large landowners might also look at it and it was ''very exciting times''.