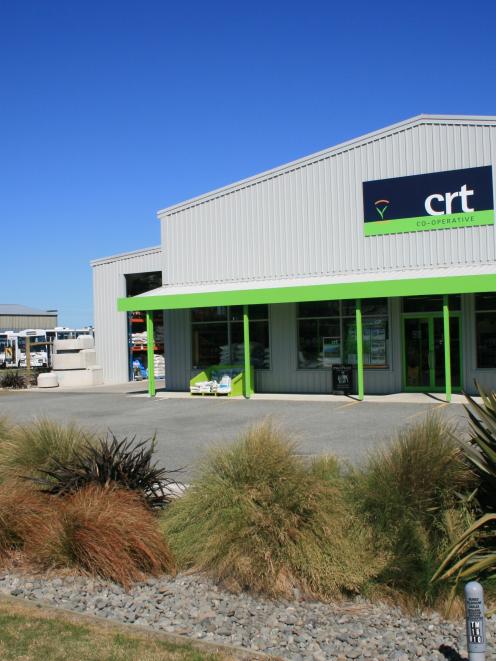 Rural servicing co-operative CRT has cracked the billion-dollar mark - reporting turnover of $1.092 billion and an operating surplus of $8.4 million in the year to March 31.
That was up from a turnover of $801 million and an operating surplus of $5.1 million in the previous year.
In July last year, the South Island co-operative's chairman Don McFarlane signalled the goal of $1 billion turnover was within reach as acquisitions and investments started to bear fruit.
In a statement yesterday, Mr McFarlane said the achievement was a "fitting milestone" on the 25th anniversary of the CRT brand which was adopted by the regionally owned trading society co-operatives in 1986, although those societies had traded since 1963.
"When a group of progressive South Island farmers formed this co-operative nearly 50 years ago to reduce their input costs, they struggled to find suppliers and measured sales in the thousands of dollars.
"They would be heartened to see their dream has now grown into a billion-dollar company offering a full range of services to more than 25,000 shareholders," he said.
The co-operative would distribute the majority of its operating surplus of $8.4 million to shareholders as a bonus rebate.
Six million dollars would be distributed in a 75%-25% split of share capital and cash to individual shareholders, bringing the total benefits to shareholders in rebates and rewards for the year to $31.5 million.
Growth in revenue of 36% was matched by a 33% increase in total assets of the co-operative which now exceeded $200 million.
The growth had been assisted by various factors, including the Challenge fuel business (CRT assumed responsibility for the Challenge service station brand and fuel supply during the year), and the acquisitions of South Canterbury-based Annett Grain and Seed in May last year, and of the Hokitika-based farm supplies business of Westland Milk Products in February, chief executive Brent Esler said.
Trading had continued strongly since balance date and, as at June 30, the first quarter turnover was up 27% on the same period last year.
The co-operative's annual meeting will be held in Alexandra on August 9.