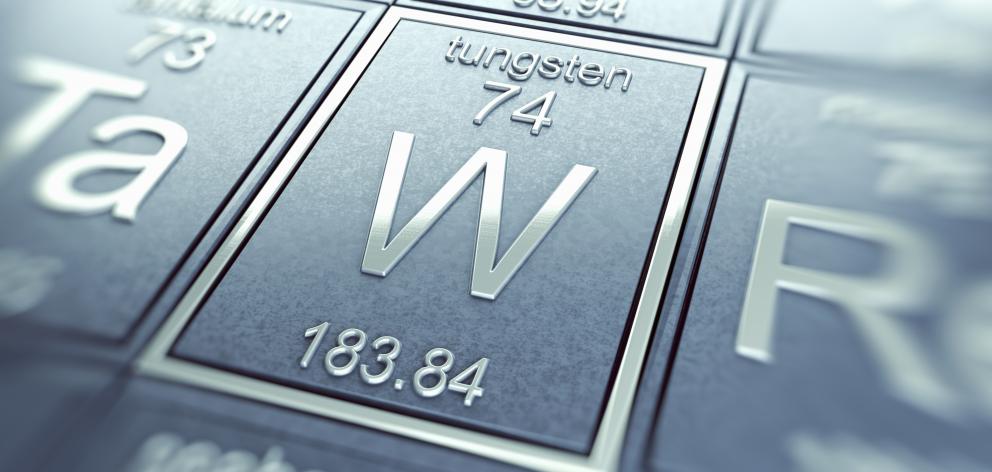 ''Runs on the board within a year'' is the promise of a new independent research institute striving to ignite the potential of rare earth mineral extraction and manufacturing on the West Coast.
The New Zealand Institute of Minerals to Materials is maiden-funded by the Ministry of Business, Innovation and Employment to the tune of $10 million to $12 million over four years.
Its goal is not simply the extraction of rare earth minerals, tungsten or coal, but to find a niche in further processing the minerals for sale and supply to manufacturers; ''value adding materials'' which could go into new types of carbon fibres, magnets, 3-D-printing powder and supplying the burgeoning green battery industry.
To date, China has been the fountain of rare earth mineral production, with little environmental oversight, but China's mineral-bearing clays are becoming scarce.
That has caused massive shortages in recent months as production has slumped, prompting huge price spikes in recent weeks.
The minerals group of the institute is seeking to underpin a charge into the recently coined ''green minerals'' sector, those required for high-end sustainable technologies, including wind farms, renewable energies and the revolutionary electric car the most obvious examples.
Whether environmentalists take up the ''green minerals'' theme is yet to be debated.
West Coast rare earth minerals are sure to open a new chapter of environmental concern, once the fish hooks of extraction, processing and manufacturing are laid bare in permit and consenting processes.
Institute chairman Kevin Stratful outlined the vision of the institute yesterday, at the annual New Zealand branch of the Australian Institute of Mining and Metallurgy conference in Christchurch.
''Key to this is collaboration within this industry ... but we have to remain an independent body in our own right,'' he said.
Stakeholders include council, iwi and businesses across the West Coast, MBIE and the Department of Conservation, to name a few.
Mr Stratful said the institute wanted to move on from ore extraction, further up the chain towards finding new ways of processing ore into new materials; citing three ore types to initially focus on: tungsten, types of coal and the plethora of rare earth minerals.
Tungsten is a mining byproduct of Oceana Gold in East Otago and while stockpiled, is otherwise discarded.
It is a strong, dense mineral with a high melting point, which the institute believes could be processed into a powder and used for 3-D printing, enabling the construction of complex parts with unusually high strength.
Coal is being targeted for manufacturing ''carbon foam'', which in lay terms would be a new type of composite product, lightweight and machineable, for use in industries such as automotive, aerospace and the maritime sector.
The rare earth minerals category is considered the ''highest risk but highest reward'' category of the institute's target, being harder to extract and process into a concentrate.
Rare earths have magnetic and electrochemical properties, and can be used for making magnets, for the new generation of home and vehicle batteries, or laser materials for use in communications or the medical sector.
When asked about the institute's immediate objectives, Mr Stratful said it was to find what manufacturers wanted, then which processing plants to begin with.
''It will be which of the pilot plants to set up for research [first].
''This time next year we will have runs on the board for those three [tungsten, coal and rare earth minerals],'' he said.
The institute could not financially ''run on government subsidies'', so income for the company would come from selling its research to companies, royalties and intellectual property rights developed along the way.
CRL Energy's Dr Murray McCurdy said the institute was seeking to ''commercialise science''.
''It's going beyond ore extraction but adding value to make new materials for manufacturers,'' Dr McCurdy said.
The New Zealand composite sector was valued at about $50million a year and had annual growth of about 9%, with far wider applications on offer such as shipping, housing and cars, he said.
CRL Energy South Island manager and consultant geologist James Pope said projects had to have a ''clear value chain'', for the West Coast and advantages for New Zealand.
When asked about environmental considerations, he said: ''We will have to build in the outcome for the environment,'' with permitting and consenting processes, as the Department of Conservation said: ''Keep the environment protected''.
Dr McCurdy said different types of coal could be blended to make the composite fibres.
''We're talking taking minerals to high value products,'' he said.