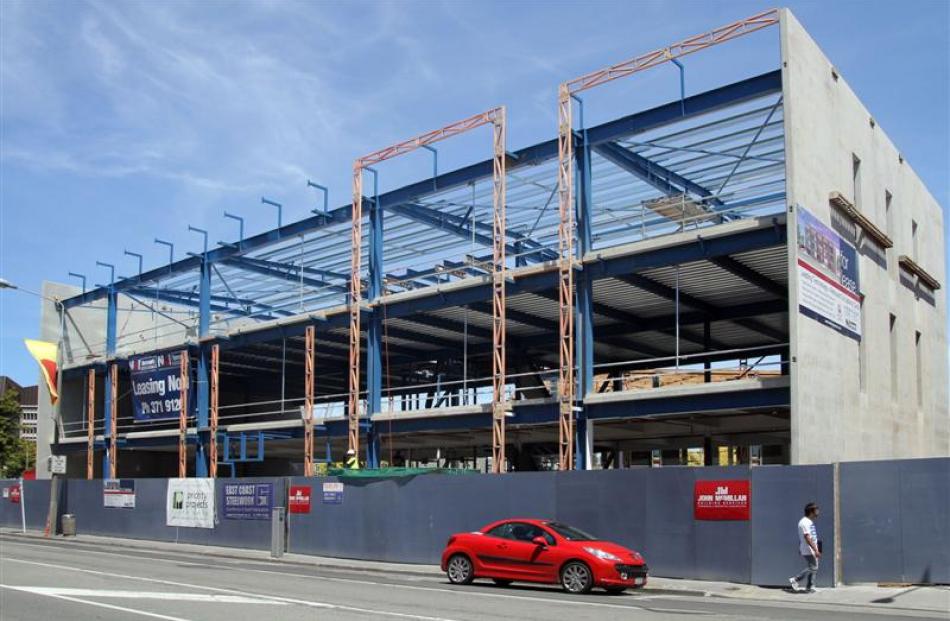 Prime Minister John Key wasted no time in the first week of the new Parliamentary term in visiting Christchurch. Much remains to be done in the earthquake-damaged city and the Government will be hoping for early progress as the money keeps pouring in. Business and political editor Dene Mackenzie reports on what is next for Christchurch and how it may affect the rest of the South Island.
One day into the new Parliamentary term and Prime Minister John Key was in Christchurch on Wednesday turning the first ground on the $300 million Christchurch Justice and Emergency Services Precinct.
The project is one of nine of the 16 anchor projects to start this year, an election year.
National won crucial party votes in Christchurch at the last election, also taking the former Labour stronghold of Christchurch Central. Although National did not do particularly well in the Christchurch East by-election, its officials will be hoping the nine projects starting this year will help secure a strong vote in the damaged city.
Mr Key made a point of visiting Christchurch regularly last year, and political analysts expect that trend to continue this year.
Labour will also make sure its MPs visit regularly as the party tries to build on its success in the by-election.
University of Otago political scientist Bryce Edwards believed the rebuild recovery was always going to benefit National, at some stage. It helped National in 2011 but the assumption since then was the Christchurch public was less enamoured with the management of the rebuild, particularly by Earthquake Recovery Minister Gerry Brownlee.
''It will be interesting to see if the sheer economics are large enough to ameliorate those concerns about management. People soon forget about political mismanagement when they are finally moving ahead and people have money in their pocket because the rebuild is going ahead.''
Dr Edwards said MPs and candidates from other South Island regions would be reluctant to politicise the fact their own regions were not receiving the same sort of assistance as Canterbury.
''I don't expect Dunedin MPs to complain about Christchurch. It will be petty to complain about Christchurch receiving more assistance. Even if there is a solid case of Christchurch receiving more, it won't fly because people think this is Canterbury's time.
''There might come a time people can say what about us? But not at the moment,'' Dr Edwards said.
It was possible the 2011 election result could be revisited, with Labour electorate candidates doing well but the list vote swinging towards National, he said.
Some large numbers have been floated for the rebuild, with Mr Key last year putting the figure at $40 billion from both private and public funding. The Government's contribution was increased from an estimated $13 billion to $15 billion.
However, not all has gone to plan. Last year, it was revealed the consenting process for the Christchurch City Council was flawed and the Government threatened to take the process completely away from the council.
But former mayor Sir Bob Parker, called a clown by Earthquake Recovery Minister Gerry Brownlee, has gone and new mayor, Lianne Dalziel, will be a tougher opponent for Mr Brownlee. Ms Dalziel was a long-serving Labour MP, holding Christchurch East with a sizeable majority. She and Mr Brownlee clashed in Parliament over the rebuild and those arguments are not likely to disappear in the short term. There is no doubt the rebuild needs to speed up. Otago trades and service companies have been holding off hiring staff, pinning their hopes on gaining some work from Christchurch as the rest of the South Island's regional economies stutter back into life.
Building contractors spoken to by the Otago Daily Times said one of the main concerns was the number of projects coming on stream this year. The consenting process was still under pressure and any streamlining of the process could cause problems.
A shortage of qualified building workers was contributing to the problem.
''It can be all go mobilising the rebuild this year but who can build it? A shortage of staff will mean prices go up. The rebuild is a young person's country, so we expect people to flood in from overseas to work, adding pressure to rental properties,'' one contractor said.
In Otago, Dunedin continues to try to save Invermay from being reduced to a service centre as AgResearch plans to take more than 80 high-skilled jobs and put them in Christchurch or Palmerston North. This week, the lower North Island, including Palmerston North, was hit by a 6.3 magnitude earthquake, making comments from the South regarding keeping essential services spread out from quake-susceptible areas resonate. Dunedin has lost its New Zealand Post mail centre, which transferred to Christchurch with the loss of more than 100 jobs. The Wellington centre was transferred to Palmerston North.
In the first stage of the new justice and emergency precinct, more than 20,000cu m of soil will be excavated, mixed with 2500 tonnes of cement and placed back in the ground to support a heavy duty, 1.2m-thick concrete base.
Once completed, the precinct will be the regional headquarters for the Ministry of Justice, New Zealand Police, Department of Corrections, New Zealand Fire Service and St John. It will also house civic defence and emergency management teams of the Ministry of Civil Defence and Emergency Management, Christchurch City Council and Environment Canterbury.
It will house about 1100 workers, accommodate 900 visitors every weekday and incorporate modern systems like audio-visual links, sophisticated security monitoring and a purpose-designed emergency operations centre.
Mr Brownlee said the sod-turning in Christchurch on Wednesday was another milestone achievement. It was the first of nine which would start this year.
Proposals from prospective operators and design and development consortiums for the convention centre precinct were due back to the Central Christchurch Development Unit team in March for evaluation.
''Roughly three-quarters of the land required for the convention centre precinct has now been purchased by the Crown and the intention is to have that area cleared by August. I am confident the project remains on track to open in early 2017.''
Dunedin North MP and Labour Party spokesman for revenue and small business David Clark said the schedule for Mr Key's visits to Christchurch this year were ''cynically aligned'' with the election.
Several sod-turning ceremonies had been planned for Mr Key and other ministers throughout the year as the Government battled a turning tide of opinion from voters as the rebuild struggled to gain momentum.
''The Government is pushing resources to the bigger cities to the detriment of New Zealand as a whole. For New Zealand to succeed, all the regions need to succeed. The Government is slow to approve infrastructure building in the regions, or even retaining it.''
''It is highly cynical for the Government to try and influence voters in the big cities. I expect National is behind the eight ball already in the regions, and in Christchurch,'' he said.
---
The 2014 projects
• The Bus Interchange
• Justice and Emergency Services Precinct
• Retail precinct
• Health precinct
• South Frame public realm
• Performing arts precinct
• North Frame and Margaret Mahy Amazing Place
• Innovation precinct
• Metro sports facility
---
Projects on the go
A selection of projects announced in Christchurch in 2013.
December 19: Christchurch pupils just shy of achieving NCEA level 2 had the opportunity to gain the credits they needed to get the qualification through a Ministry of Education-funded summer school. There were 50 places available through funding of $25,000.
December 19: Project management company MWH (NZ) was awarded the contract to manage the minor repairs programme for 3600 earthquake-damaged Christchurch state houses with less than $40,000 of damage. The minor repairs contract involved $100 million of work and would employ about 1000 tradespeople and covered 3600 of the 5000 repairs to be completed by the end of 2015.
December 17: Prime Minister John Key visited Christchurch and made announcement at Burwood Hospital accompanied by three Cabinet ministers. Also attended official sod-turning for the Hagley Cricket Oval.
December 11: Housing accord work expanded to Christchurch, Wellington and Tauranga.
December 5: A world-leading project to transform Christchurch into a smart city of the future and create opportunities for New Zealand's tech sector was to receive support from Callaghan Innovation, the Government's high-tech headquarters for business. The fund was providing $250,000 in seed funding as well as technical expertise.
November 28: Mr Key visited Christchurch, attending an announcement on fire stations by the New Zealand Fire Service and visiting Burwood Hospital with National's Christchurch East candidate for the by-election, Matthew Doocey.
November 27: A consortium of community social housing providers officially launched plans for a new $12 million, 44-unit, mixed social housing development in Hornby.
November 27: Mr Key visited Parklands Plunket, accompanied by Mr Doocey, then went to the New Brighton Surf Lifesaving Club, and later met local business and landowners.
November 21: Housing Minister Nick Smith turned the first sod marking the start of the construction for Housing New Zealand's $3.3 million 26 inner city apartments. He opened a further six community social housing units in St Albans.
November 14: Earthquake Recovery Minister Gerry Brownlee and Education Minister Hekia Parata announced more than 80% of classrooms in greater Christchurch would be modernised by 2022. The Government was investing more than $1 billion in a 10-year programme restoring and renewing the schools in greater Christchurch following the earthquakes.
October 31: The Government agreed to provide up to $260 million to the University of Canterbury to support its rebuilding programme, following damage sustained from the earthquakes.
October 25: Three new social housing developments in Christchurch totalling 51 homes and investment of $17.3 million were announced by Dr Smith.
October 17: Mr Key unveiled how the $300 million Justice and Emergency Precinct being constructed in central Christchurch would look.
September 10: Mr Key delivered a speech to the Canterbury Employers Chamber of Commerce entitled ''Making Progress: The Christchurch Rebuild''.
June 12: Mr Brownlee warned the Christchurch City Council its consenting processes must change.
May 22: Justice Minister Judith Collins opened a new multi-jurisdictional customer service centre and marked the return of full registry services to the district and High Courts in central Christchurch.
May 16: Mr Brownlee announced in Budget 2013 a further $2.1 billion in funding for the Christchurch earthquake recovery. With the total cost of the recovery increasing to an estimated $40 billion, the Government's contribution would increase from about $13 billion to $15 billion. The figure included more than $900 million in new capital funding from the Future Investment Fund - set up and funded by the partial sale of state-owned energy companies - which included the Christchurch and Burwood Hospitals redevelopment.
March 21: Civil Defence Minister Nikki Kaye approved a payment of nearly $31 million for civil defence emergency response costs related to the earthquakes to be paid to the Christchurch City Council. The payment brought the total Government contribution paid to the council to more than $208 million in response to the September 2010 and February, June and December 2011 earthquakes.
---