Otago has fared well in the annual Technology Investment Network report, with one of the highest revenue growth rates in the country.
Queenstown-based tourism photographers Magic Memories made the top 10 of the overall Technology Investment Network (TIN) 200 companies, while Dunedin specialist engineering company Scott technology made the top 10 ''companies to watch'' list, and seven other Otago companies were also in the top TIN 200 list.
The TIN report benchmarks the performance of the New Zealand's 200 largest, globally focused technology companies; with 700 businesses having been surveyed.
The 2018 TIN report revealed turnover for New Zealand's top 200 technology companies increased 11% to reach $11.1 billion during the past year; the second billion-dollar per-year growth result in three years.
The technology sector is now New Zealand's third-largest export earner, behind dairy and tourism.
TIN managing director Greg Shanahan said export growth drove the expansion, growing 12.4% to nearly $8 billion, helping companies achieve the economies of scale needed to grow profitability by a record 38.1%.
''This year, the performance of New Zealand's tech export sector is sending a strong message that it has the potential to become our country's leading source of offshore income'', Mr Shanahan said.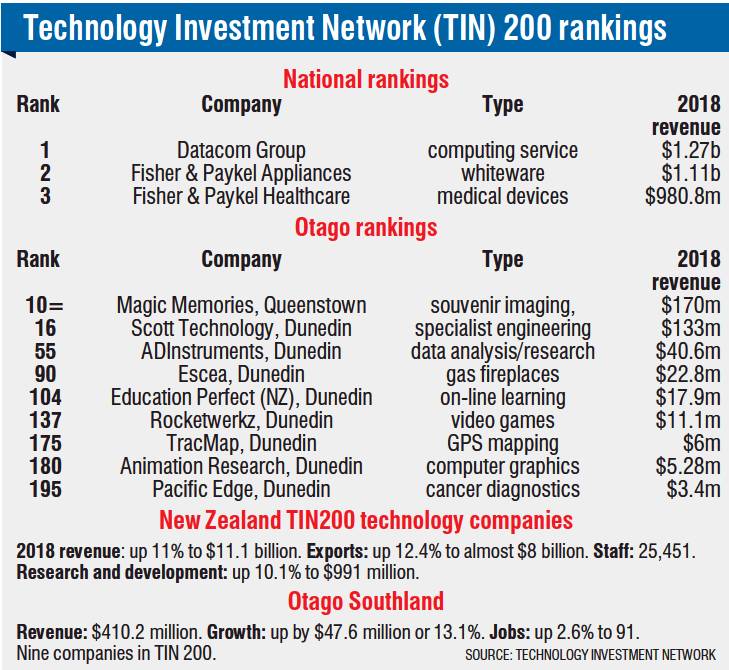 The North American and Australian markets provided the bulk of export dollar growth, combined at $571 million, and Europe was the fastest-growing sector, up by 16.7%, showing the TIN 200 companies had the ability to compete and win globally, he said.
Within the TIN 200 group, Otago has nine companies: Magic Memories, Scott Technology, ADInstruments, Escea, Education Perfect (NZ), Rocketwerkz, TracMap, Animation Research and Pacific Edge.
Of the seven regions, Otago's tech revenue growth of 13.1%, to $410 million, was second only to the percentage growth of Hamilton, up 16.3% to $853.6 million.
Third by percentage was North Auckland-Northland which grew by 16.1%, to $1.11billion, fourth Wellington-lower North Island, up 12.3% to $2.35billion and fifth was South Auckland, up 9.4% to $449.3 million.
Sixth and seventh went to respectively Canterbury-upper South Island, up 7% to $878.9 million and central North Island, up 5% to $2265.4 million.
Mr Shanahan said growth was spread across New Zealand and more than half the regions achieved revenue increases above 10%.
He noted foreign investment ''remained buoyant'' and TIN200 companies had received more than $200 million from offshore investments during the past two years.
In 2017 Dunedin bladder cancer diagnostic company Pacific Edge was ranked sixth within the TIN Top 10 list of Hot Emerging Companies.
For TIN 2018, specialist engineering company Scott Technology in Dunedin was singled out for being eighth in the top 10 list for the largest revenue growth, and one of the top 10 ''companies to watch'' this year.
Scott's revenue grew by $21 million to $133 million, while Datacom Group's first place was revenue growth of $112.6 million to $1.27billion and cloud accounting company Xero grew by $111.2 million to $406 million, in second place.
The report said Otago achieved notable growth of 13.1% or by $48 million.
High-tech manufacturing revenue grew by $25 million and ICT (information, computing and technology) turnover increased by $23 million during full year 2018.
''The region contributed 3.7% to the overall TIN200 revenue for the year, with total turnover of $410 million,'' the report said.
The lower South Island-Otago was home base for several scale-up technology firms, and laid claim to the highest five-year compound annual growth rate (CAGR) of all the regions, at 19%. Queenstown-based Magic Memories and Dunedin's Scott Technology were the two largest and fastest growing firms of the nine companies in Otago, the report said.