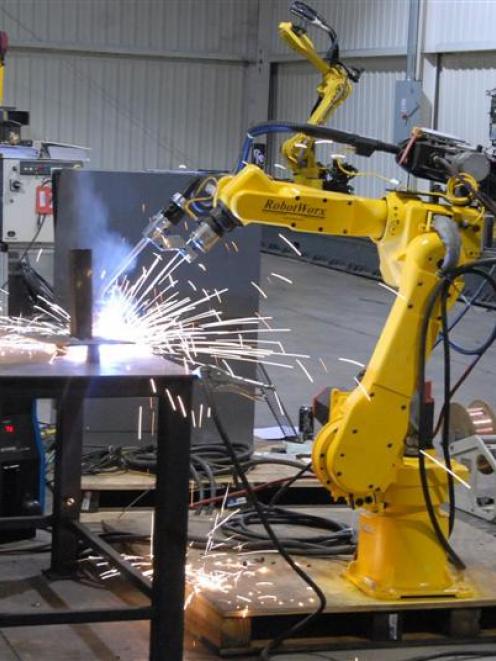 Scott Technology is spending $US5.4 million ($NZ6.23 million) buying RobotWorx, an industrial robot integrator based in Ohio, North America.
The acquisition is designed to help expand Dunedin-based Scott's market share in the Americas.
In an announcement to the NZX, chairman Stuart McLauchlan said North America had traditionally been Scott's biggest market, representing 37% of 2013 group sales, mainly in the appliance, mining and superconductor industries.
Last year, Scott opened a sales office in Chile which focused on the mining industry in North and South America.
Further opportunities for growth existed in those industries through greater in-market presence, as well as the introduction of Scott's world-leading meat processing, milking and superconductor products to the North American market.
''Robotics is a key enabler in providing automated solutions to all of the industries and markets Scott serves,'' Mr McLauchlan said.
Chief executive Chris Hopkins said RobotWorx was an exciting acquisition for Scott, with strategic potential for both companies.
RobotWorx was one of the best-known industrial robot integrators in North America, with an internet presence that dominated its competitors worldwide.
The internet presence was driven by an extensive portfolio of URLs, including www.robots.com, he said.
''RobotWorx has the capability of integrating multiple manufacturers' robots ... and has implemented thousands of successful robotic installations for applications ranging from welding to palletising.''
RobotWorx had been in business for more than 21 years and differentiated itself from all other integrators and from their competitors in the industry, Mr Hopkins said.
Many inquiries have been received from businesses seeking to install robotic solutions which RobotWorx was unable to supply because they was beyond its level of expertise.
The inquiries provided opportunities to expand the business by applying the skill, expertise and experience gained by Scott in providing its innovation solutions to the appliance, mining and meat processing industries, he said.
RobotWorx also received more than 270,000 foreign visits to its main website annually, visits it had not catered to in the past.
''These forgone opportunities show great potential to be converted into engineered solutions with additional skills contributed by Scott,'' Mr hopkins said.
Scott also saw the opportunity to dominate the internet in areas of its own expertise, significantly raising its profile in both its key North American market and beyond, he said.
The robot industry was expected to grow due to its promising output of high quality products at a lower price.
With the ability to offer robotic automation for a wide variety of industries, RobotWorx, together with Scott, had significant ability to tap into the profitable growing market, he said.
RobotWorx chief executive and owner Keith Wanner would work with Scott to ensure a smooth transition.
---
The deal
Scott Technology buys RobotWorx for $US5.4 million ($NZ6.23 million) funded by bank debt of $US4.5 million and $US900,000 of shares in Scott issued to vendor.
A further $US2.3 million of shares would be issued over a period of three years if specified earnings targets were met.
The shares were issued at $1.62. They last traded at $1.82.
---