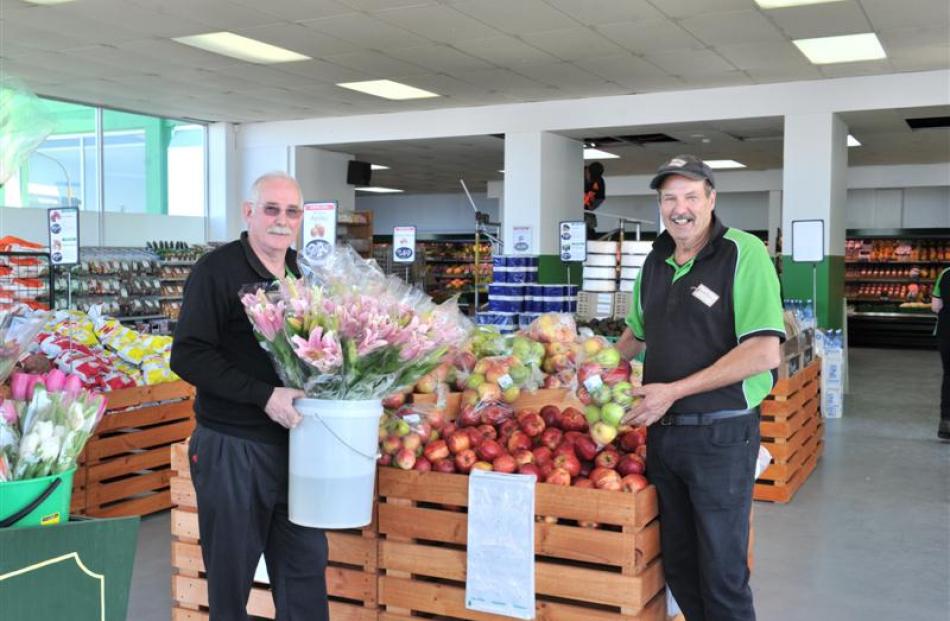 When Barry Gazeley and Marty Hay opened their first Veggie Boys produce store in Dunedin two years ago, they thought that was going to be it.
It was a lifestyle choice for the business partners who were fulfilling a long-time dream. Mr Gazeley had spent most of his working life in the produce industry, and Mr Hay had been in retail.
When they opened the doors to their Cumberland St store, they started with four staff - themselves and their wives.
Since then, the business has rapidly expanded. There were now stores in North Dunedin, Mosgiel and Invercargill, and a Macandrew Rd store opened yesterday. Plans were also well under way for an online store.
Despite a chain of stores not initially being on their radar - they thought they would be content with one - they decided that when an opportunity came up, they were ''getting too old not to do it'', Mr Hay said.
The pair now employ at least 60 people and, once the South Dunedin store is fully staffed, the number will reach more than 70.
While they had always wanted to open in South Dunedin, they had been unable to find the right premises and it had been put on the back burner.
Commercial property real estate agent Merrin Bath spied the space back in August and figured it was the perfect location for the operation.
Veggie Boys' foray into Southland earlier this year was a result of resource consent issues over its operation at Wal's Plant and Fun Land at Mosgiel, Mr Hay said.
They had to look outside the area as, having invested heavily in plant, they had ''nowhere to go'' if consent was not granted. Consent was granted in May.
In Invercargill, Veggie Boys had partnered with the Mad Butcher retail outlet and there were further opportunities with the butchery chain, he said.
The pair believed that being hands-on in the business and enjoying what they did was one of the key factors in their success.
A lot of their customers knew who they were, most of their produce was sourced locally and they dealt with a group of growers who were passionate about their own businesses.
Some of those growers were too small to supply large supermarkets and they had between about 15 and 20 small growers and suppliers, who provided everything from honey to bread and pavlovas.
To help them cope with the fast growth, Mr Gazeley and Mr Hay had engaged Carl Spruyt from business development franchise 10X to help channel the business in the right direction.
''We're just a couple of old buggers that love what we're doing. We're retailers, that's what we are, what we do best. Our business acumen has to be bigger,'' Mr Hay said.
The pair both loved the independence and being able to make their own decisions: ''We make the wrong one, we take the rap,'' Mr Gazeley said.
They were now getting into their own branding, with potatoes, lettuce, parsnips and carrots.