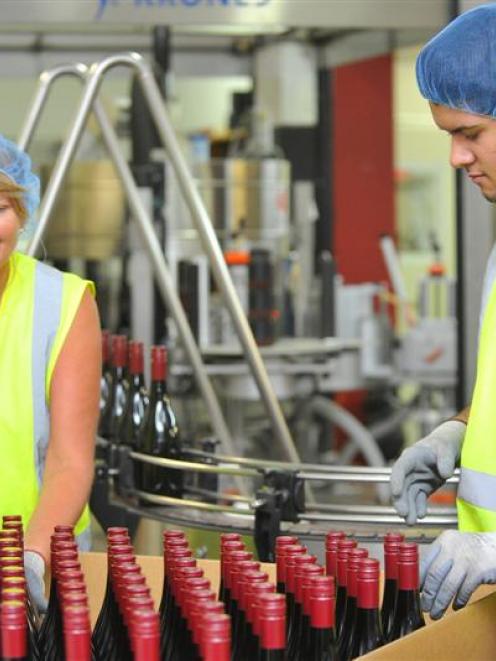 Morley Hewitt has loved ''every minute'' of his involvement with the Central Otago wine industry.
Mr Hewitt is managing director of VinPro, a company which had its origins as a humble mobile bottling plant.
Over the past 20 years, it has grown to be one of the larger employers in Cromwell and now does the bottling for the majority of Central Otago wine producers.
''It's a great business - it's the romance, food, wine ... It's all there. I'm very proud of the Central Otago industry.
''For that reason alone, I want my service to be as good as it can be so the quality is as good as possible,'' he said.
That service covers bottling, winemaking, temperature-controlled warehousing and distribution.
The company still has a mobile plant which operates around Canterbury.
Of third-generation Alexandra stock, Mr Hewitt never dreamed he would one day return to Central Otago to work, thinking there would not be the job opportunities for him.
With an engineering background, which included working in the meat industry, he saw the potential of VinPro in 1994 when it was still Charnwood Mobile Bottling.
The company was struggling and needed someone with his skills. He became both a shareholder and employee, determined to help the business grow.
In those days, there was not enough work in Central Otago so the mobile plant covered the wider South Island, working at wineries and vineyards in Canterbury, Marlborough and Nelson.
Recalling times when the truck got stuck in driveways and had to be towed out with a tractor, Mr Hewitt said the operation was ''pretty rudimentary to what we are doing today''.
''We just didn't know what we didn't know,'' he said.
But the business grew and reached a point where it did not have enough capacity, so another plant was built.
Then, when capacity was reached again in 2000, it was decided to install a fixed line in premises in Cromwell.
In 2005, investment from Aorangi Laboratories Ltd allowed VinPro to expand and broaden its services, initially with a new warehouse and then into contract winemaking.
Otago businessmen Alan and Baird McConnon became directors of the company, along with Mr Hewitt and his brother Peter.
Another bottling line was installed in 2008, at a cost of about $1 million.
The first line was due to be replaced this year with a bigger line.
That investment would see present capacity of 40,000 litres a day increase to 60,000 litres.
Equipment was being sourced from Italy and it would take two months to install, as the building had to be ''ripped apart'' to fit it in.
That work would be done in June-July during the downtime between the end of the 2014 bottling season and the start of the 2015 season.
A major factor in the decision to invest in the new line was to enable greater flexibility for winemakers, Mr Hewitt said.
Quite often a winemaker would book a time, but the wine ''doesn't do its thing in time'' and rescheduling could be difficult.
VinPro was fortunate to have ''terrific'' staff, with numbers usually between about 35 and 40, although they could reach 50 at peak times.
The biggest challenge for such a business was the logistics of bottling and, at times, it could be high pressure.
There was a mix of both large and small customers and all were equally important, he said.
''Each bottle is a premium bottle of Central Otago wine and we treat it as such,'' he said.
A recent $100,000 investment in equipment meant VinPro could apply Stelvin LUX caps as an alternative to standard screw caps.
The caps featured a smooth external appearance, thanks to a plastic internally threaded insert, so there were no external thread marks.
Some customers still preferred corks, while others were happy with the standard screw caps, Mr Hewitt said.
Laughing that he was a ''beer drinker through and through'', rather than a wine buff, Mr Hewitt said it had been a fascinating industry to be involved with.
He was very proud of the standard of Central Otago wine and impressed with how collaborative the industry was in the region.
VinPro's biggest competitor was in Marlborough and some Central Otago winemakers had their bottling done there, with full tankers sent north, but most preferred a local provider, he said.
The company was continually reinvesting in its business and, when it came to future plans, it was all about a process of continual improvements, he said.
A total of 10,540 tonnes of grapes were harvested in Central Otago in 2014, which was 2.5% of New Zealand's total harvest.
The number of hectares planted in the region has grown from 978ha in 2005 to 1979ha, while the number of wineries has increased from 82 to 132 in that time.